Note: This article is part of our Keyword Research to Publishable Content series. Each guide in this series walks through keyword research with a different tool, then how to use AI to write entire, high-quality articles with that information.
We chose QuestionDB because it offers a free version that allows you to quickly conduct keyword research from a fresh perspective. This strategy can help you improve existing posts and create entirely new pillars of content without requiring you to dig into technical data.
Check out our other guides to walk through more keyword research strategies, or let us know if there's another tool you'd like us to cover!
---
QuestionDB is a unique keyword research tool that can help you find popular questions and queries related to any keyword. Unlike most keyword research tools, the data used by QuestionDB comes directly from Reddit.
This may sound off-putting, but don't be alarmed. QuestionDB has a massive dataset of approximately 48 million questions - these are genuine questions from people across the globe.
In this article, we will show you how to use QuestionDB to find content topics that your audience is searching for. Then we will show you exactly how you can use AI to turn this data into high-quality content with the click of a button.
Publishing high-quality content around questions that real people ask will not only help you rank higher on Google, your business will also gain more authority and establish topical expertise.
Contents:
Best Use Cases for QuestionDB
It's crucial to note that QuestionDB is not a typical SEO tool. It doesn't have a suite of commercial metrics designed to find exact search volumes and profitable keywords you can use. Nevertheless, QuestionDB is an excellent free option that is fantastic for brainstorming topic ideas. 
With QuestionDB, you can produce much more exciting and in-depth content that will actually address and solve your reader's questions.

This means that you aren't just producing content to rank for keywords. You will be creating content that is genuinely helpful and interesting. That is to say, with this strategy, not only will your content be optimized for search, people who land on your websites will find your information relevant, and will be more likely to stay on your page longer and buy your products.
You have to offer value to readers, and by brainstorming ideas in QuestionDB you can do just that!
SEO Benefits of QuestionDB
In short, SEO is such an important strategy because Google Alone Processes Over Five Billion Searches Every Single Day with the goal of providing the most relevant and useful results for each query. The end result of these billions of searches are billions of pages of content to be consumed and massive amounts of sales.
While we mentioned that QuestionDB is not an SEO tool, there are still considerable benefits to using it as part of your SEO content strategy. Simply, to provide relevant results, Google needs to know what the searcher is looking for. This requires Google to understand both more descriptive search terms and the intent behind each search. As a result, users can more successfully search with longer keyword phrases, especially questions.
Beyond this, the rise of voice search is also leading users to enter more descriptive search terms which often include questions that naturally express clearer intent. So it's more important than ever that your content is answering focused and relevant questions for a given topic.
Fortunately, QuestionDB can help you find the most pertinent questions! This is because QuestionDB can help you identify recurring themes in the questions. As a result, you can produce content that people care about, answer your reader's burning questions, and solve their problems in a concise and meaningful way.
Why Does Helpful Content Improve SEO?
Creating helpful content means that you will be effectively satisfying user search intent. This has the benefit of reducing the bounce rate from a page and increasing dwell time (the time a user spends on the page).
A study from Backlinko demonstrated that just three extra seconds on a page correlates with moving up a single ranking. One ranking may sound insignificant. However, First Page Sage found that an article in the number 1 spot had an average click-through rate of 39.6% compared to 18.4% for position two and a mere 5.1% for position five.
Thus, ranking in the number 1 spot should always be your primary goal for creating new content. To reiterate, using QuestionDB will help you produce much more insightful content that both readers and search engines will love.
Using QuestionDB To Find Topic Ideas
We will now walk through a simple step-by-step example of how we can use QuestionDB to find new topic ideas regardless of your niche.
Navigate to QuestionDB
Enter your seed keyword
Click "generate"
Add your topic ideas to a spreadsheet to use in the article creation process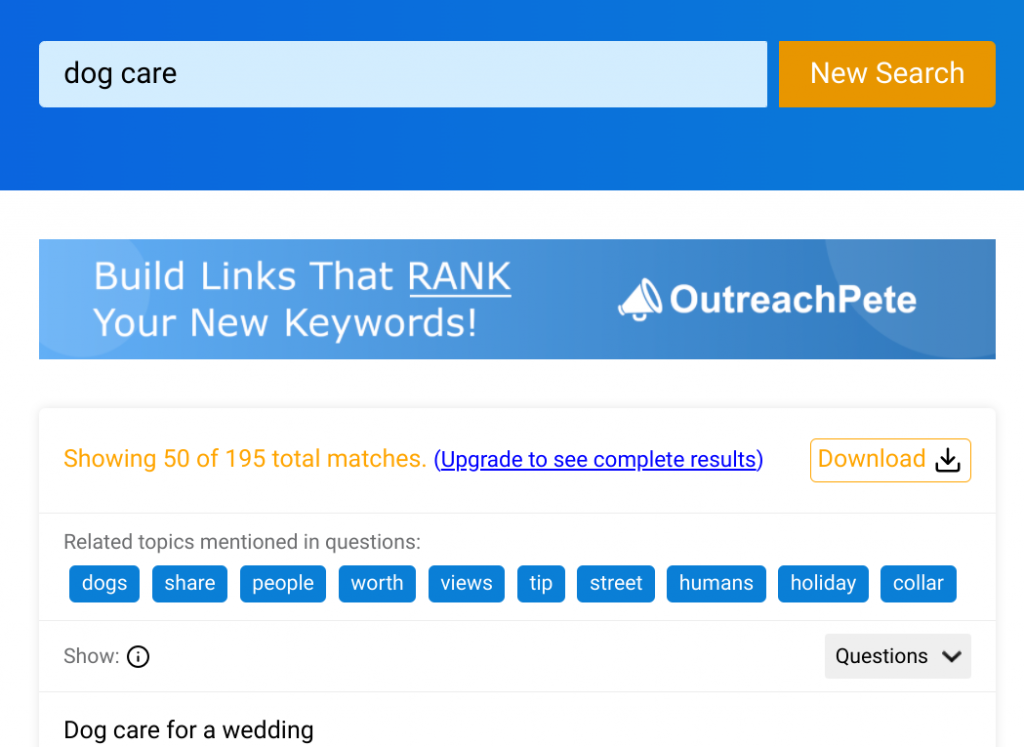 We entered the seed keyword "dog care", which has generated a list of 195 topic ideas. Talk about an easy way to fill out your editorial calendar!
For this example, we are just using the free plan of QuestionDB, so we can only see the first 50 results. However, this gives us more than enough information to come up with the high-quality topic ideas we are looking for.
You do not need to, but if you want to upgrade to a paid plan, you can check out the pricing here.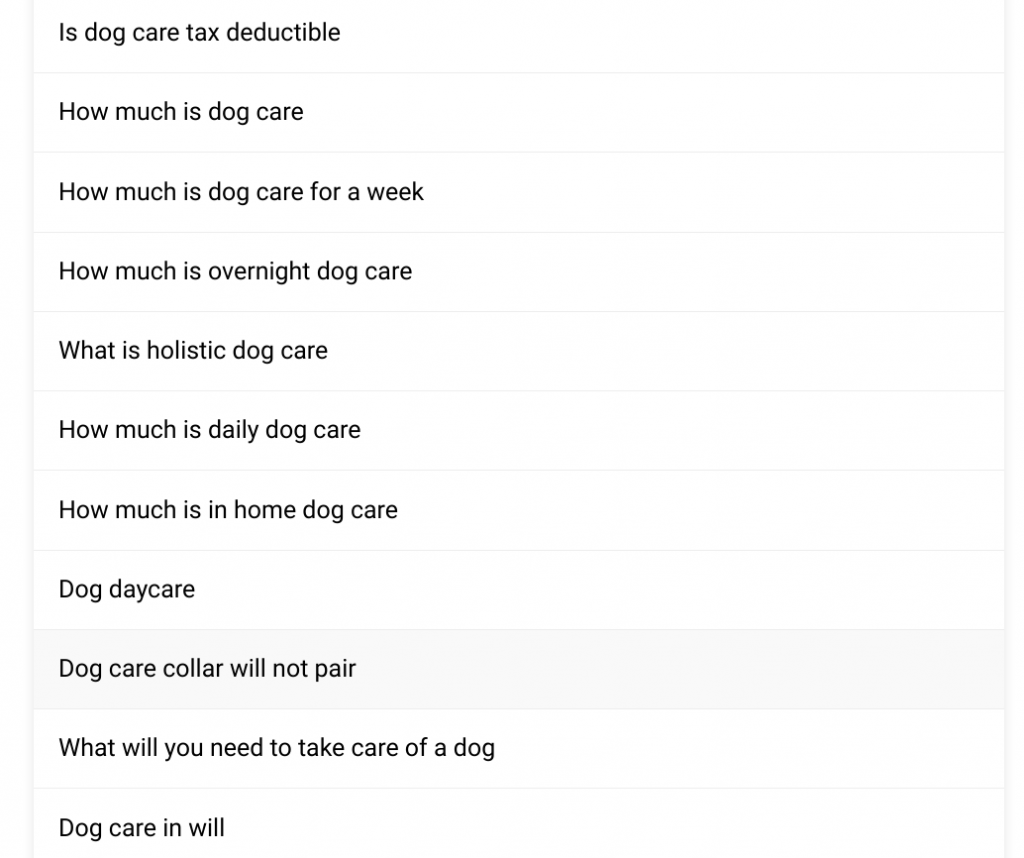 Above are just a few of the results that QuestionDB has produced. These topics would be fantastic for creating an in-depth pillar post about dog care or as stand-alone articles to help build topical authority in your niche.
Answering Questions To Win Featured Snippets
In addition to producing new blog posts from QuestionDB data, you can supplement existing articles to help your rankings. A great way to address what users are looking for (their intent) and move up the rankings quickly is to find popular questions in QuestionDB and provide concise 40-60 word answers to these questions.
Consistently answering questions related to your content topics will prime your content to earn more featured snippet spots on Google. Featured snippets are commonly known in SEO as position zero and put you directly in front of your audience. This primary spot can help you "skip the line" and instantly rank above your competitors.
According to Search Engine Land, the presence of a featured snippet reduces the average click-through rate of the first organic result to below 20%. This means that by optimizing your content for the snippet and answering the questions your readers are asking, you can hijack additional traffic and "sting" your competitors.
How To Win The Snippet
You can easily win the featured snippet by creating Frequently Asked Questions (FAQ) sections at the end of each post. To identify the best questions to include in your FAQs, just filter your QuestionDB reports by "questions". Then create a list of questions that your post addresses so that you can provide helpful answers to each. We would recommend including roughly 3 to 5 questions that are directly relevant to each post.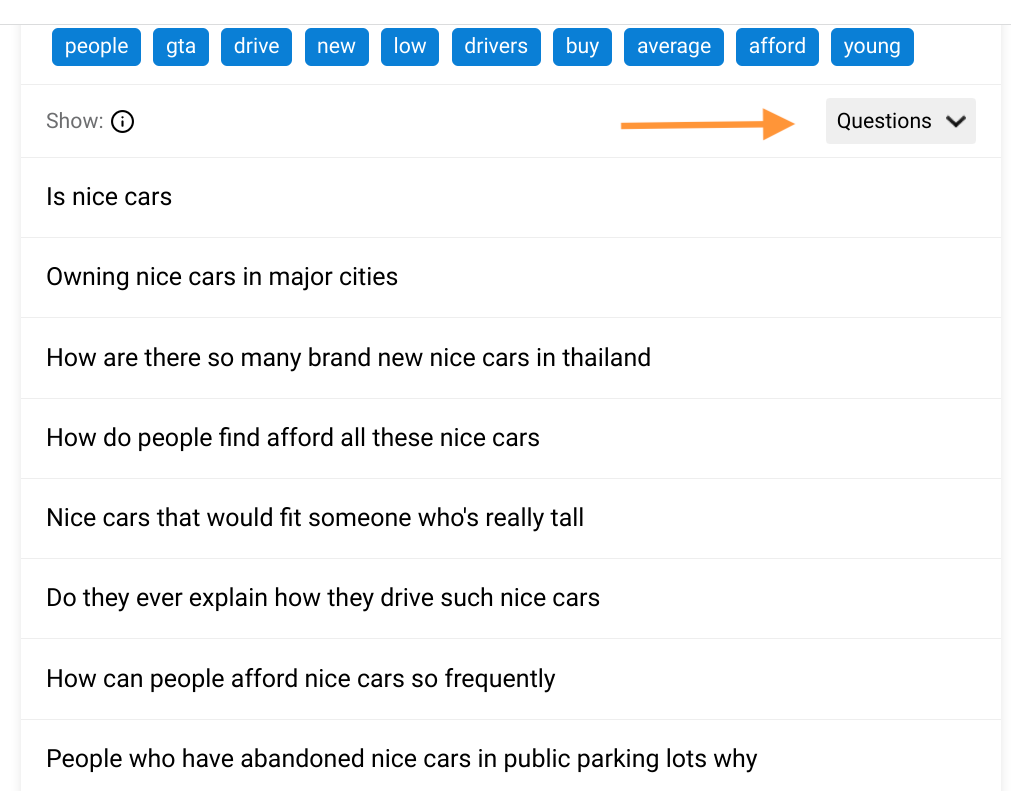 Now you understand the strategy of winning a featured snippet, it's time to put what you know into action.
The most crucial factor you need to consider for snippet optimization is relevancy. In general, Google pulls snippets from articles across the entire internet based on overall relevance to the search. But if you are directly targeting the snippet, it will be much easier to win because it will be obvious to Google that you are providing the most relevant answer.
In the example below, you will see the questions generated earlier in QuestionDB for the keyword "dog care".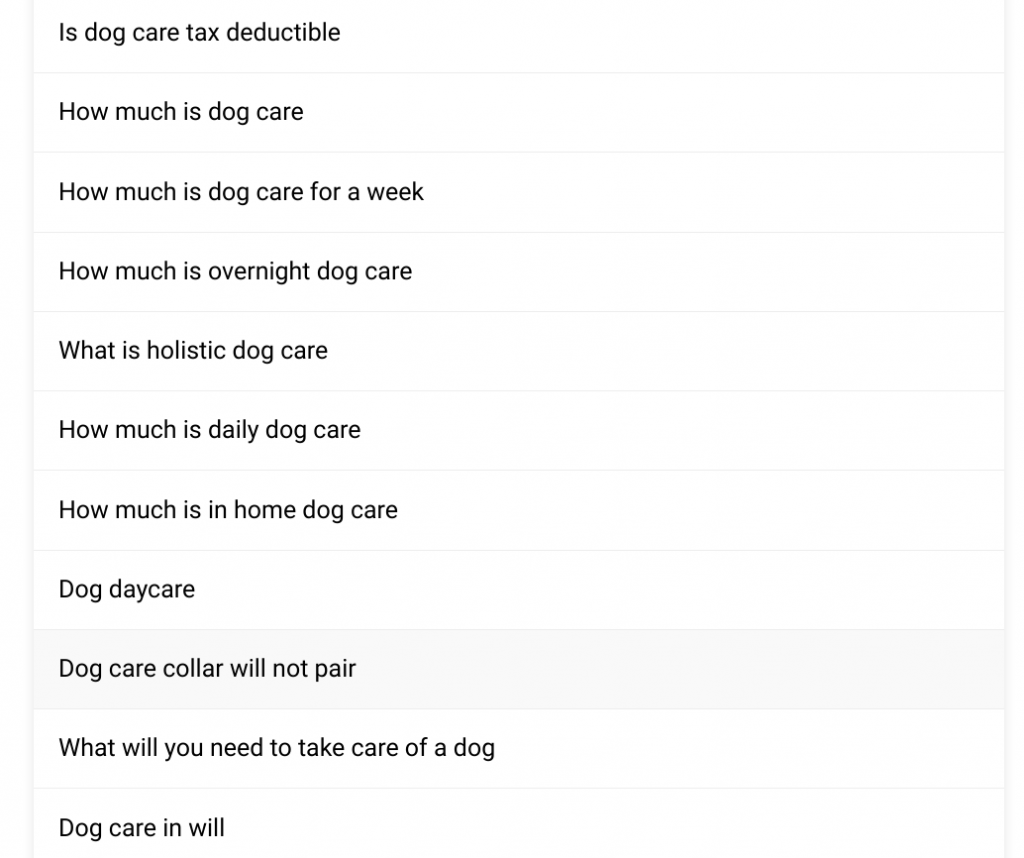 Now you will search for the questions in Google to see whether Google presents a featured snippet. We have decided to enter "Is dog care tax deductible" and here is the result.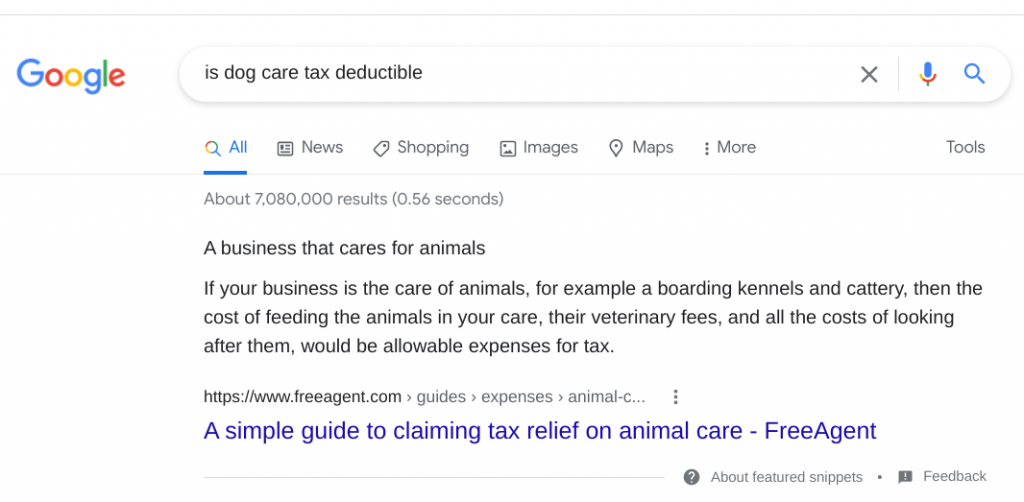 This is an excellent opportunity for you to win the snippet as what is currently being shown is not a great answer to the question - it's very broad and doesn't give much detail.
Next, you can include a small section in your article called "Is dog care tax deductible?" and provide a much more comprehensive answer in no more than 60 words! This isn't guaranteed to win you the snippet. However, if part of your SEO content strategy includes answering 3 to 5 of these snippet-style questions in each article, you will start to see significantly more traffic.
The best part about the snippet optimization strategy is that winning the featured snippet will allow you to move up the rankings much faster than traditional SEO methods!
Limitations of QuestionDB
While QuestionDB is a great tool for answering popular questions and boosting your On-Page SEO, you can't rely on QuestionDB for your overall keyword research strategy. QuestionDB does not show exact search volume, competition, or commercial metrics.
However, QuestionDB can be used alongside another free keyword research tool to create a strong SEO content strategy. We recommend using Google Keyword Planner and have created a step-by-step guide for you.
The combination of QuestionDB and Google Keyword Planner is a great free way to understand your niche and article topics better.
Using Article Forge To Automatically Answer FAQs
The fact is, the more questions you answer within your articles, the more likely you are to earn featured snippets (we recommend 3-5 relevant questions per post). However, manually writing answers to the questions you find in QuestionDB takes time, especially when you are trying to scale. Luckily, Article Forge offers a painless solution for automatic content production - it can automatically produce content from 50 to 1,500+ words.
If you remember from earlier, 50 words is the perfect length for answering questions and earning featured snippets. Here is precisely how to do it.
First, log in to your Article Forge account and go to the New Article page. Then, click "Switch to Bulk Generator" and enter the questions you have identified in QuestionDB. The best way to do this is shown below.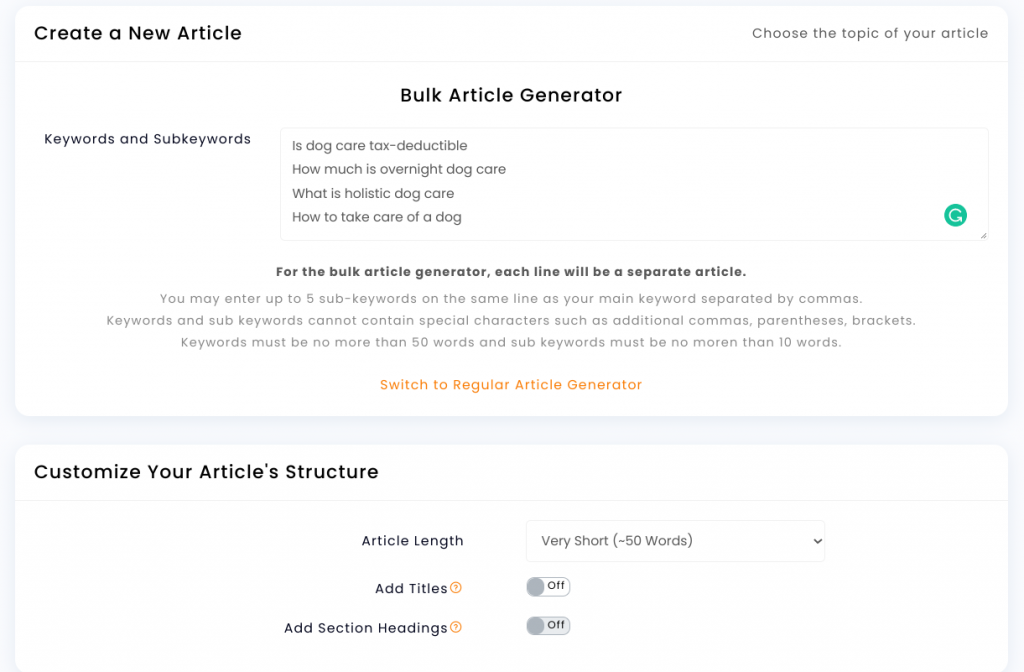 As we are producing content for featured snippets, you should set the article length to "very short (50 words)". Then, simply scroll down and click on "Create New Article". From there, Article Forge will begin writing answers to each of your questions automatically.

The featured snippet gives users an instant first impression of your website, so when you get your content back from Article Forge, it is very important to verify it before publishing.
You should make sure the content produced by Article Forge is fully accurate, addresses the intended search intent, and aligns with the overall viewpoint of your post and website. The majority of the time, Article Forge will create publishable content without requiring any human interaction. However, verifying before publishing helps make sure you are always making the best first impression.
Create Entire Articles From Your Brainstorming List
While snippets are important, the primary reason to use Article Forge with QuestionDB is to automatically generate full articles. These articles will address both the main topic and the secondary questions which will lead to more comprehensive and optimized content overall.
We will now show you step-by-step how to use the output from QuestionDB to create whole articles that your readers love in just minutes.
First, enter your seed keyword into QuestionDB. We have selected "dog care" again. This will not be the focus keyword for your articles as it's too broad. However, it will help you find untapped content ideas for which you can rank.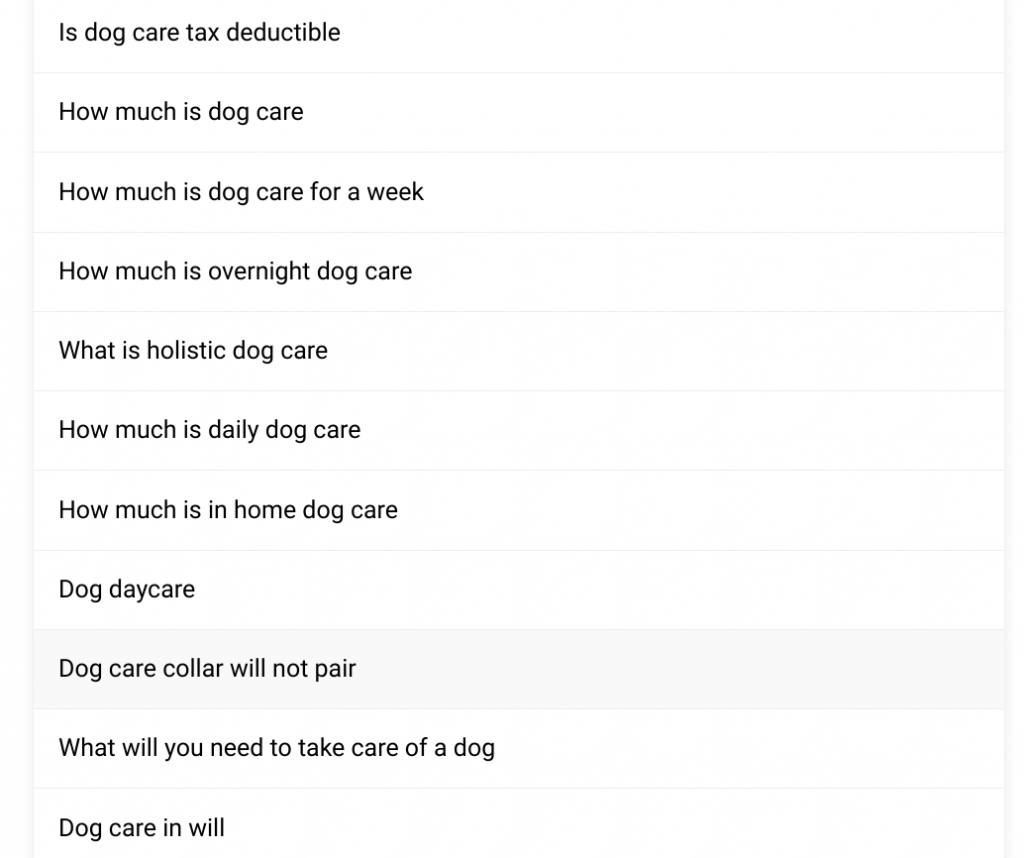 Now you should find a keyword in your QuestionDB report that isn't so specific that it won't receive any search volume, but not too obvious either as that might be too competitive.
Finding long-tail keywords directly related to your first keyword is the best strategy. In addition, picking keywords that can easily be broken down into categories or subsections will lead to longer, more useful articles overall. For this guide, we will use "dog care items".
Next, you can optionally choose to add your own section headings for your article. The structure of your content is absolutely essential for both SEO and reader interaction, so don't skimp on this step.
If you want to take a completely hands-off approach to content production, Article Forge can auto-generate relevant section headings. But for this strategy, we recommend adding your own section headings in order to maintain maximum control and direction of the article.
If you are entering your own section headings, use instances or examples of your main keyword.
For our example, we are listing out a few of the "best dog care items" to give Article Forge specific directions about what to write about. We added "nail clippers", "dog toothbrush", and "secure leash" as a few of our section headings, but you can have as many as eight different examples!
15 Seconds of Work = 1,500+ Words
Turning your list of keywords into an interesting and helpful piece of content for your business with Article Forge couldn't be easier.
All you need to do is go to the New Article page, enter your keyword, select article length, and optionally add section headings and click "Create New Article".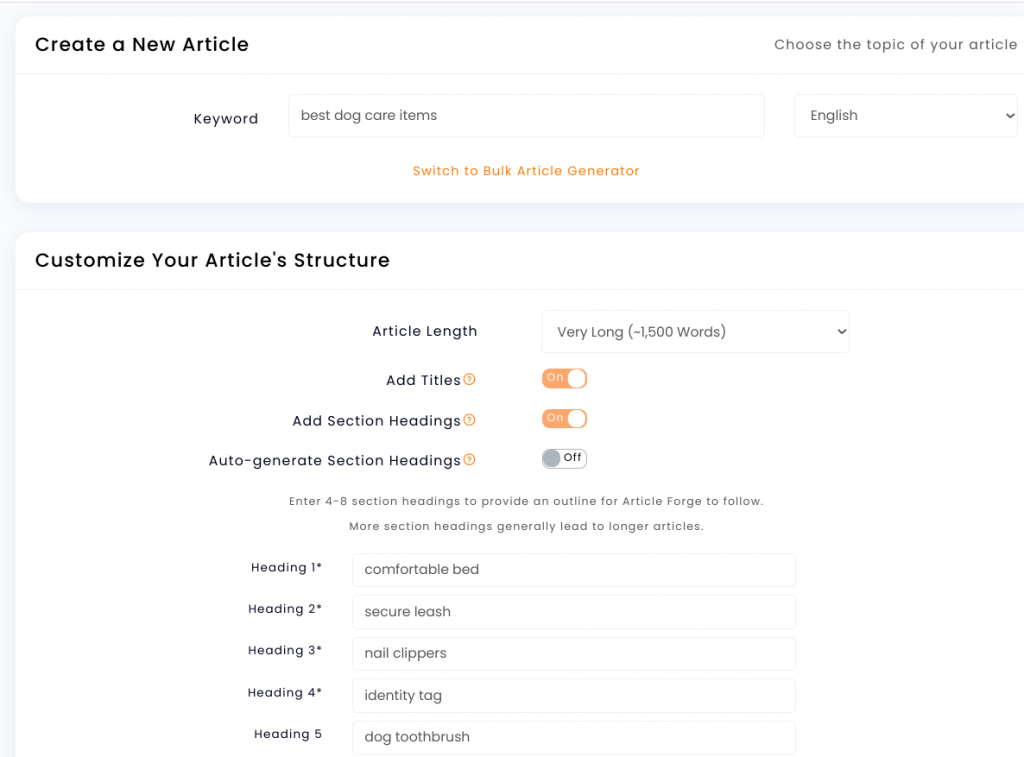 That's it! With less than 15 seconds of work, Article Forge is automatically writing a 1,500 word article about dog care items for us.
Keep in mind that while Article Forge is an excellent content production tool, everyone has different expectations when it comes to quality. So, once your Article Forge output is ready, you may want to spend a few minutes going through and tailoring the style of the content to make sure it is aligned with your overall brand style and tone.
Why Use Article Forge?
Unlike other AI writing solutions, Article Forge researches and plans out each entire article before writing it completely automatically. This means you can publish more content than your competitors, rank for many more keywords, win more featured snippets, increase traffic to your website, and ultimately be far more profitable.
Using an SEO content strategy where your keyword research is based on what real people are searching for without requiring you to dig into the technical details is a great place to start. Using automatic article creation to bring these keywords to life with Article Forge is a no-brainer!
If you have any questions about either Article Forge or QuestionDB, let us know, and we will be happy to answer them for you!
Revolutionize the way you get content
Start your absolutely risk-free 5-day trial today!
Start
my
free
trial!