Article Forge is the most efficient way to produce relevant, accurate, SEO articles about any topic.
But while these articles read naturally and appear human-written to real readers, there has been worry about AI detection, penalties and even general content rejection.
So, we took action and today, we are excited to announce a new feature that makes Article Forge content pass any AI content detector.
How Does Article Forge Pass AI Content detection?
All you need to do is activate the "Avoid AI Detection" toggle and Article Forge content will pass every single AI detection tool at the same rate as human content. In other words, your content will be indistinguishable from human content!

What AI Detectors Does Article Forge Pass?
All of them. This feature makes Article Forge content appear human-written to all machines, even future tools. 
But we'll let the data speak for itself. We ran a case study to test which popular AI writers pass and fail the most popular AI content detection tools.
You can read the results of the AI content detection case study here.
Will Article Forge Content Pass AI Detectors Every Time?
When this feature is enabled, Article Forge content will pass AI detectors at the same rate as human content. However, AI content detectors are not fully reliable. For instance, OpenAi's blog post announcing their AI detector states multiple limitations and Originality.ai warns of false positives: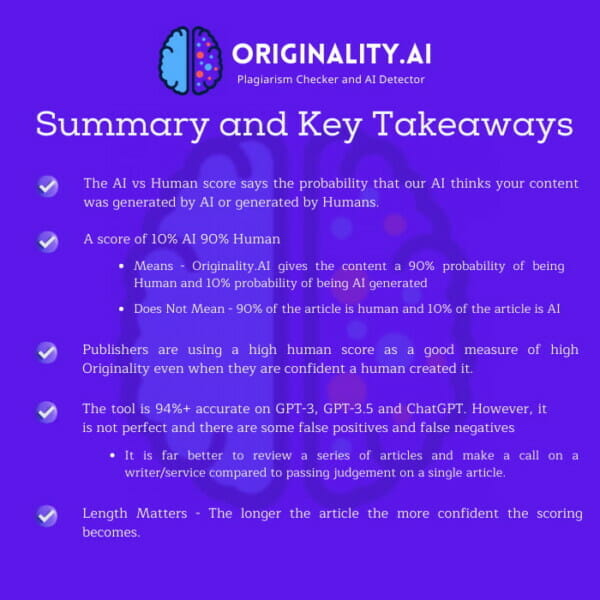 Any tool that would classify Article Forge content as AI generated, would also incorrectly classify human content as AI generated at about the same rate.
What Does This Mean for Content Producers?
Article Forge uses AI to write useful SEO articles.
This update builds on that foundation of good content to give content producers confidence that Article Forge content appears human-written to actual readers and AI detection tools.
Revolutionize the way you get content
Start your absolutely risk-free 5-day trial today!
Start
my
free
trial!