Google Keyword Planner is not a tool primarily designed for SEO content creators.
However, the good news is that its functionality and depth make it an excellent free option for conducting keyword research. The even better news is that this is an underutilized keyword strategy that will help you get ahead of the competition by capitalizing on the keywords your competitors simply will not discover through other tools!
Understanding the intent behind search queries is critical if you want to rank well in search engines like Google and get more traffic, leads, and sales for your business.
With that said, many content creators and managers are not able to create a monetization strategy that is best aligned with the search intent of a given query, and this is where Google Keyword Planner comes in as an excellent keyword research tool.
Contents:
It's essential to note that the primary use case for Google Keyword Planner is paid advertising. For this reason, Google Keyword Planner offers completely different functionality than SEO keyword research tools like Ubersuggest and Keyword.io. On the surface, this may seem like a limitation, but this is not the case. Google Keyword Planner provides you with content ideas based on commercial intent and search volume - two of the most crucial components for any SEO content strategy!
Whether you are an 8-figure business owner or a small-scale blogger, making money is likely a primary driver behind your content strategy. While SEO-focused tools are a fantastic way to build your organic traffic, without understanding commercial intent, you'll be missing out on profitable keywords.
This is why utilizing the "secret" Google Keyword Planner strategy for article writing is a sure-fire way to build a successful content business that actually generates a solid income.
To access Google Keyword Planner you will need to have a Google Ads account, but it's totally free forever! If you are unsure about how to create an Ads account, we have provided a step-by-step guide for you below.
How to Create a Google Ads Account
Step 1 - Create a Google Account Step 2 - Go to Google Ads Step 3 - Press Start Now Step 4 - Click create an account without a campaign Step 5 - Make sure your details correct All done!
You can now go to Google Keyword Planner to start finding keywords that are easy to rank for!
Key Metrics To Focus on, and Ignore
One of the most significant factors that makes Google Keyword Planner an incredible tool is the valuable metrics it displays to users.
Firstly, Google Keyword Planner provides information directly related to search volume. This is the same metric that almost all keyword research tools offer. However, the benefit of using a tool like Google Keyword Planner or Google Trends is that you know the data is coming directly from the world's most popular search engine.
Another unique metric that Google Keyword Planner displays is something called "top of page bid". When you search for any keyword in Google Keyword Planner, you will see the low range and high range "top of page bid". Essentially the bid tells you exactly how much advertisers are willing to pay for every click on their ad. This is known as the cost-per-click (CPC). CPC varies massively from as low as a few pennies to well over $50.
We love the bidding metric because it allows us to understand the commercial value and intent behind a keyword. Think of it like this… if an advertiser is willing to pay $5, $10, or even $20 just for a single click, there has to be a reason. Usually, a high "top of page bid" means that a huge opportunity exists for you to produce monetizable content related to the keyword.
Having a monetization strategy for your content is critical for your business. Every article on your website exists as an opportunity to bring in more revenue, so by understanding the commercial value of a keyword, you can create content that exploits this.
For example, "SEO Services Package" is a very expensive keyword for advertisers (just one lead can make thousands of dollars per month). However, ranking for an article about "The advantages and disadvantages of purchasing SEO Services" would be much less competitive.
When considering your content goal, you should also keep in mind that there is almost always a significant difference between organic competition and competition between paid advertisers. Therefore, as part of your content marketing strategy, there are metrics within Google Keyword Planner, such as the competition rating that you do not need to worry about.
Generate Unique Keyword Ideas From Competitors
There is another excellent use case for Google Keyword Planner that frequently gets ignored by SEOs. Google Keyword Planner allows you to search for all the keywords related to a specific web page or a whole website. All you have to do is copy and paste the URL of the webpage, and the related keywords will appear. As you can see in the below screenshot, we have generated 1,381 keywords for forbes.com.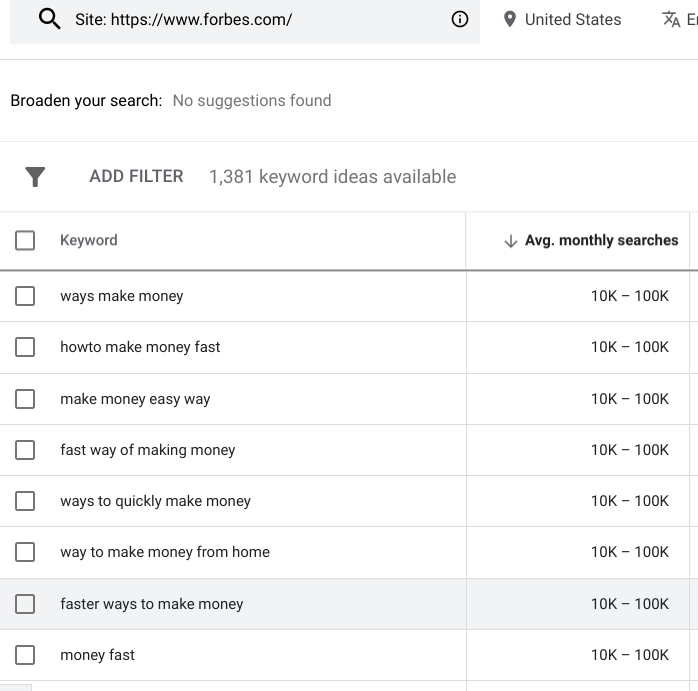 While you will most likely not be competing with Forbes, this shows you just how many keyword variations there are.
Naturally, using this tool within Google Keyword Planner can help you build a massive list of keyword ideas quickly. Within the new list of keywords, you can easily find opportunities to create much better, more comprehensive, and more intentional content to outrank them and "poach" their traffic.
Discover the Easiest Keywords To Rank For
Additionally, you can use Google Keyword Planner to find new, creative, and less competitive keywords. Google Keyword Planner gives you great ideas for related keywords that you can try to rank for. Specifically, you can often identify long-tail keywords that are getting a decent amount of organic traffic but are far easier to rank in the #1 spot. For example, the keyword "filet mignon" returned 1,083 alternative keywords, many of which are long-tail keywords meaning they are far less competitive.
For example, "center cut filet mignon" has much less organic competition and still has a good amount of search volume. Another benefit of writing on specific long-tail keywords is that you will also passively rank for other related keywords.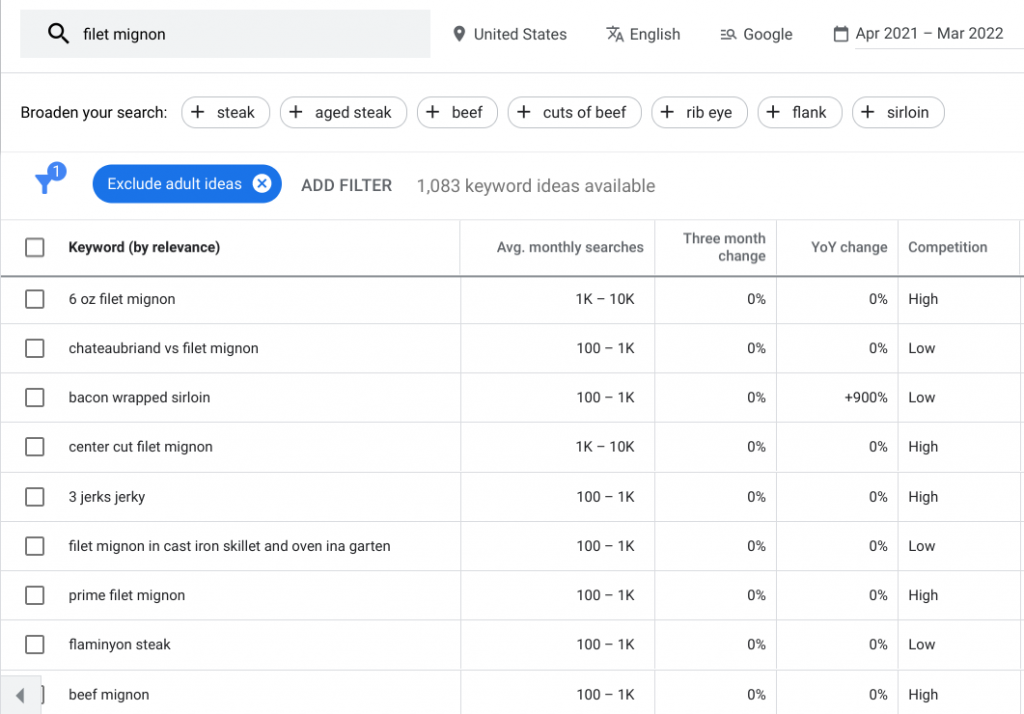 Drawbacks of Google Keyword Planner
While it's difficult to criticize Google Keyword Planner as a free and valuable tool, it's still important to consider the limitations.
Google Keyword Planner provides organic traffic data, but it's not very specific. In Google Keyword Planner, it's difficult to know whether a keyword gets 1,200 monthly searches or 6,400 searches as they both fall within the same broad category of 1k-10k.
Nevertheless, Google Keyword Planner is an excellent tool for keyword research, despite lacking the same level of detail in the "search volume" metric as other keyword research tools.
Step by Step Guide To Keyword Research in Google Keyword Planner
The first step of conducting good keyword research in Google Keyword Planner is to begin by typing the keyword you want to rank for into Google. Don't worry about doing deep keyword analysis yet. We recommend just choosing a broad topic in your niche.
For this example, we will assume that you are in the technology niche, so we have selected the keyword "best laptops". Immediately the data within Google Keyword Planner gives us a clear signal that this is a keyword with a lot of PPC interest.
In the SERPs, you can copy the URL of the number 1 post into Google Keyword Planner, and you will receive hundreds of relevant keyword ideas. In this case, the website ranking number 1 for this very broad keyword is TechRadar - a well-known authority site. This is clear evidence that ranking number 1 for this keyword would probably be too tricky. This is why we will decide to focus on a long-tail alternative. We recommend using long-tail keywords because they will take much less time and far fewer backlinks to rank well in the SERPs.
Using a specific page URL is a great option because it lets you see unique keywords that a search for "best laptops" in Google Keyword Planner may not identify. Once you have your long keyword list, the best practice is to filter the enormous keyword list. You should be looking for high-traffic long-tail keywords.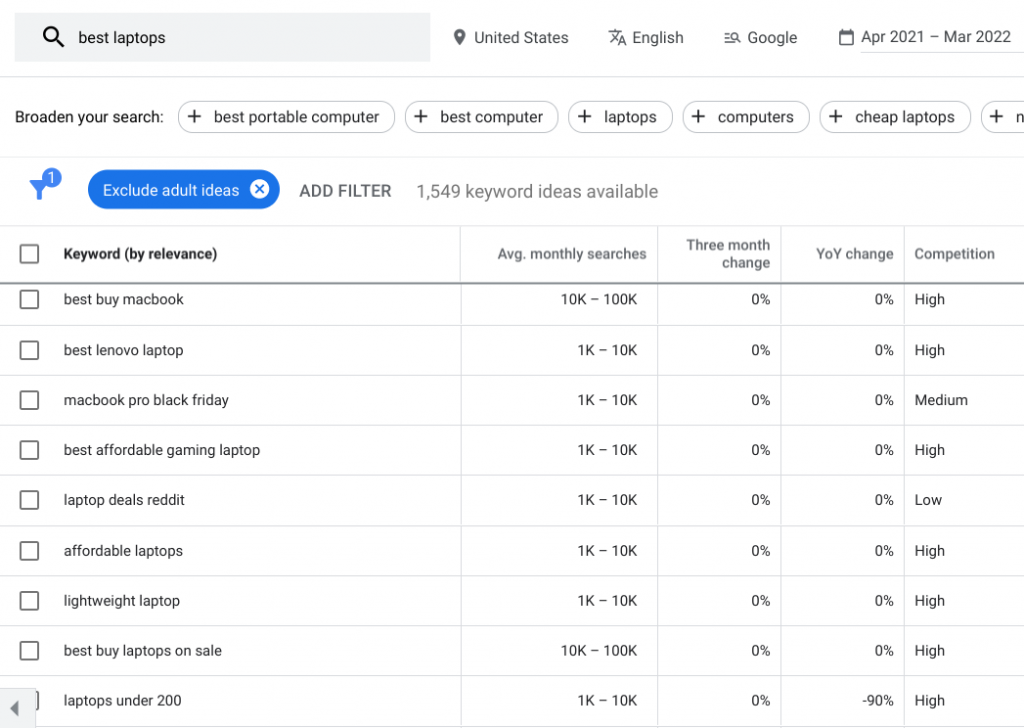 We have identified "best affordable gaming laptop". According to Google Keyword Planner, there is a fair amount of searches for this long-tail keyword, and there is clearly commercial intent - "best" is a clear signal the search query is being made by someone further along the buying cycle. This means that affordable gaming laptops will be an ideal topic for our new article.
We then do a keyword search in Google Keyword Planner for affordable gaming laptops to identify the topics we need to cover. Doing this allows us to gauge the topic and identify relevant sub-topics that will help you to produce incredible content that is more comprehensive and helpful than the pre-existing content for the keyword.
Consider Your Content Goal
Whenever you create content for your website, you should have a goal (best possible scenario) for the post. You should be asking yourself, are you solely looking to create an informative article to build brand reputation, act as an affiliate, or are you trying to sell your own product/service?
The bidding metric within Google Keyword Planner can tell you a lot about the "intent" behind a search.
To provide some context, here is an example so that you can begin to identify keyword intent yourself.
The keyword "what is CPU" is a question. This indicates the searcher is looking strictly for helpful information. They are not your ideal customer unless you are trying to produce strictly helpful and educational content. On the other hand, the keyword "best laptops for students" is far more commercial as the searcher is most likely a student, or parent, looking to purchase a new laptop.
Identify Semantically Related (LSI) Keywords
Through Google Keyword Planner, you will be able to identify an abundance of keyword variations. This is another amazing yet overlooked feature of Google Keyword Planner that you should include as part of your content plan. Creating content that consists of these secondary semantic keywords helps to improve your content for both humans and search engines. This is because utilizing these keywords throughout your article allows you to create highly relevant content for the user's search query and covers the topic in greater depth.
These keywords can also act as super relevant anchor text for your authoritative external links. This is paramount because it provides direction to the reader. Simply, it allows the reader to understand what the content you are linking out to will give them.
Let's say you were writing a recipe for chicken wings, and you linked out with the anchor text "BBQ wings recipe", your reader is expecting to read a recipe for BBQ wings. Say you were sending the user to a link for your new recipe book that would be both annoying and deceptive for the reader. Therefore, your anchor text should always be contextually relevant!
Turning Your Keyword Research Into Publishable Content
We just walked through how you can create a list of high-impact keywords with Google Keyword Planner. And now that you have your keywords, the next step is content.
While producing high-quality posts is usually the hardest part of any SEO content strategy, Article Forge can create entire articles (from 50 to 1,500+ words - complete with section headings) with as little as a single click.
Create Entire Articles With a Single Click
The easiest way to use Article Forge simply requires you to enter your keyword, optionally select your article length, and click "Create My Article" on the "New Article" page.
The rest of the settings you see below are enabled by default to provide you with the highest quality article with minimal effort.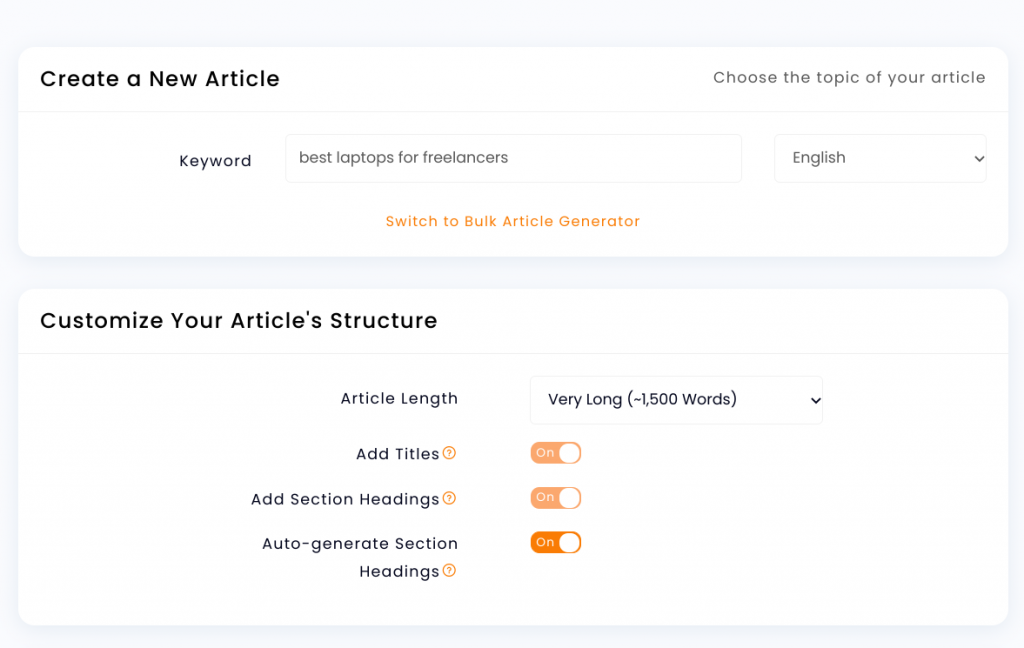 When entering just your keywords, it is essential that you include your intent for the articles you want it to generate. This helps Article Forge understand what you want your article to be about so it can generate the content you want to share with your customers.
Article Forge can generate an entire article about a keyword, but without intent, it may not know what direction to take your article. For example, if you enter the keyword "Laptops", there are a million directions the article could take, and Article Forge will not know which one you'd prefer. So, it would likely write a general article about different laptops or pick a direction at random. However, the phrases "Why does a freelance writer need a good laptop" or "review of dell XPS laptop" express intent and will produce entirely different results!
Bad main keyword (no intent): Laptops Bad main Keyword (too specific): A high-performance laptop that has decent RAM and good graphics Good main keyword: Review of Dell XPS laptop Good main keyword: Best mattress for back pain
Create Content at Scale
Once you've got the hang of the best ways to structure your keywords for Article Forge, you can produce articles for your entire content calendar at once with the Bulk Article Generator.
To do this, first, create a list of all the high-quality keywords you have identified in Google Keyword Planner. Then, copy all of your keywords into your content calendar. If you don't already have a content calendar you can download one for free here.
After you have your list of keywords navigate to your Article Forge interface and click "Switch to Bulk Article Generator" on the "New Article" page in your Article Forge account.

Then, paste all the keywords you gathered from your Google Keyword Planner research (just make sure they express intent as mentioned above).
Finally, select any settings and click "Create My Article" to have Article Forge automatically start writing an article for each keyword.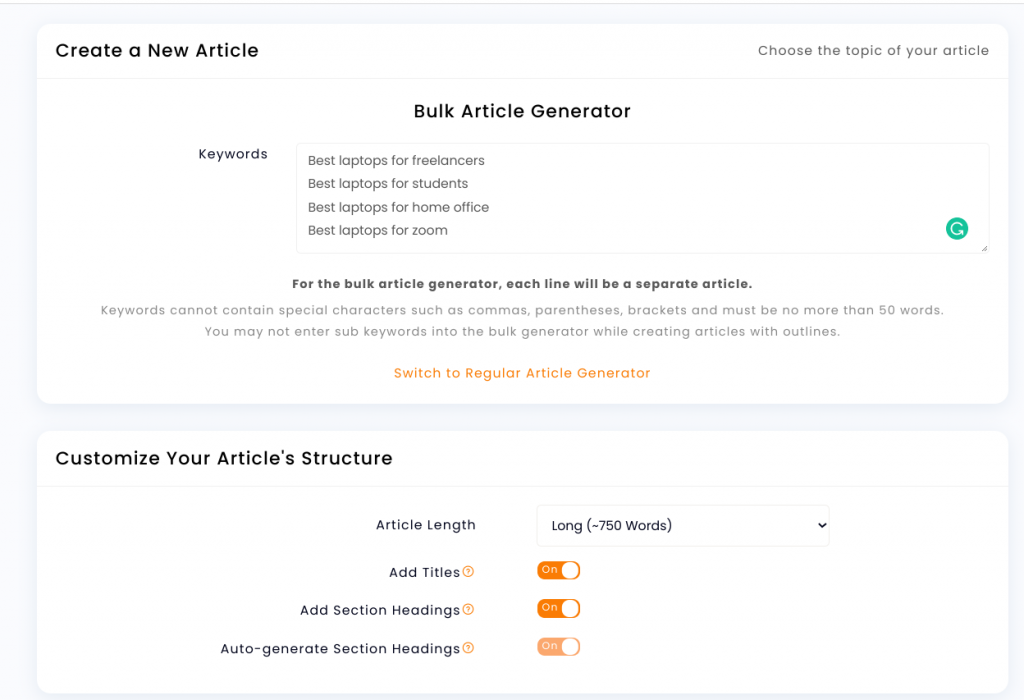 Take Control and Maintain 100% Automation
We just covered two ways to let Article Forge do all the work for you. But sometimes, you might want to control exactly how Article Forge breaks down your keyword to produce a more targeted article overall.
To do this, you can choose to turn off "auto-generate section headings" and enter the exact section headings you want Article Forge to write about.
This allows you to further manage the intent of your article so that you can instantly produce targeted and useful content for your audience.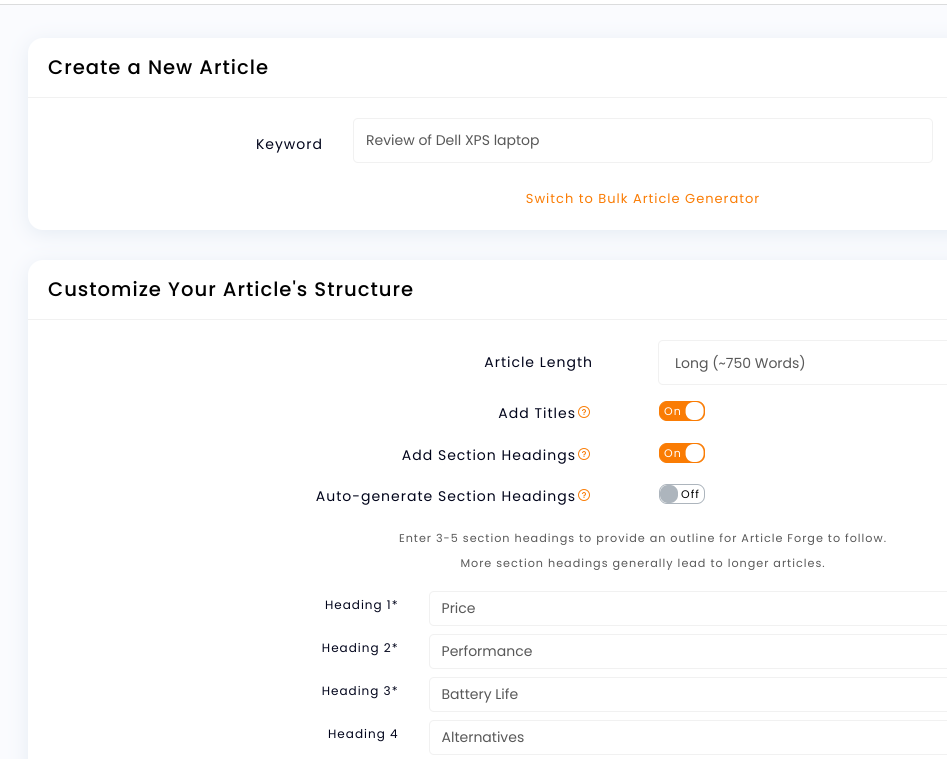 When entering your own section headings, we recommend using simple examples or subtopics of your main keyword to get the highest quality articles overall.
For more tips, check out these AI article generation best practices.
Regardless of how you choose to use Article Forge, in the end, it's simple math. The more high-quality content you have, the more likely you will be ranking for more keywords.
This bodes well for your business. Using Article Forge and Google Keyword Planner together is a fantastic combination for your content output, quality, and SEO strategy!
If you have any questions about either the keyword research strategy or Article Forge, let us know in the comments!
Revolutionize the way you get content
Start your absolutely risk-free 5-day trial today!
Start
my
free
trial!