Note: We are covering Ahrefs as a part of our Keyword Research to Publishable Content series. Each guide in this series offers a different actionable strategy for conducting keyword research and using that data to generate high-quality content automatically. We do not earn commissions for our recommendations; we are writing these guides because they provide easy to follow strategies that can provide you actionable value without breaking the bank.
After you read this post, let us know if there are any other keyword research tools or strategies you'd like us to cover!
---
Ahrefs is one of the most widely-known keyword research tools available. Its range of features and tools makes it a solid option for anyone who wants to create well-optimized, helpful content that performs. However, there is no other way to say this, the Ahrefs paid plans are costly.
While you may benefit from paying for Ahrefs' many services, we have researched and created a low-cost solution to keyword research and content production. First, we'll take you through using the Ahrefs free keyword generator to identify relevant and "rankable" keywords. Then we'll walk through how you can give those keywords to Article Forge to generate content automatically for you.
Contents:
Keyword Difficulty Scoring
When asked "What is Ahrefs' best feature?" our answer is always the Keyword Difficulty Score. The accuracy of Ahrefs Keyword Difficulty (KD) metric is simply unmatched by competitors.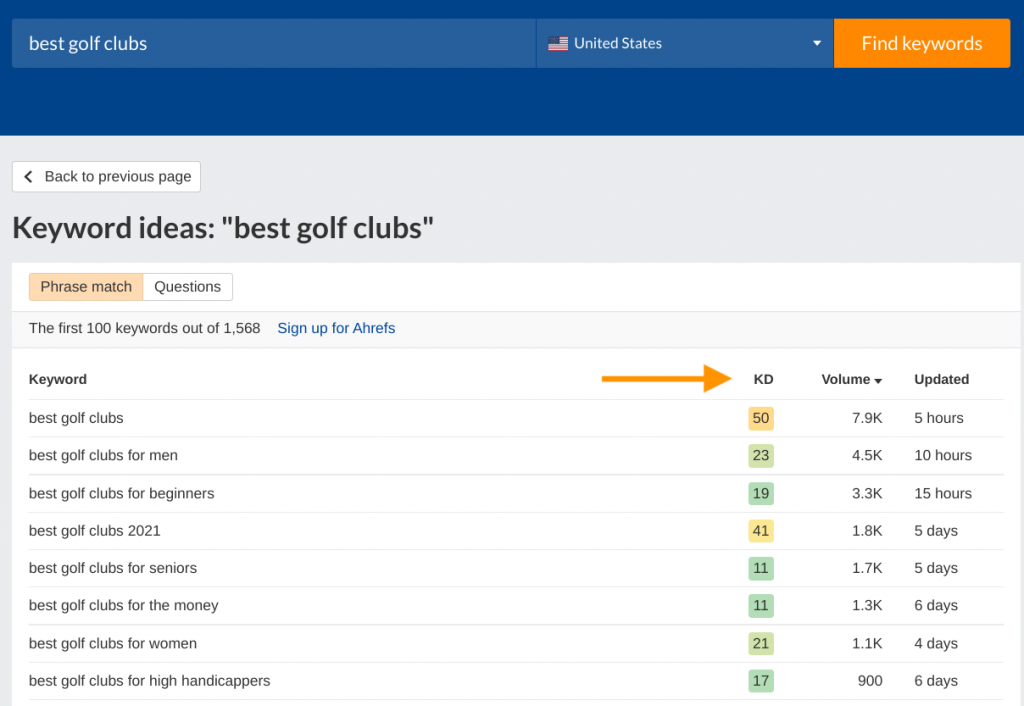 So, how does Ahrefs establish which keywords are more or less challenging to rank for?
Ahrefs analyzes the top search results for a specific keyword by "referring domains". As a result, this will help you understand the backlink profile of competitors and the domain authority attributed to websites ranking a particular keyword.
Effectively, the Ahrefs KD metric is a simplified score between 0 and 100 that considers the overall quality of existing content and the backlink profile of websites that are already ranking. Moreover, KD accurately predicts whether you will be able to "breach" your way onto the first page.
Essentially, the easiest way to take advantage of this score is to target low competition keywords (where the KD is less than 20). This way, by just creating solid content around these keywords, you are likely to rank well. In other words, you will be able to rank more efficiently in a much shorter time period!
Don't Stress About Search Volume
The one particular disadvantage of the Ahrefs free keyword generator is the volume metric. Although this isn't necessarily a significant drawback, the tool underestimates how much traffic you can expect.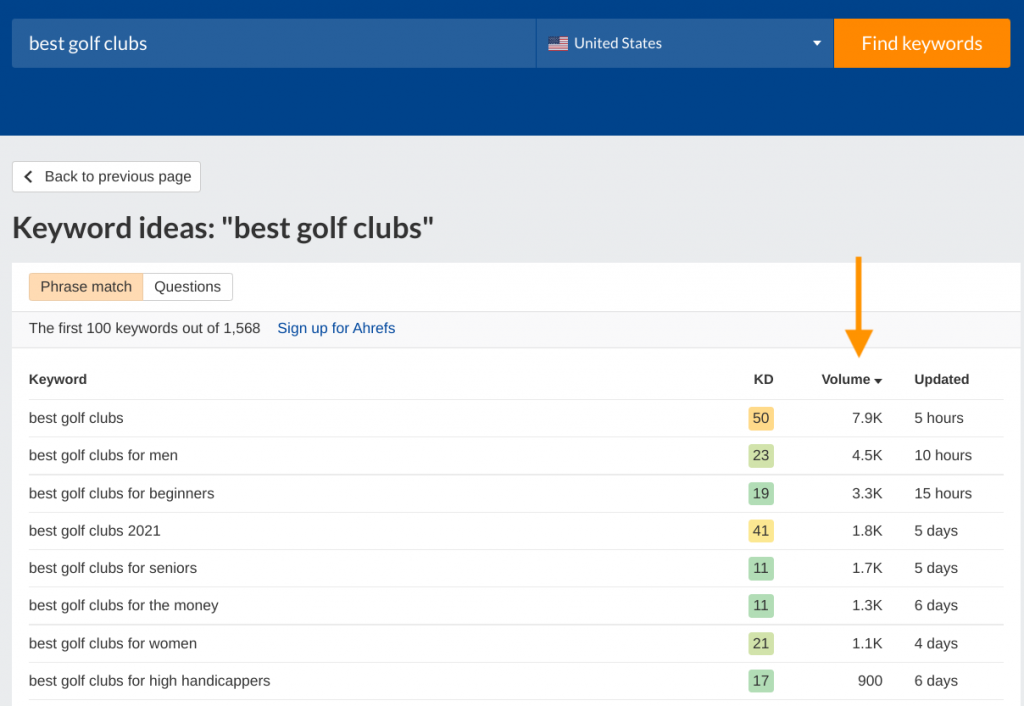 While Ahrefs volume metrics are largely accurate for single keyword searches, they are not the best reflection of how much traffic you can expect. This is because people are unique - the way they search for information varies - and Google knows this. So when you write an article targeting a specific keyword and start ranking, you will end up ranking for a bunch of related terms as well.
Suppose we wrote an article on the keyword "make money building websites". Targeting this keyword could also lead us to potentially rank for many keyword variations such as "build websites for money", "simple websites that make money" and "building websites for profit".
Keep in mind search volume doesn't translate to traffic. Instead of focusing on this metric, you should identify "hot topics" based on popularity on major question platforms like Reddit and Quora and look at comparison data on Google Trends.
Related: Check Out Our Comprehensive Guide to Keyword Research With Google Trends
Step By Step Keyword Research
Step 1: Start with Seed Keywords - The Foundation of Your Content
In this section we are going to break down step-by-step the keyword research process to show you how easy it is to identify winning content ideas! This article is in no way a comprehensive guide to Ahrefs. However, you can explore the full functionality of Ahrefs here.
Without further delay, let's explore keyword research with Ahrefs' Free Keyword Generator!
When conducting keyword research, we always suggest that you start broad, choosing a profitable and popular topic in your niche.
For this guide, we selected "Golf Clubs". First, golf is a massively popular year-round, global sport, meaning this is an evergreen topic. Secondly, golf clubs are expensive, so as a result, advertisers are willing to pay a higher price per click, and vendors need fewer sales to be profitable.
It is important to note that not all content leads to immediate conversions. More often, content can be a long game where you are influencing purchase decisions over time.
With that being said, your SEO content strategy should focus on creating content with commercial intent to give you the best chance for success. In other words, you want to produce content that provides value to readers who are looking to buy the products or services you offer.
Creating content with commercial intent can influence purchase decisions!
This is because people are coming across your website and reading your content as a trusted source of information. Therefore, you can position your content to promote the products and services that will bring you income.
To have the maximum success in influencing purchase decisions, we recommend using terms like "best" or "review". This is because these words signal "buyer intent" and we want to position our articles to readers who have already decided that they are going to purchase.
However, a keyword such as "best golf clubs" is generic and might be very competitive. Nevertheless, this would be an insanely profitable keyword in the golf niche. For this reason, we have decided to generate keyword ideas in Ahrefs for "best golf clubs".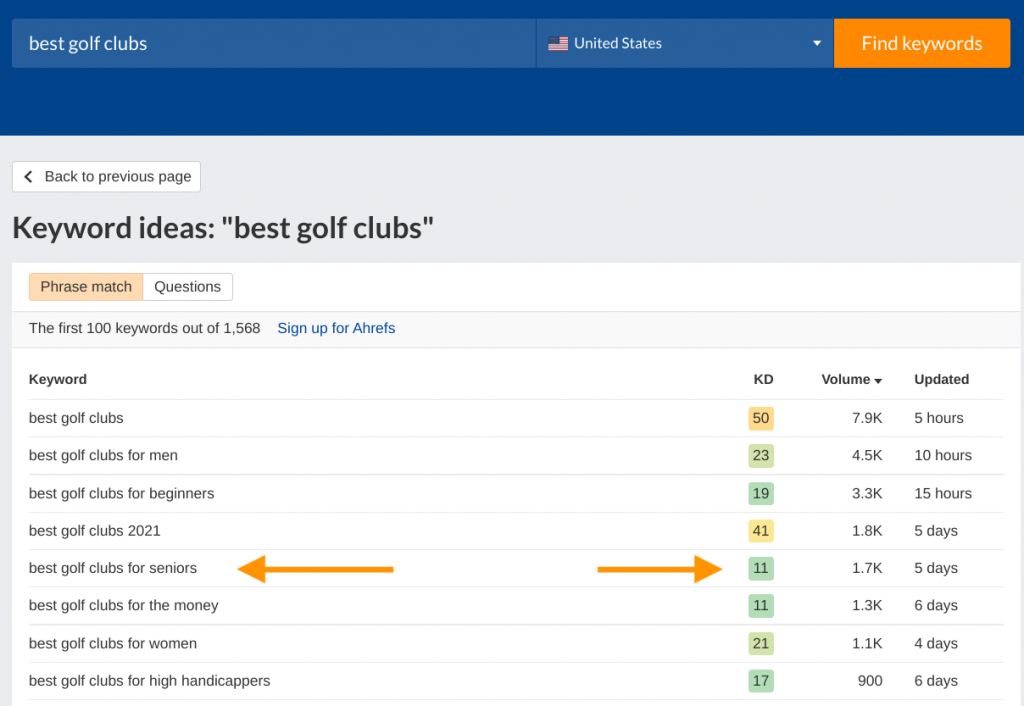 As you can see we were correct. The keyword "best golf clubs" has a keyword difficulty score of 50. According to Ahrefs, there are 37-200 referring domains linked to the posts on page 1. Therefore, it would take a lot of effort, backlink outreach, and time to rank well for this keyword.
Therefore we are going to choose a more niche and less competitive keyword. We have selected "best golf clubs for seniors". This keyword is popular and will still be profitable but importantly, the difficulty is only 11. This means the chances of our article ranking well and receiving organic traffic are massively increased.
Step 2: Stay Relevant
Ensure that you do not stray too far from the original keyword!
The most crucial factor of creating great content is that you satisfy search intent. Simply give the users what they are looking for, and don't compromise on being helpful.
The fact is, your reputation and authority improve when readers view your content as an educational resource.
Identify Naturally Flowing Topics
While answering questions is a great way to make your content more exciting and comprehensive, questions that are irrelevant to the article will not help your rankings.
For example, in this article on "best golf clubs for seniors" answering a question such as "what tee height is the best?" on the surface may seem relevant because it still fits with the golf topic. However, this is not the way to please your readers or the search engine algorithms.
Keep your content on topic - this way, your content flows naturally, draws in, and engages your readers.
Another great way to discover topically related questions is using QuestionDB. QuestionDB is a free tool that utilizes a database of over 48 million questions that real people have asked. Check out our step-by-step guide to using QuestionDB.
Step 3: Let The Power of AI Work For You
This is the point where you start to plan out what your actual content will look like. Normally, this is where the process gets time consuming and difficult, but with Article Forge this couldn't be easier!
Beyond planning out, organizing, and writing full articles for you, Article Forge knows how to optimize content for search so you don't have to.
Generate Content Automatically with AI
Once you have identified your primary keyword for the article, it's time to create your content.
Traditionally, writing is the most time-consuming and expensive part of the content production process. But with Article Forge, you can generate 1,500+ words of content with less than 15 seconds of work!
If you need a bit of background, Article Forge is a true AI article writer that can plan out and write full articles completely automatically. Unlike traditional AI writing assistants, Article Forge does not require you to walk through the writing process one paragraph at a time. Instead, it generates entire blog posts from just your keywords and optionally, your own section headings.
Enter Your Keywords
You technically don't even need to choose section headings as Article Forge can generate its own based on what it determines is most related to the keyword.
However, you have the option to enter your own section headings to maximize the control over the direction your automatically generated unique article will take!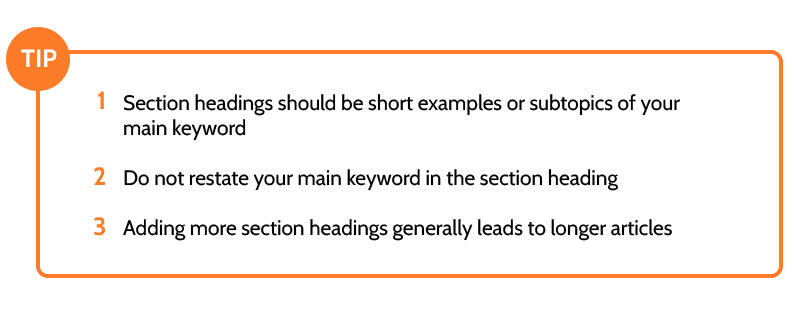 For this example, we have come up with a list of five section headings to include in our article about the "best golf clubs for seniors". However, you are able to add as many as eight section headings.
Ping G425 Irons
Callaway Apex DCB
Wilson Ultra Plus Set
TaylorMade SIM2 MAX Combo Set
Cleveland Launcher Turbo
The section headings we have identified follow two simple rules: firstly, they are relevant to anyone looking to buy senior golf clubs, and secondly, they are straight forward and will help the reader make a purchase decision.
Now, we will walk you through how to add your simple outline to Article Forge. First, you need to head over to the New Article page. You then need to enter your primary keyword and section headings where prompted.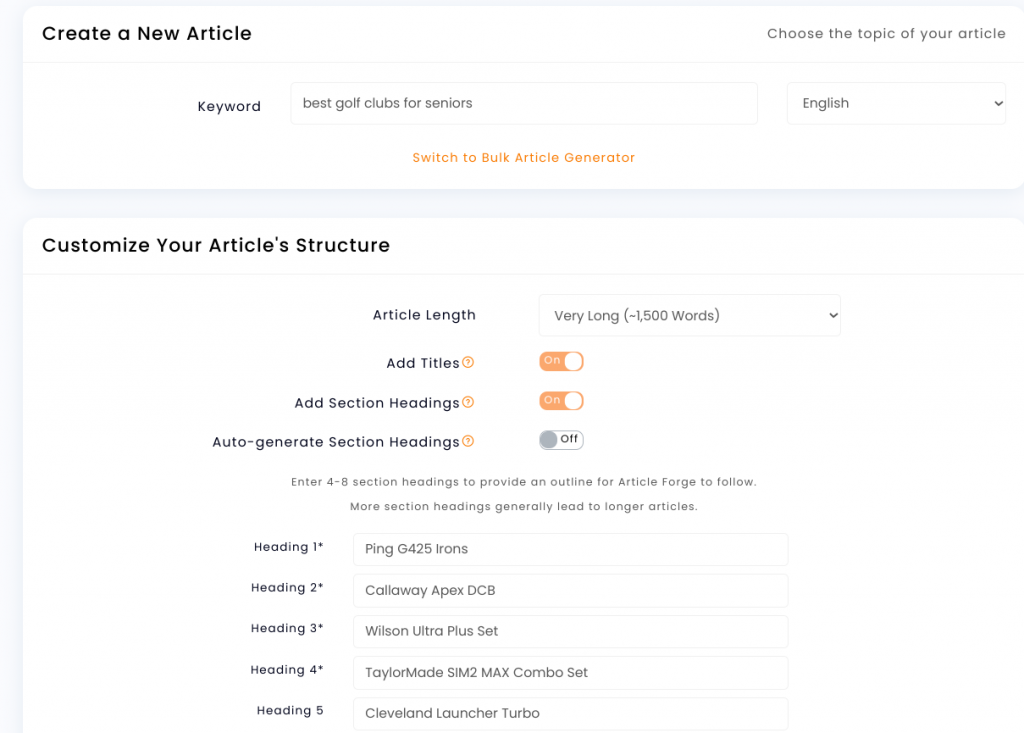 For an article with section headings, you have the option of 500, 750, or 1500+ words. Many studies have found that the content that attracts the most traffic, backlinks, and social shares is over 1500 words, so we recommend usually opting for the 1500+ words option.
If a certain topic can be covered in a concise way this is good too. While long content is good, straightforward content is better. Article Forge understands this. While most AI writing tools are very repetitive, Article Forge released an update that specifically avoids generating repetitive content.
Beyond this, Article Forge plans out and writes each article from scratch so no two articles will ever be the same. This not only means that Article Forge content is less repetitive than any other AI-generated content, it means that every piece of automatically generated content will be completely unique!
Once you have added in your keyword and section headings, simply scroll down a click "Create New Article" and just like that, Article Forge will begin producing completely unique content automatically.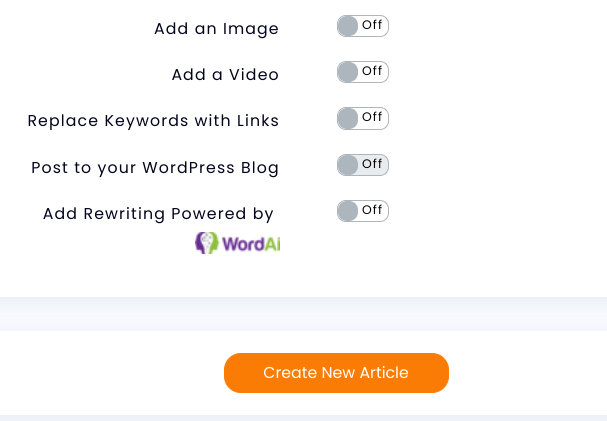 Receive Full Articles
Once your article is completed, you can export it or even publish straight to your WordPress blog. However, depending on your content quality standards, you may want to lightly proofread it to make sure the content fits with your overall voice and style before publishing.
The best part about this automatic content creation process is that it's infinitely repeatable and scalable. It's realistic that you will be able to go through all the low difficulty keywords on a particular topic in the Ahrefs Keyword Generator and build out your content strategy this way. The goal here is to establish topical authority quickly with minimal manual effort, and achieving the niche expertise you desire.
Please let us know if you have any questions about using the Ahrefs' Free Keyword Generator, finding the most relevant section headings, or maximizing your results with Article Forge - we are more than happy to help!
Revolutionize the way you get content
Start your absolutely risk-free 5-day trial today!
Start
my
free
trial!