Keyword research is widely regarded as the first step in any successful SEO content strategy.
But for many people, this is a daunting step that seems technical, time-consuming, and expensive. And unfortunately, keyword research usually leads to even more time, effort, and money spent creating the actual content.
But, this brief and actionable guide will walk you through how to do keyword research with Google Trends, a free tool, and how to turn that research into full, long-form articles automatically with Article Forge.
Contents:
Why Google Trends?
Google Trends is a helpful search popularity comparison tool that works as an efficient step in your SEO content strategy.
By utilizing raw data straight from Google, you can be confident that you are making decisions based on actual user behavior related to your keywords. Specifically, patterns, popularity, and overall "trends" related to the search volume of any keyword are the primary ways Google Trends can help you determine what content to produce.
The comparison feature goes a step further and demonstrates your chosen keyword's popularity relative to another keyword to help you further prioritize your different content topics.
Understanding User Interest by Location
One of the most significant benefits of using Google Trends is the detailed breakdown of user interest by location. As a content producer, you must be aware of where your audience is and what they are searching for (what is relevant to them), to tailor your content specifically to them.
Let's say your audience is 90% US-based, there is not much value in targeting a keyword that gets 80% of its organic searches from Europe (and less than 20% from US-based searchers). Said another way, if your target audience is in the US, you should be targeting keywords that have heavy search traffic in the US, indicating that your audience is searching with those keywords.
Through Google Trends, you will be able to spot any obvious location-based flaws in your SEO Content Strategy. You can plan your content schedule around raw location data and validated insights from the world's largest search engine rather than just creating content based on your own estimates.
Identifying Popular Related Search Terms
When using Google Trends for keyword research, a popular strategy is to filter by "top" queries (search terms) as it helps to identify continuously popular, evergreen long-tail keywords. However, depending on what type of content you want to create, the "rising" queries can provide fantastic insight into topics that are trending, or currently experiencing growth in search popularity.
Completely mapping out your chosen topic, as well as the wider niche, is a great way to build an actionable SEO content strategy. Creating a simple spreadsheet in Excel of the "top" and "rising" queries can help you easily identify enough keyword phrases to create a full content calendar around your main topic. You can then take the keyword list from your spreadsheet and utilize Article Forge's Bulk Article Generator to produce content at scale, automatically.
One thing to note is that Google Trends doesn't display specific keyword volume or ranking difficulty. This is a free tool primarily designed for comparing similar keywords, so it doesn't offer the same in-depth keyword analysis that paid tools do.
Walking Through an Example
For the purpose of this guide, we are going to create an article for the travel niche in the category "vacation ideas". Specifically, we are going to analyze search patterns related to both Paris and Barcelona.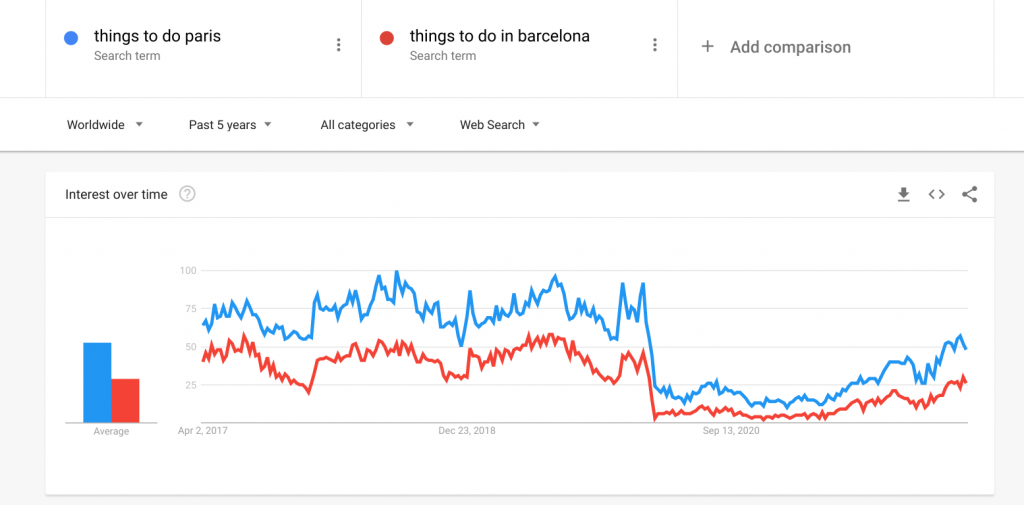 You will notice a significant seasonal trend in these keywords from 2017 to 2019. These periodic dips suggest that these search queries perform best throughout the summer months. This is valuable information to know when you are creating content, as it will allow you to plan for the optimal time to publish and/or update your articles in advance.
However, the first thing you noticed in the picture was probably not the regular dips 3-5 years ago, but the colossal decline in search volume from March 2020 to April 2021. Naturally, this massive and prolonged drop was due to the COVID-19 outbreak, but it is a good example as it illustrates a key point - Google Trends uses real data from actual people.
Choosing Keywords
Using location
As we mentioned earlier, location matters. Using the data from these two keywords, we can see that the keyword "things to do in Paris" has more search interest across the world, this is also reflected by the keyword difficulty.
In both the United States and India, we can see that the search for "things to do in Paris" has approximately 70% of the search traffic.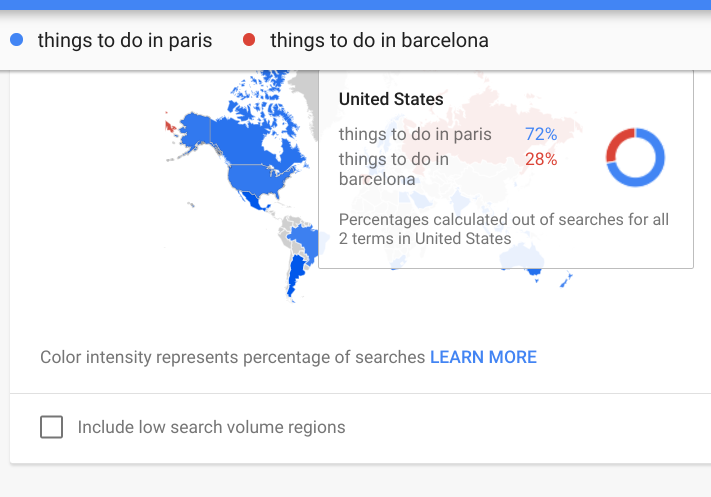 This is good to know, as a considerable proportion of organic web search traffic comes from these two counties. However, across Europe, the relative interest in "things to do in Barcelona" is much greater (just under 50%). So, to clarify the initial point, the location of your audience is crucial. 
They are your customers, so if they are mostly located in the US, writing the content they are searching for i.e. Paris enables you to create optimized content for your target audience more easily through Google Trends.
Using Related Queries
Another aspect of Google Trends that is useful for content creators is the "related queries" section, which you can filter by "rising" or "top". As mentioned above, this is a monumental feature that will allow you to truly reflect on the power you can harness from Google Trends.
There are two main ways to use related queries when producing content:
Filling Out Your Content Calendar
Primarily, the "related queries" can be used to help you fill out your content calendar with secondary blog posts that supplement your pillar content. A shared factor of many major publications, regardless of niche, is publishing high-quality content regularly. However, writing every day without fail is difficult and hiring writers can quickly become time-consuming and expensive.
The fact is, if you want to compete in your industry then consistent fresh content on your website is a requirement. Additionally, this gives you a key opportunity to build internal links across your entire website which is great for SEO!
Finding Article Subtopics and Sections
In addition, "related queries" can be used to quickly fill in all the gaps within a broader post.
Depending on how specific and long-tail the related queries are, they may function better as a section within a larger post rather than the topic of an entire post.
Regardless of the specificity of a group of related queries, they may make great sections within a more comprehensive post about your main topic. This strategy can help you create more extensive posts that help you stand out as a clear authority in the space.
After completing the initial step of deciding which topic to cover, we have chosen Paris. It's time to analyze the "rising" and "top" queries. This is a useful step as it can help you to identify the sub-topics you want to cover. "The Louvre", "Eiffel Tower", "Disneyland Paris", "Champs Elysees", "Paris Hotel" and "Weather Paris" are all related queries that will help us to add search intent precision and depth to the final piece of content.
Search Intent Precision
Satisfying search intent is critical if you want to rank on the first page of Google and win a large portion of the available organic traffic. Luckily, satisfying search intent is relatively straightforward - you just have to know the competition, e.g., what type of websites you are competing against.
After doing your Google Trends analysis, you may want a more specific post about an interesting keyword, such as "The Louvre". To identify what type of content you're competing against, it's a great idea to check the Search Engine Results Page (SERPs).
We can see that the Louvre's official website is ranking in the #1 spot for this particular keyword, with established historical sites and Wikipedia taking up the rest of the first page. After checking this, it would be wise to reconsider your article focus.
Another related query from Google Trends was the long-tail keyword "things to do in Paris at night". After analyzing the SERPs for this keyword, it's clear that the competition is mainly blogs with articles containing lists serving as vacation inspiration ideas. So, this would probably be a better target keyword for your content strategy.
Recognizing your competition and matching the search intent while delivering more value to readers than the competition will help you move up Google's rankings and drive significant organic traffic.
So, you have decided on the perfect topics for your article(s) from your Google Trends and SERPs research. You have identified keyword popularity, geographical interest, competition, and search intent. Now it is time to create your content
Turn Keyword Research into Articles With Article Generation AI
Your time is valuable, and Article Forge understands this. Unlike so many other AI writing tools, Article Forge offers a one-step solution to creating full, long form articles.
This isn't a tool that will just speed up your current content writing process so you can write articles in two hours instead of six. This will transform your SEO content strategy.
With Article Forge, you can produce full articles that are unique, relevant, and accurate with the click of a button. Article Forge is crucial for anyone looking to scale their content production. When it comes down to the facts, content quality and quantity matters for anyone looking to grow their business and increase their income with SEO.
More Content = More Traffic + Leads + Income
How To Use Article Forge?
With Article Forge, you can produce content as short as 50 words or as long as 1500+ words. This gives you the flexibility to create entire articles from scratch or simply add unique and exciting angles to existing pieces of content.
As mentioned above, there are a few ways you can use your keyword research to create full articles with Article Forge.
First, if your keyword is broad enough, you can enter it as a main keyword, set your length and let Article Forge do all the work.
In this case, "things to do in Paris" is broad enough for Article Forge to break down into subtopics. So, without any additional work, we can just enter our main keyword and let Article Forge pick the different topics to cover.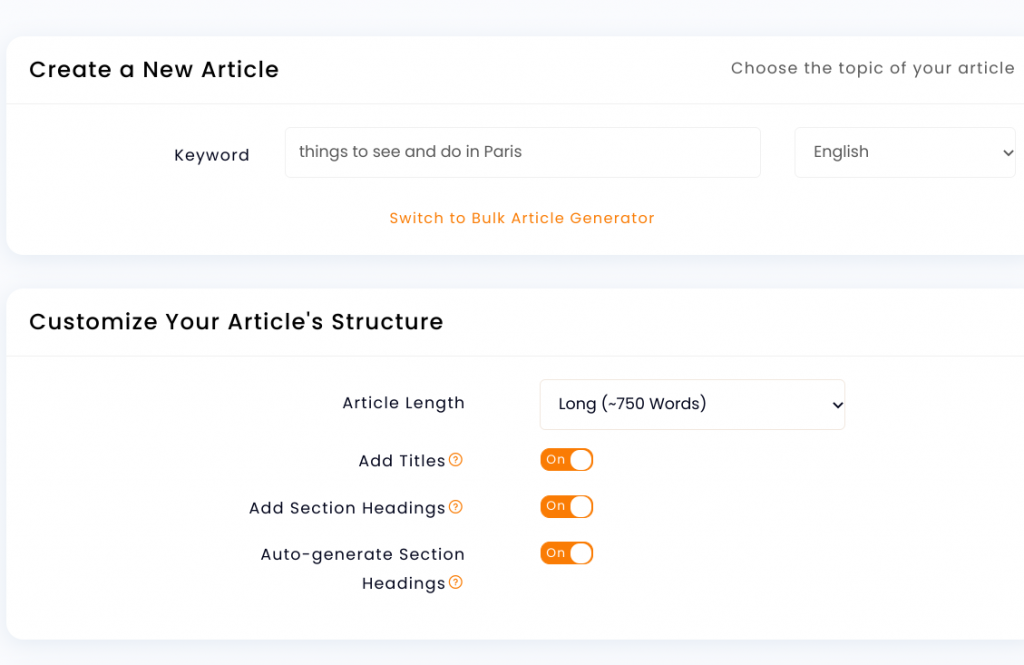 But, while creating our list of keywords, we also found many long tail terms that we want to target such as the "Eiffel Tower," "The Louvre," "Disneyland Paris," and "Champs Elysees". These are more specific examples of things to do in Paris that we know we want covered on our website.
So, we can add them as section headings to have Article Forge automatically write a 1,500-word article that talks about each of those places.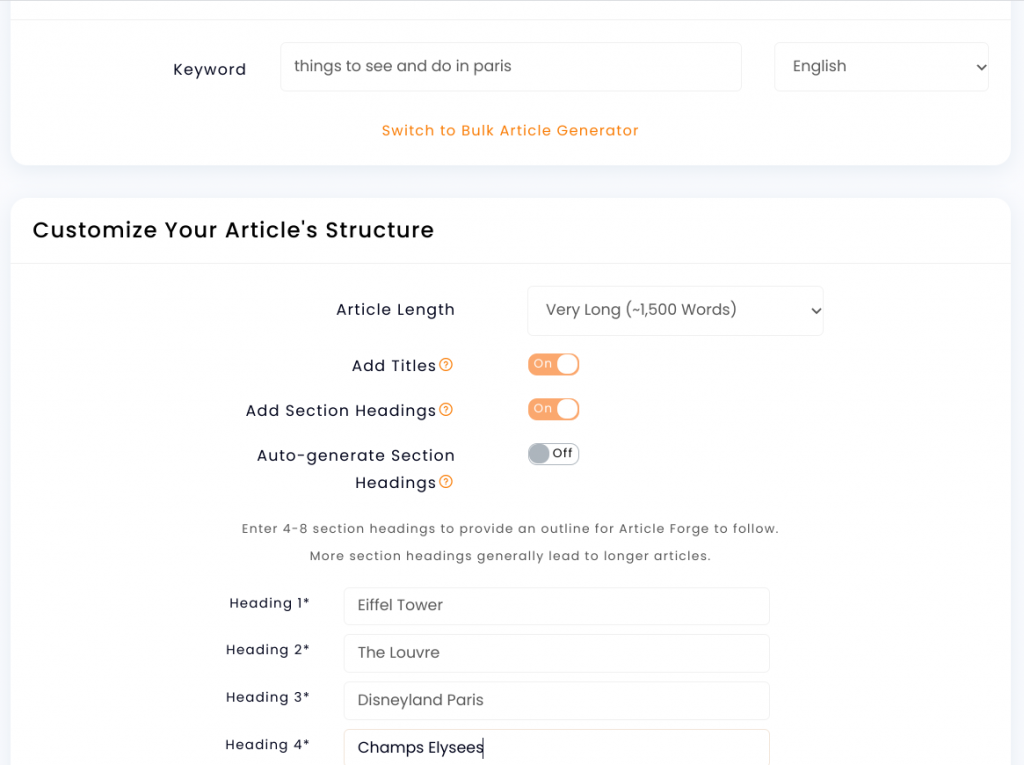 By entering our own section headings, we can produce a comprehensive piece of content that is both specific to our needs and utilizes the other popular queries that we previously identified in Google Trends.
Pro Tip:
If you want to fill out your content calendar even further, you can use the bulk generator to automatically write shorter articles about each of the more specific topics that we used as section headings. You can then link each shorter post to your main post to build out an entire pillar around things to do in Paris.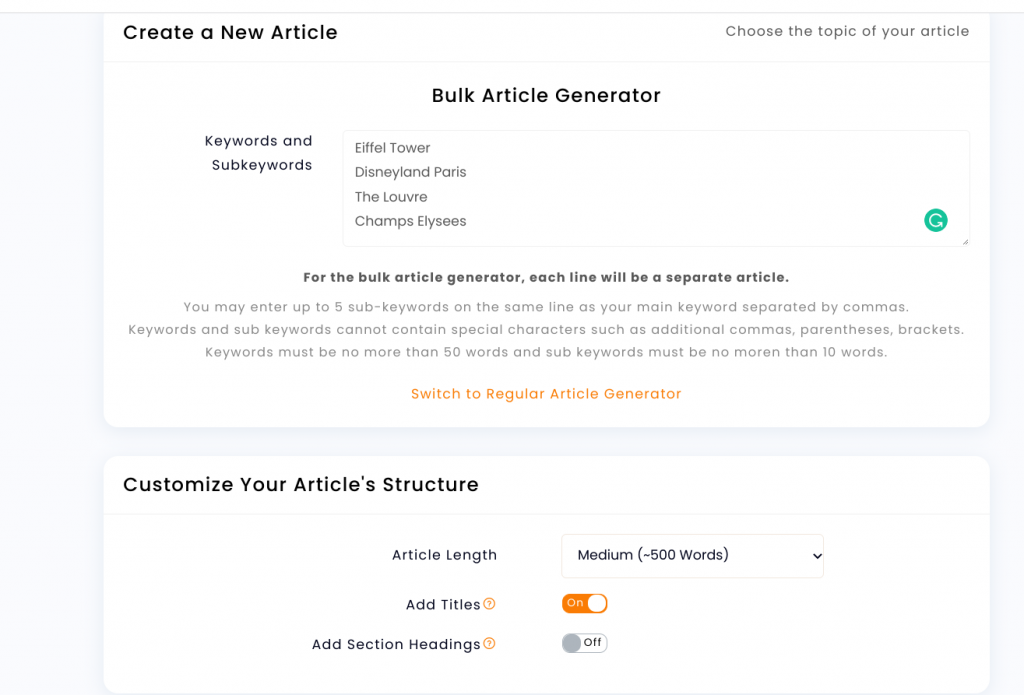 It's important to remember that the way you structure your main keywords will determine the direction your articles take. For example, entering "Disneyland Paris" will likely result in an interesting, but generalized, article. However, by describing your intent for the article, like "the best things about Disneyland Paris", Article Forge will be able to create a much more personalized article optimized for SEO.
For more tips on ways to get the best content from Article Forge, check out our best practices here.
Ultimately, Google Trends offers a free and unique keyword research solution. By utilizing real-world data and mapping out keyword performance over time and by location you can establish a keyword strategy that will increase your rankings and drive significant traffic.
Let us know in the comments if you have any specific questions about either the keyword research strategy or Article Forge!
Revolutionize the way you get content
Start your absolutely risk-free 5-day trial today!
Start
my
free
trial!