Answer The Public is a genuinely fascinating and visual keyword research tool. The tool displays phrases and questions that appear frequently in Google and Bing autocomplete in an easily understandable manner.
This makes it really easy for you to enter a seed keyword and find blog post ideas based on genuinely popular searches.
Additionally, Answer The Public was recently acquired by one of the leading keyword research companies: Ubersuggest. Ubersuggest was founded by keyword research guru Neil Patel and his acquisition of this tool demonstrates how valuable it is for anyone looking to improve their SEO.
By reading this post you will learn an actionable way to find hundreds of untapped keyword ideas in your niche. Then, we will show you how to use an AI content writer to create full articles with 15 seconds of work.
Contents:
How Does Answer The Public Work?
Answer The Public is structured quite differently than every other keyword research tool. Instead of showing you a table of "broad match" or "related" keywords, Answer the Public provides a massive visual display of all autocomplete options around your main keyword.
If you are not familiar with "autocomplete", it is the smart "predictions" a search engine makes about what it thinks you are looking for. For example, if you start typing "cool facts" into Google - you will see this.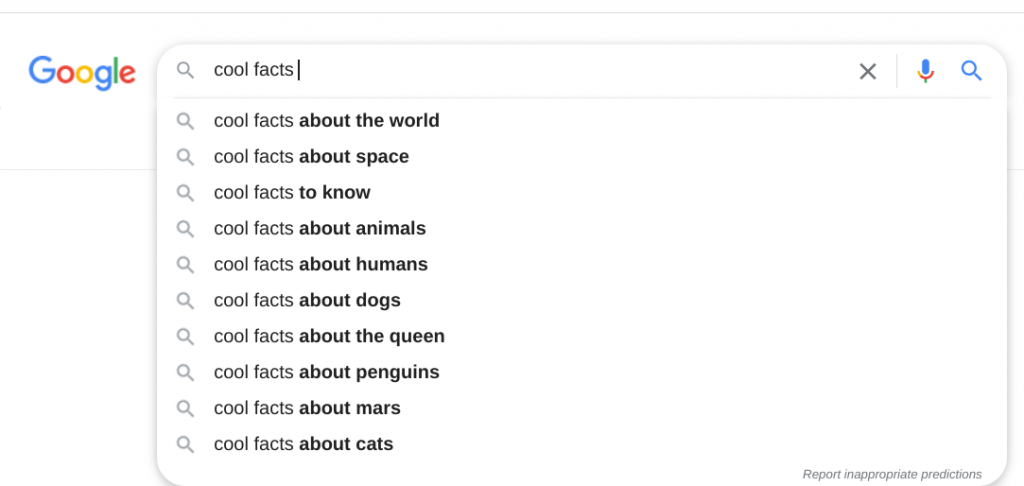 These are essentially the most popular and probable searches based on Google's huge search behavior database. When conducting keyword research, using autocomplete suggestions helps you to find surface-level content ideas, but with Answer The Public you will be able to take this much further.
When you enter your seed keyword into Answer The Public, various auto-complete suggestions will be compiled into a giant search cloud that you can utilize to find keyword ideas.
Now that we've covered how Answer the Public works in general, we are going to show you exactly how you can use it to find enough content topics to fill out your entire SEO strategy.
Using Answer The Public, Step-By-Step
Step 1: Learn & Explore Answer The Public
First, you will need to navigate to this page.
You will see that there are different use cases for Answer The Public, whether that's doing keyword research for blog post ideas or conducting consumer research prior to a product launch.
Step 2: Enter Your Seed Keyword
Now that you understand how Answer The Public works, it's time to take your seed keyword (your starting point) and generate lots of blog post ideas.
We recommend only entering 1-2 words as a seed keyword - this consistently delivers the best results.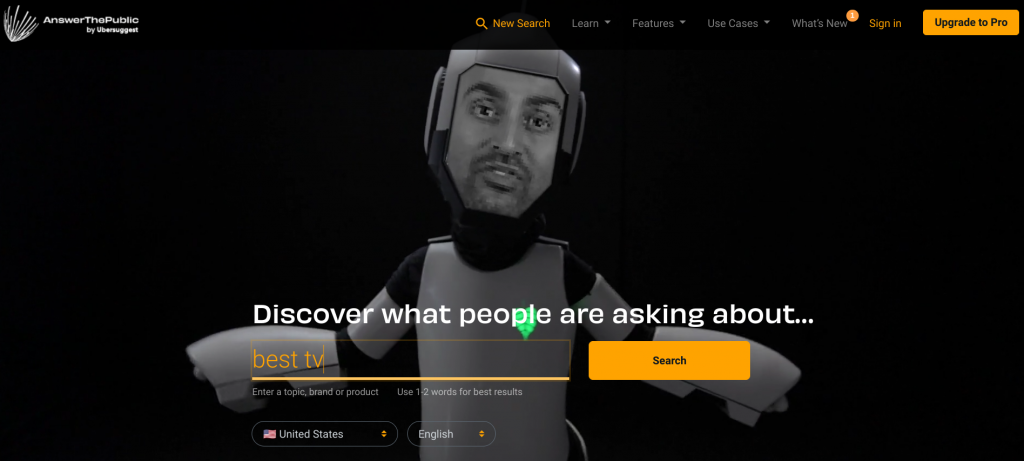 For this example, we are going to enter the seed keyword "best TV".
Some other good keywords in this niche could include:
Best laptop
Best speaker
Best camera
Smart home
Light fixtures
All you have to do now is click "Search" and we will be flooded with lots of content inspiration ideas that we can explore.
Step 3: Discover Untapped Keywords
After entering the seed keyword, "best TV" (or similar) into Answer The Public, you will quickly realize just how comprehensive and visual this tool really is.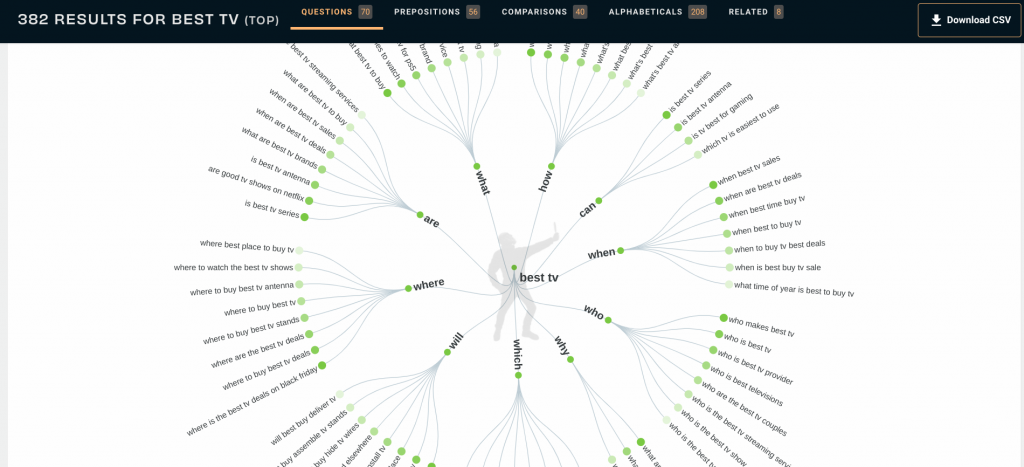 The report has produced 382 results that are broken down into five main categories:
Questions
Prepositions
Comparisons
Alphabetical
Related
In truth, all of these categories can be helpful within our keyword research. Below, we will explore the most important three categories and explain how you can use the data for your keyword research.
Questions
Your Answer The Public report will also have sub-categories, this is useful if you want to prioritize certain content types: what, how, can, when, who, why, which, will, where, and are. As you will see there are lots of variations between the questions.
Regardless of the differences, these questions always have the same end goal in mind: answering popular questions that real human beings are asking.
Your goal is to include these questions within your blog posts to provide a sense of expertise to your readers, and to directly answer their questions. This will help you to establish brand credibility that will translate into your ability to sell your products or services.
Prepositions
Just like the questions, Answer The Public breaks down prepositions into sub-categories. These are: for, can, with, without, near, to, and is.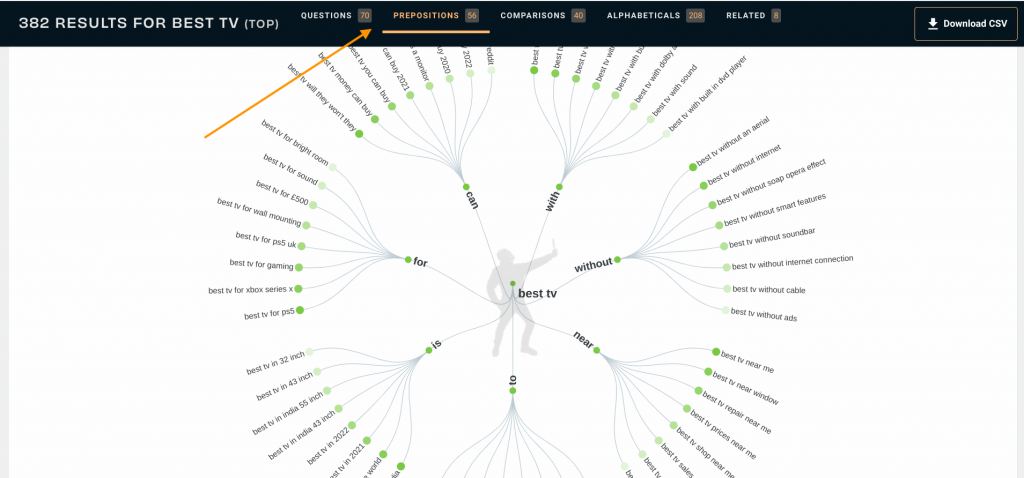 Prepositions are our absolute favorite part of Answer The Public. Look at the long-tail keyword suggestions here, you can create entire articles for each of these keywords. Additionally, you will notice that there are 56 prepositions to choose from here.
This means you can create plenty of content around different aspects of "best TV" to rank for more keywords and boost your site's authority!
Here is what to do:
Add all of the preposition keywords you like to a list (we like adding them to a Google Sheet).
Rank them in order of most to least priority.
Add the highest priority articles to your content calendar and add a column for the "post date"
This way you can batch-produce blog posts weeks (and even months) in advance!
Comparisons
Comparison operators are great for creating content that has commercial intent. Simply, these keywords have significant profit potential, so you should try and target them occasionally. A good rule of thumb is 10-20% of blog posts.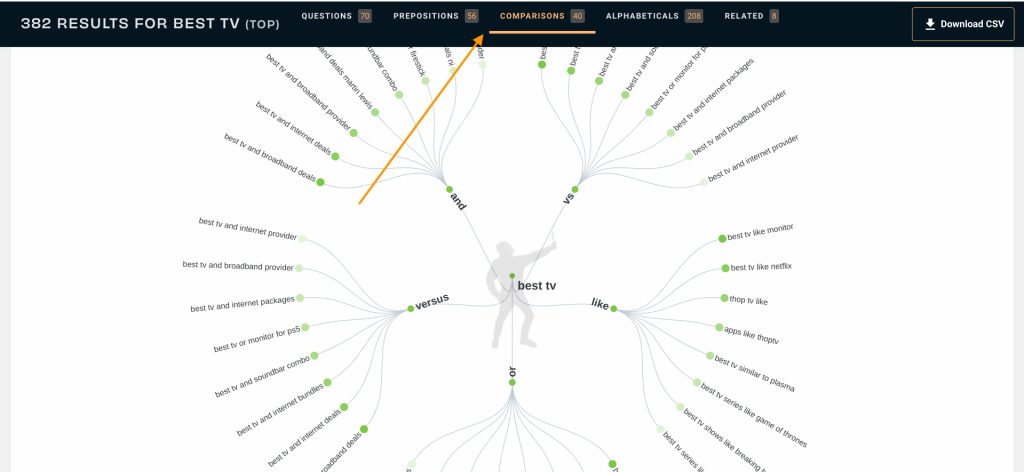 These keywords are usually much more specific and far less competitive than the very generalized keywords in your niche such as "best tvs" and "best laptops".
One of the best things about these comparison keywords is the potential to make double sales as a result of producing high-quality and persuasive blog posts.
For example, the keyword "best tv and soundbar combo" gives you a unique position. By targeting a less competitive search term and publishing persuasive marketing content for the products you want to sell, you can corner the market for these searches.
Step 4: Choosing Long-Tail Keywords
Now that you understand the main types of data visualizations that appear in a search of Answer The Public, it's time to choose several keywords that you like. Add these keywords to your notebook or Google sheet so you don't have to conduct multiple keyword research sessions.
We recommend making an extensive list of keywords, as well as several questions to add more informational value to your content. We always like to start with the keywords and then we can find questions related to the keywords after.
For our primary keywords, we wanted to pick topics that have commercial value and will have a serious ROI for our business. SEO is a numbers game, so we should aim to create content at scale. In most cases, building a list of 20 or more keywords will allow you to easily identify the topics you want to create full blog posts around. Here is the beginning of a list of commercial keywords that we can use:
Best TV and Soundbar Combo
Best TV for Bright Room
Best TV Without an Ariel
Best TV for Wall Mounting
These are all keywords that will lead to articles that will directly address people who are deep into the buying cycle and are ready to purchase a TV that suits their needs.
This means that the potential customer will have already eliminated several options, thus it's now your responsibility to produce content that is informational, persuasive, and ultimately transactional.
Step 5: Identifying Questions
The final step before we get to automating content production is to select some questions from your Answer The Public report. Answering these highly relevant questions is a great idea because they can help you to show up within featured snippets and "related queries" sections.
Simply, this means you will rank higher, attract more eyeballs to your content, increase your readership, build brand credibility, and most importantly increase your profitability.
Let's take another look at the questions in our Answer The Public report. Here is your opportunity to identify questions that are relevant to the keywords you have selected.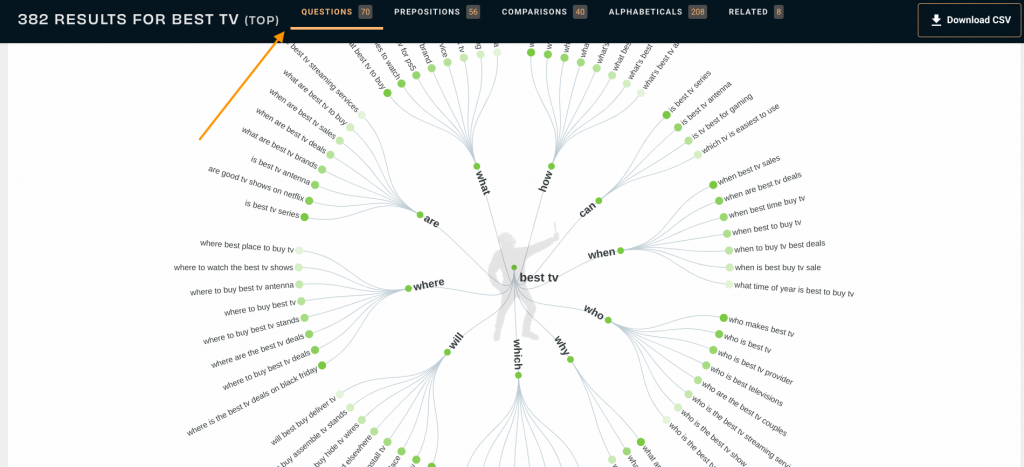 We recommend just choosing 1-2 questions for each article. For this example, we will choose questions for the article focused on the keyword "Best TV for Wall Mounting".
After examining the data visualization table, we have decided to go with
"Who is the best TV provider?". Given the many good options,, we decided to answer the question "How to wall mount a TV?" due to the specific focus of our keyword.
Providing short and concise answers to these questions will be a great way for us to produce blog posts that are both informational and will likely lead to more sales.
Generating Blog Posts Automatically With Article Forge
Traditionally, the most tedious and time-consuming part of creating content is writing. After conducting all of your keyword research, you would normally have to sit down for several hours and actually write your article, or spend hours and hundreds of dollars finding, vetting, and hiring writers.
However, with an AI Article Writer like Article Forge, this is not the case. By entering your keyword (from above) and clicking a single button, Article Forge will automatically generate entire unique and high-quality articles. You can easily tweak any content right in Article Forge, or you can even have Article Forge automatically publish your content to your WordPress blog.
We will quickly show you exactly how you can do this in just a couple of minutes.
How To Use Article Forge
Article Forge is the easiest AI content writer to use. While many other tools focus on helping you to write, Article Forge generates entire blog posts for you. Simply, this means you can create content with less than 15 seconds of work.
Firstly, head over to the New Article Page. You will then simply have to enter your primary keyword where prompted, choose your article length, and leave the rest of the toggles at their default settings. That's it!
Simply scroll down and click "Create New Article" and Article Forge will spring to life and begin to generate SEO-optimized, unique, and relevant content for your website. It's really that easy!
Optimizing Your Section Headings (Optional)
This step is completely optional so feel free to skip it if you'd prefer. However, to maintain maximum direction and control over your article, we suggest selecting your own section headings.
This might take an extra minute of research, however, it will enable you to give Article Forge an "outline" to write from. You might want to do this if you have a specific list of points or items that you want to make sure Article Forge writes about. Otherwise, Article Forge will just pick topics it (and Google) thinks are relevant to your main keyword. .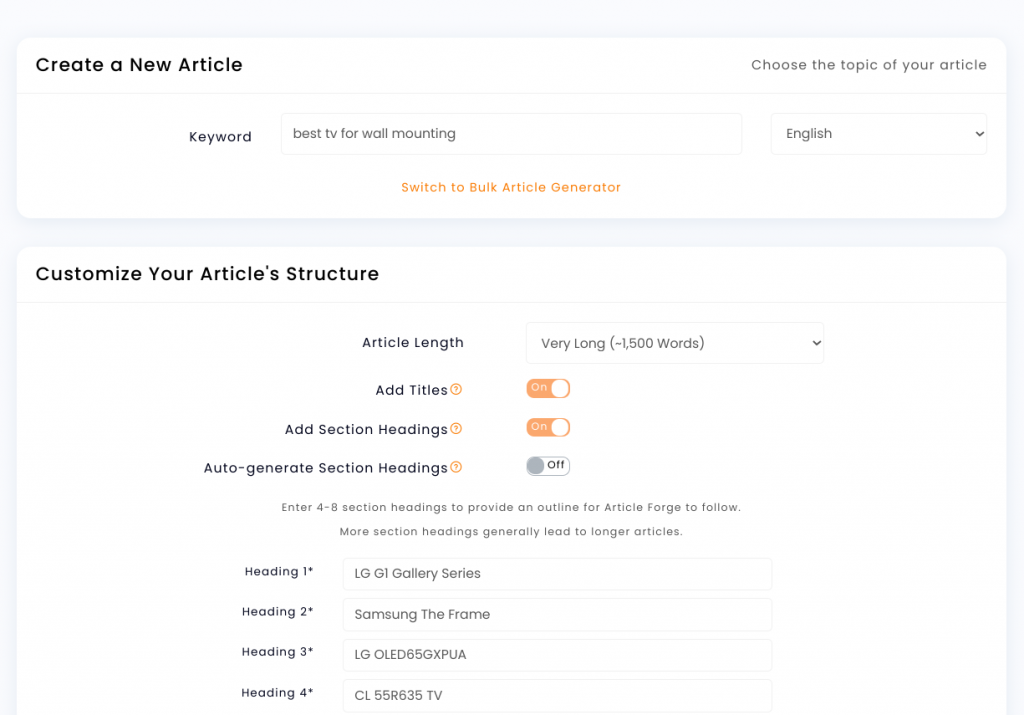 As you can see we have identified four wall-mounted TVs that we want to review and effectively promote within our article.
By adding these TV models as section headings, Article Forge will generate content on these specific models. This is a very effective strategy if you are looking to sell a specific product through your website. Also, make sure you put the product that you want to sell as #1 on your list, as this will typically receive the most clicks!
Fill Up That Content Calendar
Earlier in the article, we mentioned that a good use case for Answer The Public is identifying multiple relevant keywords, and now you will see why.
Firstly, come to the New Article Page as before. Then click, "Switch To Bulk Article Generator".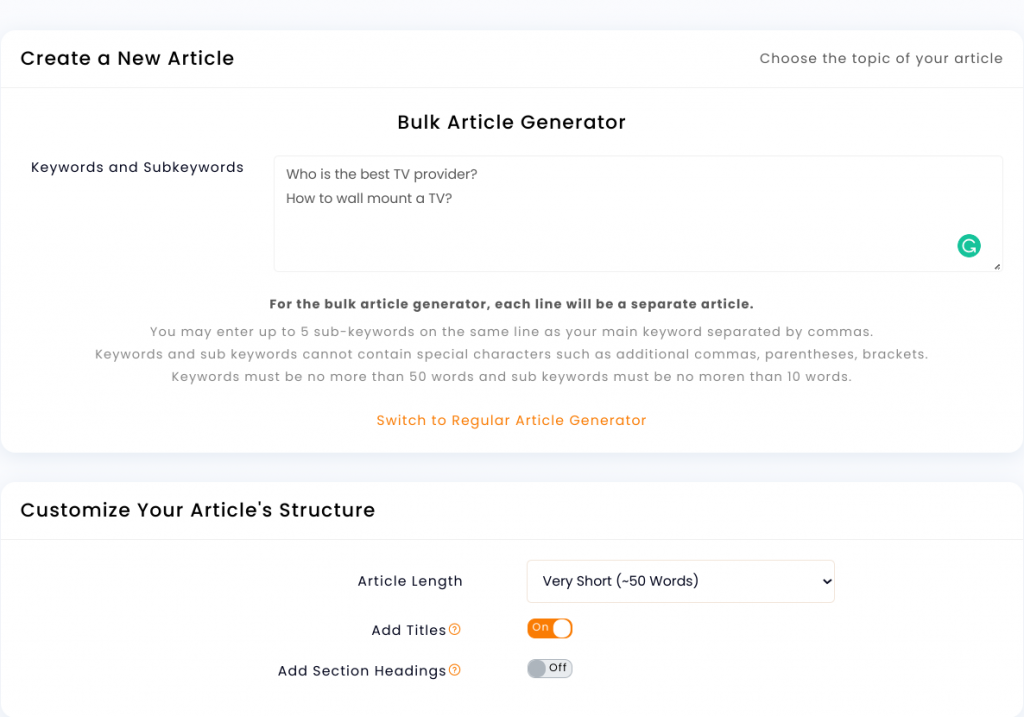 This time all you will have to do is enter all your keywords on separate lines. This will ensure that each keyword leads to a whole separate article.
Yes, that's right. By just entering multiple long-tail keywords into the Bulk Article Generator, Article Forge will be able to produce a separate, relevant, and unique article for each.
By using this method, you can produce all your blog posts for a month, two months, or even six months in advance. This means keyword research will not become an ongoing task, but something you do occasionally to help you batch produce content.
More importantly, you will be able to spend more time focusing on other parts of your business, enabling you to be more and more productive.
Answering Popular Questions
Another good use-case of the Bulk Article Generator is answering the frequently searched questions that we have previously identified in Answer The Public.
As before, enter your questions into the Bulk Article Generator on individual lines. This time ensure you set the length to 50 words, or if you feel like they are major topics set the output length to 250 words.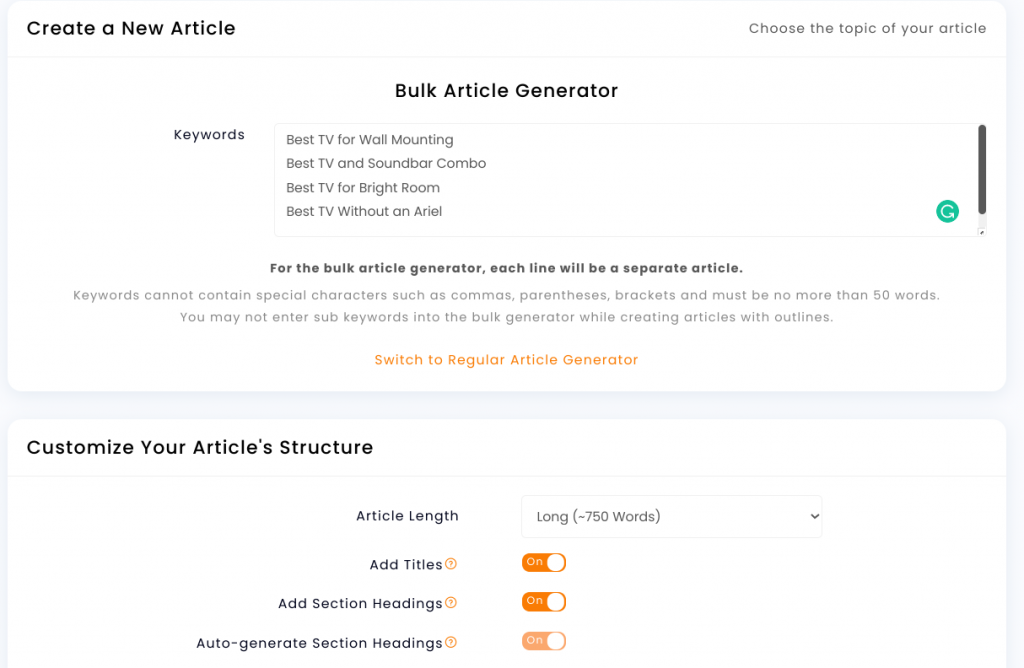 Just like that you will be able to automatically generate short and concise responses to popular questions from potential customers. This means that you will be solving their problems, and helping them to establish trust and rapport with your brand!
Wrap Up
Today we have given you a step-by-step strategy that simplifies keyword research and content creation. By using Answer the Public and Article Forge as part of your SEO content strategy you will be able to find unique keyword opportunities and create optimized blog posts with a single click.
We hope that you have enjoyed this article and if you have any questions about conducting keyword research with Answer The Public or automatically generating content with Article Forge don't hesitate to reach out as we are always happy to help.
Frequently Asked Questions:
Why should you use Answer the Public?
The most significant benefit of Answer The Public is the data visualizations. The way that content ideas are structured in an Answer The Public report is easy to understand, as a result, finding awesome and obscure long-tail keyword ideas is pretty straightforward. By producing content on the various question types related to a keyword achieving topical dominance and establishing authority is much easier.
Is Answer the Public free?
Answer The Public does have limited free functionality. With Answer The Public you can make three free searches a day. To upgrade to unlimited searches, the price is $79 a month (if paid annually), or $99 on a monthly basis. Currently, Answer The Public is also offering 50% off Ubersuggest for the first month.
Was Answer the Public acquired?
Yes. Answer The Public has been acquired by Ubersuggest as of May 31st, 2022. It's speculated that the move made by Neil Patel to acquire Answer The Public was a relatively painless acquisition. Ubersuggest will benefit from reaching a wider audience and being able to improve its overall service offerings. By providing additional value for its users it is likely that we will see an increase in Ubersuggest subscription prices.
How did Ubersuggest acquire Answer the Public?
Although the exact terms of the deal were not disclosed in the public domain it is our opinion that the deal was somewhat of a bargain for Ubersuggest. Answer The Public has been following a downward trend in terms of popularity, so it's likely that they were more than happy to sell out. As a result of the acquisition, Ubersuggest will be able to implement the keyword visualizations that made Answer The Public such a great tool.
Revolutionize the way you get content
Start your absolutely risk-free 5-day trial today!
Start
my
free
trial!