Note: Our Keyword Research to Publishable Content series covers a range of tools that offer unique and cost efficient keyword research functionality. These guides then go an important step further and show you how you can easily use AI to write high-quality articles about these keywords.
We chose to cover Ubersuggest because it provides tailored recommendations for keywords that your actual website(s) are capable of ranking for. We are not receiving commissions on these recommendations and are choosing them simply because they can provide you value.
After this post, check out our other guides, or let us know if there's another tool or strategy you'd like us to cover!
---
Ubersuggest provides keyword research functionality that rivals the likes of Semrush and Ahrefs at a much more competitive price. Beyond this, the founder, Neil Patel, designed the tool to be useful for beginners and experts alike. Most importantly, Ubersuggest offers an intuitive way to find keyword opportunities even in "saturated" markets.
Specifically, this post shows you the actionable steps for using Ubersuggest to find keywords you can rank for. Then, how to use these keywords to automatically generate content with AI.
Contents:
The Best Way To Use Ubersuggest, Step by Step
Step 1: Getting Started
Log into Uberuggest
If you do not have an account, you can create one for free here. You will have to enter your name, email address, and password. Once this is done you will be good to go!
Once you log in, you will quickly realize that this is far more than a keyword research tool.
Rather, Ubersuggest is a comprehensive SEO tool that offers traffic and competitor analysis, site audits, and even a backlink analyzer.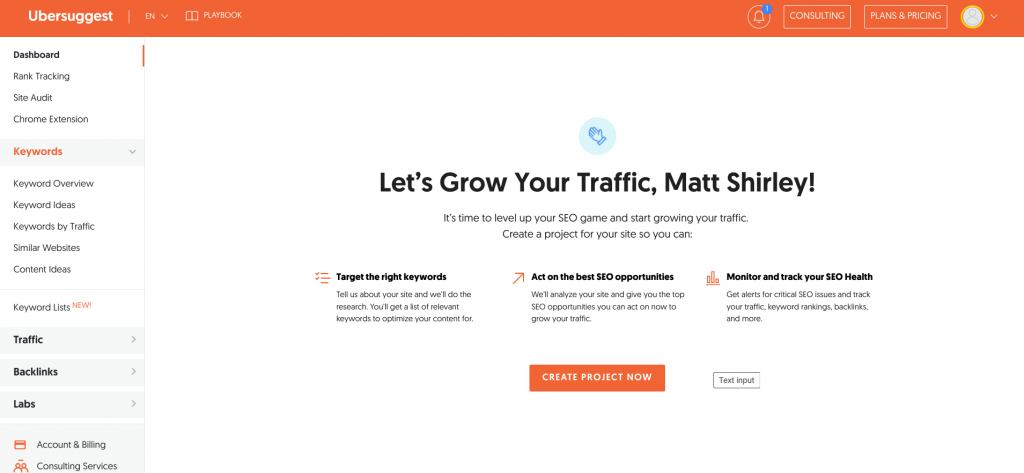 While these features are great for SEOs, this guide focuses on the most actionable way to perform stress-free keyword research with Ubersuggest. And more importantly, how to turn that data into publishable content with minimal effort. 
Step 2: Broad Keyword Overview
First, head over to the keywords dropdown and select "keyword overview". Here, you can run a report on any keyword - we recommend starting with relatively broad keywords around your niche. For the purpose of this guide, our website talks about shoes, so we have selected "Best Nike Trainers".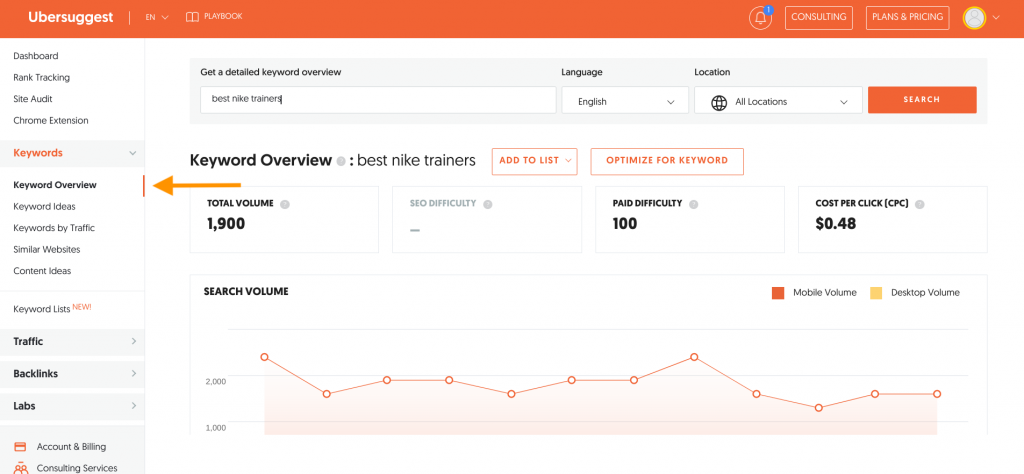 However, you will also notice that the "Paid Difficulty" metric is 100 (the maximum). Although Paid and SEO difficulty are different, running a location-specific search (below) shows that this keyword also has high SEO difficulty and would be challenging to rank well for.

Step 3: Find Unique Keyword Ideas
If you find that your keyword has a high SEO difficulty score, don't worry! Ubersuggest makes it easy to find more optimized options with their "Keyword Ideas" feature.
Filter Keywords
Ubersuggest understands what you care about and has a feature that allows you to filter keywords by "Page 1 Ranking Potential". All you need to do is enter your website domain and Ubersuggest will calculate your website's authority in relation to the "SEO Difficulty" of a given keyword. Ubersuggest will then provide keyword suggestions that you will be comfortably capable of ranking for.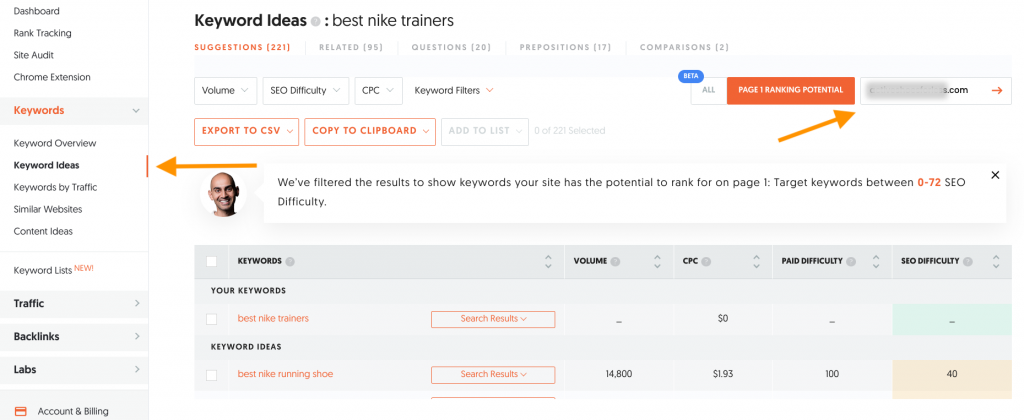 Step 4: Choose "Easy" Keywords for Better Ranking Potential
We've made it to the final step!
After entering "our website" and running a tailored "Keyword Ideas" report, we have 221 unique keyword suggestions ranging from "Best Nike Shoe Collabs" to "Best Nike Shoes For Knee Pain". 
Note: you should only select keywords that are within your website-specific difficulty range. Fortunately, you can filter your custom keyword list by "SEO Difficulty" to make the keyword identification process effortless.
Beyond your recommended difficulty range, Ubersuggest has stated that any keyword with an "SEO Difficulty" below 35 is considered "easy" to rank for. In theory, this means that you will be able to rank on the first page by producing high-quality content on any keywords with a difficulty score below 35!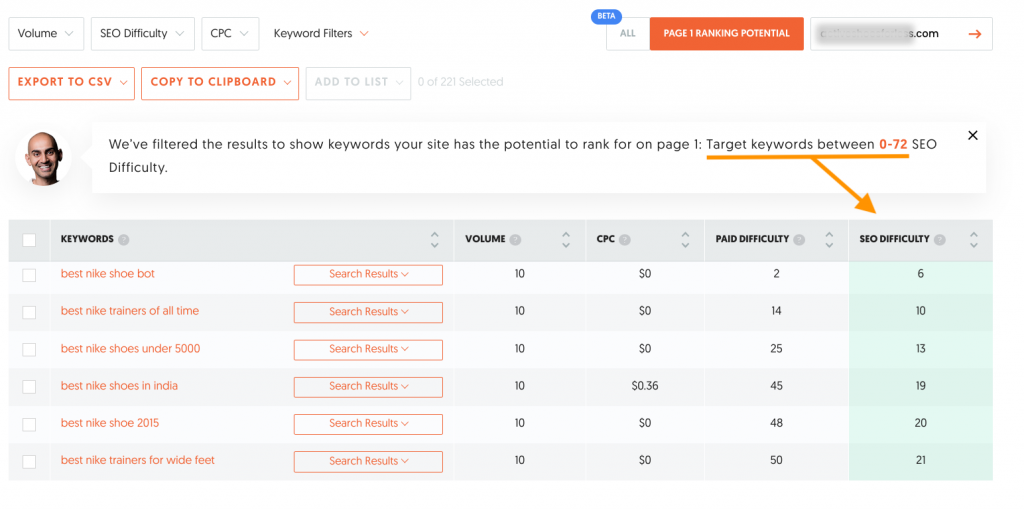 Forget About Volume
While these lower-difficulty keywords show a much lower "Volume", this isn't something you should be worried about. This is because once you create high-quality content for a target keyword, your content will begin to rank for hundreds of related keyword variations and not just a single instance. Don't believe us? Well, check this out.



The same article ranks first for three different searches! This is clear-cut proof that you shouldn't be concerned about the volume metric in Ubersuggest. Instead, focus on choosing low-difficulty keywords that have commercial intent - these are keywords that contain terms like "best", "review", and "vs".
By focusing on creating intent-based, relevant content, you will be much more likely to reach the highly engaged readers you are looking for.
So, now that you know how to find good keywords with Ubersuggest, it's time to turn them into full articles.
Normally, this is where content strategies get hard - but fortunately, this guide walks through the single easiest way to produce high-quality long form content.
Simply, Article Forge can help you turn a simple keyword into 1,500+ words of content automatically. According to Databox, this is the ideal blog post length as it allows you to stay hyper-focused while providing the maximum value to your readers. This equates to more organic traffic and backlinks to your website.
Automatically Generate Content With Article Forge
When people think of AI writing tools, the first thing that springs to mind is mindless and repetitive content that adds no value and is frankly not engaging.
This is no longer the case. Article Forge is much more intelligent than it is artificial, all while requiring minimal human input. By following the steps below, you will see exactly how you can generate optimized content with Article Forge.
Step 1: Choose a Primary Keyword
First, we need to decide on a primary keyword. We have selected "Best Nike Running Shoe". This keyword has a relatively high CPC (cost-per-click) which shows that advertisers are willing to pay a good price to jump the queue ahead of organic content. This means that there is clear buyer intent, and people searching for this keyword are almost ready to make a purchase. 
This keyword is within a reasonable SEO difficulty for our website. However, if your site is not as established yet, you should be looking for keywords with a low SEO difficulty. Ubersuggest recommends "SEO Difficulty" below 35, so targeting keywords under 25 is a safe bet!

Step 2 (Option 1): Fully Automate Article Creation
Fortunately, the primary use case of producing long form content with Article Forge requires minimal human involvement.
By using the default "Auto-Generate Section Headings" feature, Article Forge will plan out optimal section headings using information from posts that are already ranking on the first page. To be clear, Article Forge doesn't copy other headings, but rather uses them as inspiration to create optimized content.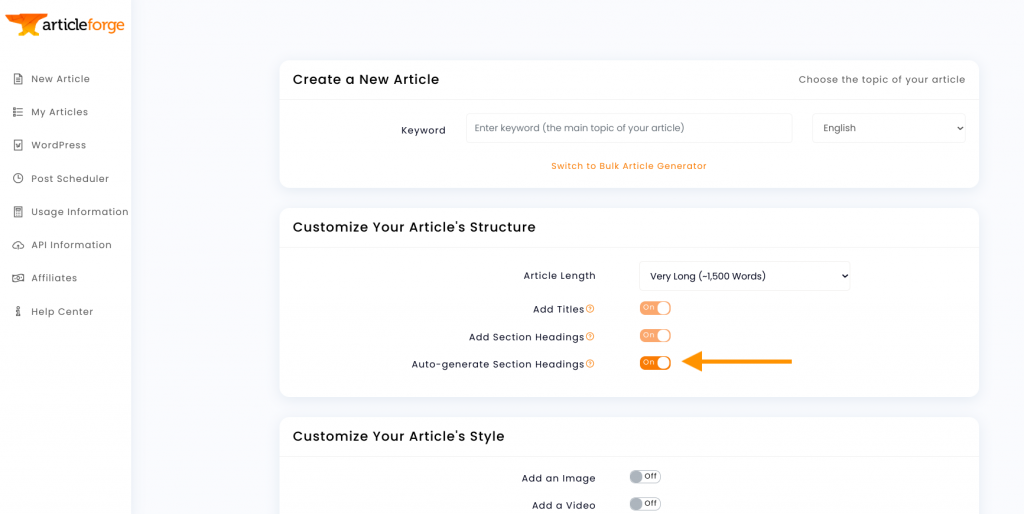 Because this option is selected by default, all you have to do is go to the New Article page and enter your primary keyword (in our case this will be "Best Nike Running Shoe") and click "Create New Article". 
Just like that, Article Forge will research, plan out, and write a completely unique and optimized article around your chosen keyword!
Step 2 (Option 2): Take Control With Section Headings
If we want more control over the direction of our articles, we can take the process one step further: choosing our own section headings. In this case, we will make a list of 4-8 popular Nike running shoes that would be a good fit for this article.
After doing less than a minutes of research, we have identified five pairs of shoes we want to include in our article:
Nike Air Zoom Pegasus 38
Nike Free Run 5.0
Nike Air Zoom Vomero 16
Nike Zoom Fly 4
Nike Downshifter 9
We now have a primary keyword and multiple section headings for our article.
Note: This is a completely optional step, and you can skip it to have Article Forge pick optimized headings for you.
Traditionally, this is where content production gets time consuming and difficult. But with Article Forge you are about a minute from a full article!
All we need to do is enter our simple "outline" and let the magic begin. First, enter your main keyword on the New Article page.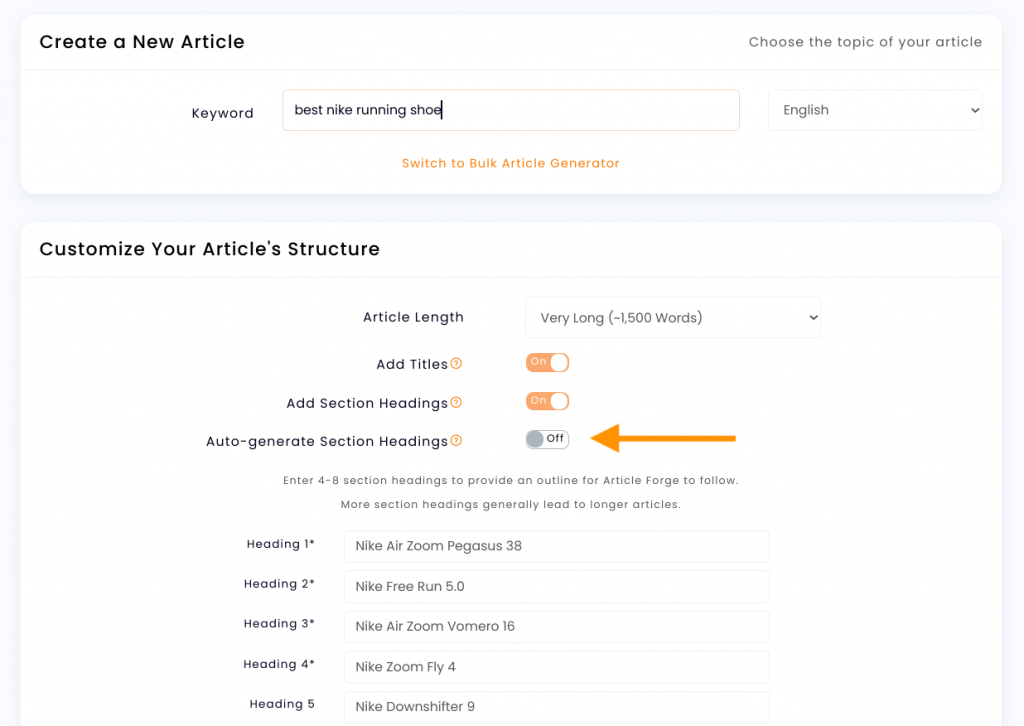 Then, select your article length and turn "Auto-generate Section Headings" "Off" to enter your section headings. We recommend entering your section headings in the same way we have done and opting for ~1,500 words. This will give you the best chance of ranking well in the search results once your post has been crawled and indexed. 
Bonus: Bulk Produce Quality Content
While creating one high-quality article at a time with Article Forge is an incredible time saver, you can use the Bulk Article Generator to scale your SEO content strategy.
Using Article Forge's Bulk Article Generator enables you to produce your entire content calendar on auto-pilot.
For example, we can take a list of keywords that we identified earlier in Ubersuggest and create articles for all of these keywords simultaneously.

All you need to do is click "Switch to Bulk Article Generator" on the New Article page and paste all your keywords. Depending on how specific your keywords are, you might want to choose 750-word articles instead of 1,500+ words because it will enable Article Forge to create much more concise content.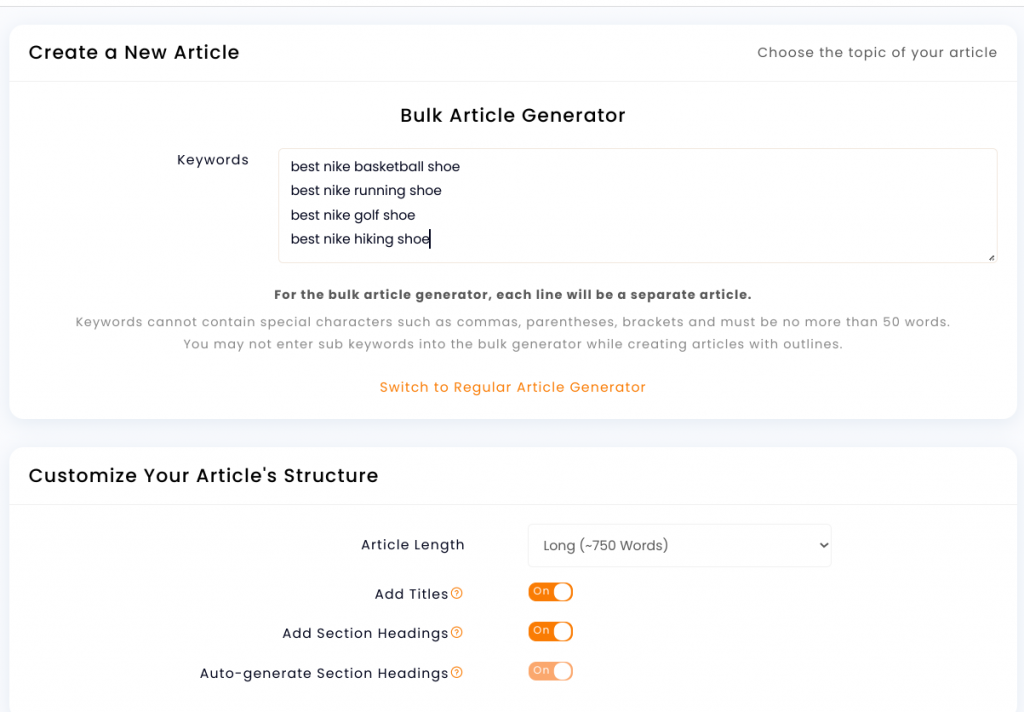 Now, all we have to do is scroll down and click "Create New Article" and just like that, Article Forge will automatically produce four unique, optimized, and relevant articles. 
This process can enable you to batch produce content so that you can stay weeks ahead of your content calendar and spend more time focusing on growing your business.
We hope that you have found this to be a useful and actionable take on keyword research. We are always trying to help our customers and we will be happy to answer any questions about Ubersuggest's extensive range of tools, or about Article Forge's evolving capabilities.
In the meantime, thank you for reading, and Happy Forging!
Revolutionize the way you get content
Start your absolutely risk-free 5-day trial today!
Start
my
free
trial!