Does the thought of performing keyword research intimidate you?
If it does, you're not alone. 
Maybe you've heard about the benefits of a successful SEO content strategy:
More organic traffic
Greater market presence
More leads, conversions, and revenue (sales, ad revenue, affiliate commissions)
But all the information out there can make SEO seem complicated, and it can be hard to know how or where to start.
Luckily, you do not have to be an SEO expert to create high-performing content, and you do not need to pay for keyword research tools to get started.
By following this guide and implementing the easy-to-follow AI-based strategy, you will be able to find profitable keywords at scale (for free) and generate your next month's content in bulk with Article Forge.
By following this guide, you will:
Skip the SEO learning curve
Find keywords you can rank for in your niche
Produce 20+ high-quality SEO articles automatically
Increase your website's relevant traffic 
Make More Money
The Theory
There is no question that content is king. Creating high-quality, relevant content will help you rank higher and build authority and expertise in your niche. 
The problem is that SEO is usually a numbers game: some posts will perform exceptionally well, and others will never pick up traction.
This is scary when you invest a lot of time and money into each piece of content.
But, if you can increase your total content output using AI, your return on investment (ROI) will improve massively.
This is because an AI writer lets you produce significantly more high-quality content per hour and dollar spent than traditional methods.
Maintaining quality matters, but creating content at scale will ensure that your sites rank for more keywords and that real people regularly visit your sites, convert, and make you money.
So, without further delay, let's get into the exact strategy you can use to make keyword research and content creation effortless.
The Strategy
Below is an overview of the entire strategy. We recommend reading through this guide in order the first time. But as you continue to use this strategy, you can easily navigate to any step here:
Step 1: Keyword Research with Free Tools
Your first task is to create a list of ~20 keywords. Later in this guide, you will turn these keywords into full SEO articles with AI. We'll break this down below:
Start with a broad topic you want to create content about within your niche.
If you're not sure what you want your broad topic to be, think about different aspects of your niche: 
Are there types of products or services your audience is looking to buy?
Does your product or service help people with different needs or use cases?
Are there popular topics in your niche that people are actively searching?
Asking yourself these questions will help you develop broad topics that your audience cares about and will help you create content they can find.
Once you have decided on your broad topic, it is time to create your entire list of keywords.
We recommend choosing a mix of informational and transactional keywords for the best content balance.
Semrush explains the 4 different types of keyword intent here.
Producing both informational and transactional posts will help you strike a quality balance between the posts that can make you good money and those that will help you establish authority in your niche.
To do this, we recommend using two tools:
QuestionDB for finding informational keywords (especially questions)
Wordtracker for finding low competition transactional keywords
(Each of these tools has their own strengths, but if you'd rather just stick to one tool, this strategy will still work).
To give you an example, we will assume that you have a blog about kitchens and you plan to make affiliate income through popular products and appliances. So, our broad topic will be "coffee machines", but it could be any broad topic related to kitchens.
Top Tip:
Create 50% of your posts on informational keywords (including questions) like "How does a coffee machine work" and create 50% of your posts on transactional keywords e.g. "best single cup coffee machines".
Use QuestionDB to Find Question and Informational Keywords
QuestionDB is a completely free tool (no sign-up required) that is great for finding keywords that real people are searching with.
This guide only covers exactly what you need to do to generate questions as informational keywords. However, if you want to learn more about the tool, check out our full guide to QuestionDB.
To get started, head to QuestionDB and enter your main topic from above as your "seed keyword" like this. 
We chose "coffee machine" as our seed keyword because it is an expensive and popular kitchen appliance.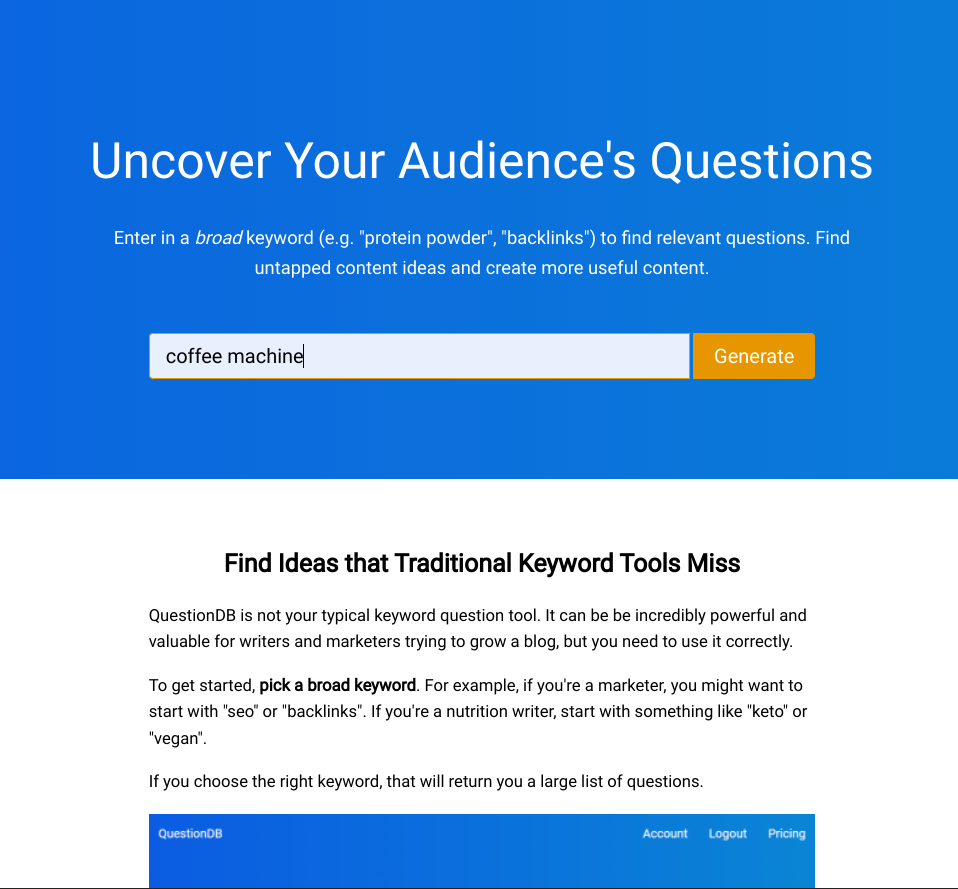 Now, just click "generate" and wait a few seconds for your keyword and question list to appear.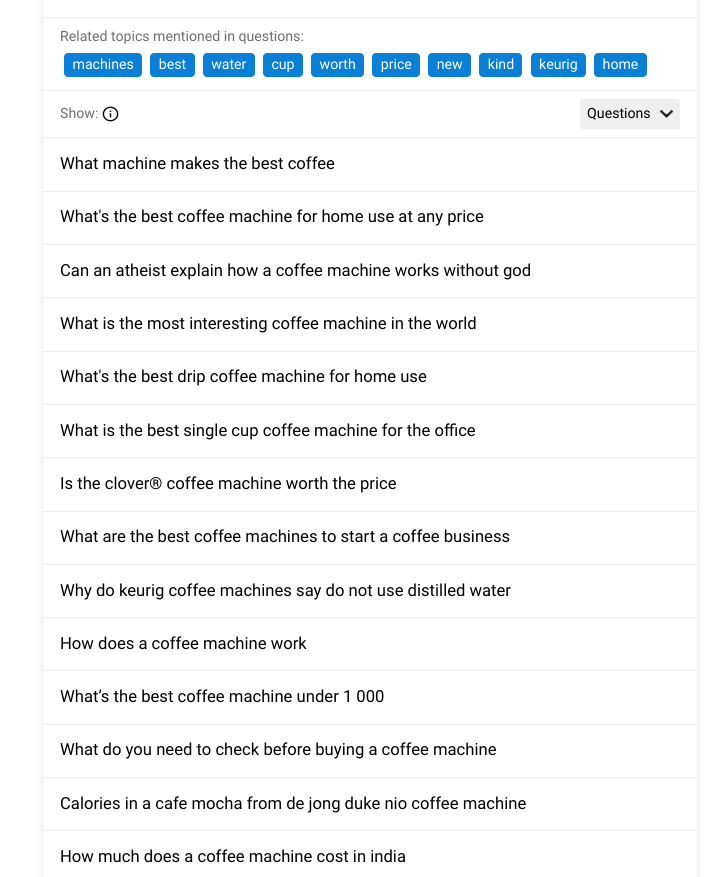 Now, use these results to make a list of the informational keywords that you would like to rank for (you might not want to rank for all the terms above).
Remember, targeting long-tail informational keywords will enable you to create valuable content that helps your readers.
Using questions as keywords keeps the content focused so readers will know what to expect. In addition, answering real people's questions will gain you qualified traffic and will help establish your site as an authority.
Your goal here should be to make a list of at least 10 questions or generally informational keywords relevant to your niche.
Here are a few sample question keywords we'll use for this example:
How does a coffee machine work?
What do you need to check before buying a coffee machine?
Are built-in coffee machines worth it?
Use Wordtracker to Find Transactional Keywords
Now, it's time to create your list of transactional keywords that will make you money through product sales and affiliate commissions. 
You could do this using QuestionDB or other tools, but we recommend using Wordtracker because it displays more keywords than QuestionDB, has really useful metrics, and is free with no signup process.
If you want a full walkthrough, we wrote an end-to-end guide for Wordtracker keyword research.
To keep this guide moving, you'll start again by entering your main topic from above as your "seed keyword". However, you'll want to add "best" at the beginning of your search, like this: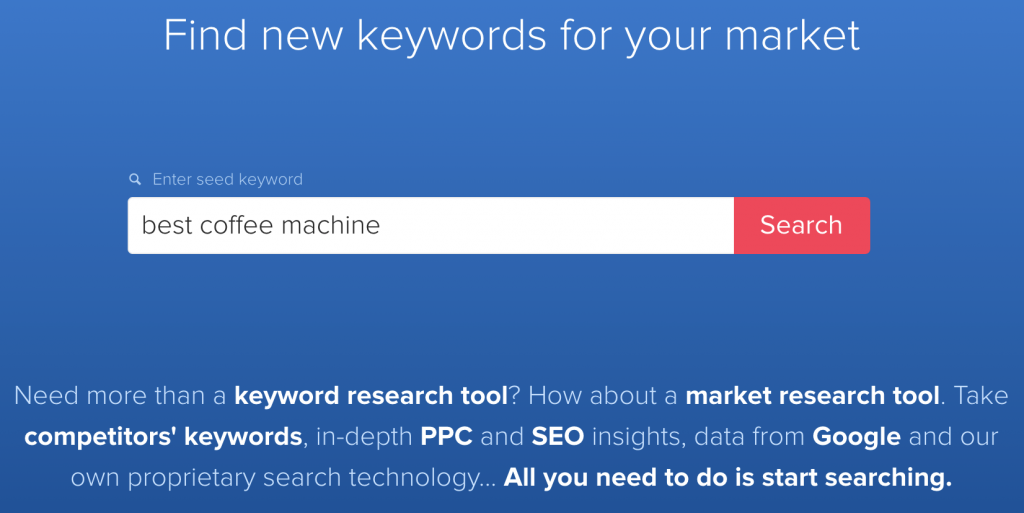 Many strong transactional keywords start with the word "best" or "top" because they are comparison keywords people use when they are looking for recommendations. Oftentimes readers will use these listicle recommendation posts as a direct path to purchasing a product.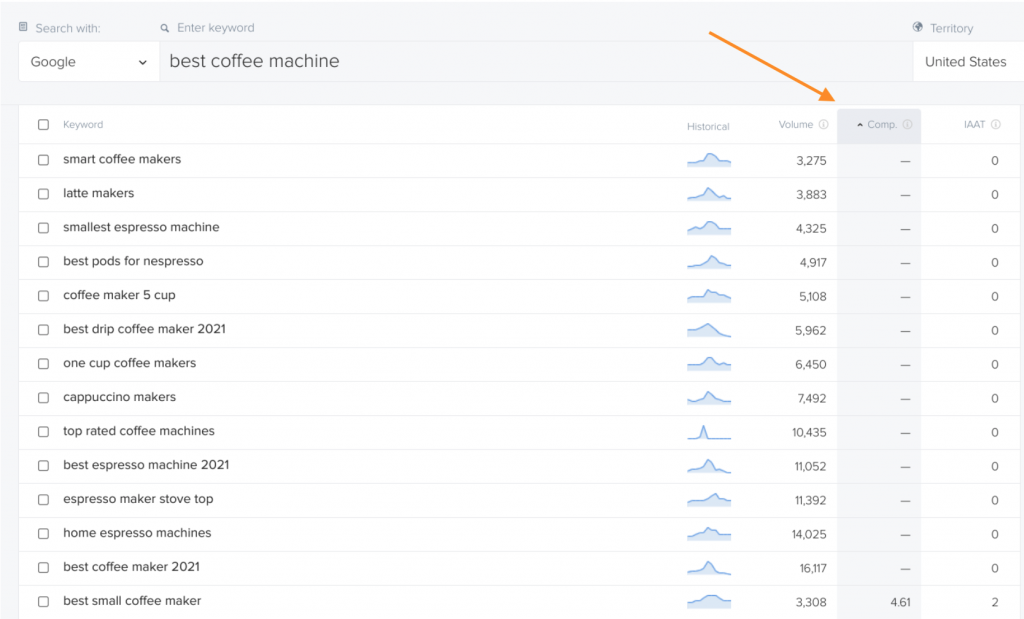 Then, simply sort "Competition" from lowest to highest to find the easiest keywords to rank for. 
Bonus: Low values for "IAAT" are a good signal for your ability to rank easily. This metric counts the times the exact keyword appears "In Anchor and Title" for the sites ranking for that term. If this value is 0, it essentially means that other sites are not directly targeting this term and that you can satisfy search intent better than your competitors with a targeted post here. 
Note: Don't obsess over search volume here. Whenever you create a long-form article, you will rank for multiple variations of relevant keywords and other related keywords. Additionally, our automatic blog post generation strategy allows you to create content at scale, so you can target more volume across more posts overall. Finally, targeting keywords with low competition means your content can rank much more quickly.
Your goal here should be to make a list of at least 10 transactional keywords that are relevant to your niche.
Here are a few transactional keywords we chose for this example:
Best drip coffee maker
Best single-cup coffee machine
Best cold brew coffee maker
Best bean cup coffee machine
Step 2: Automatically Generate Blog Posts With Article Forge
You already know that writing enough content to scale your SEO manually is impossible. And finding, vetting, managing, and paying freelancers is expensive and time-consuming.
(That's probably why you've turned to Article Forge)
Put simply, Article Forge is a one-of-a-kind AI article writer (not an AI writing assistant) that bypasses the manual writing process and eliminates the need to buy content from freelancers. 
And as we mentioned earlier, this guide will show you exactly how to produce your first 20 articles automatically.
First, make sure you have your list of keywords from your research above.
Then, just enter your first keyword on the New Article Page and select your "Article Length". 
We recommend choosing 750 or 1,500+ words to give you a full, long-form, SEO-friendly article. By default, Article Forge will include relevant section headings to help further optimize your content for search.
Note: You can also create content as short as 50 or 250 words which are great for answering FAQs or creating product descriptions.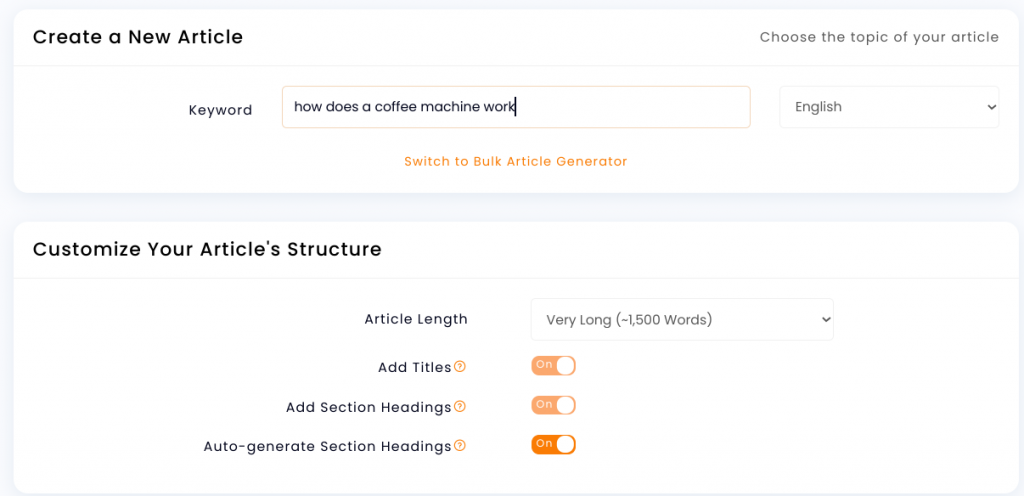 Once you have confirmed your settings, scroll down and click "Create New Article". 
Just like that, Article Forge will begin generating your first article!
Now, you could repeat this simple process for each informational and transactional keyword on your list. But, automating your content output is the most efficient way to start ranking for more keywords (and gaining visibility and traction in search engines).
Therefore, the next step is to show you how you can create all your articles in bulk!
Step 3: Generate your SEO Articles in Bulk
Article Forge's bulk generator allows you to create content for all your keywords at the same time. 
To get started, go to the New Article Page, but this time you will click on "Switch to Bulk Article Generator".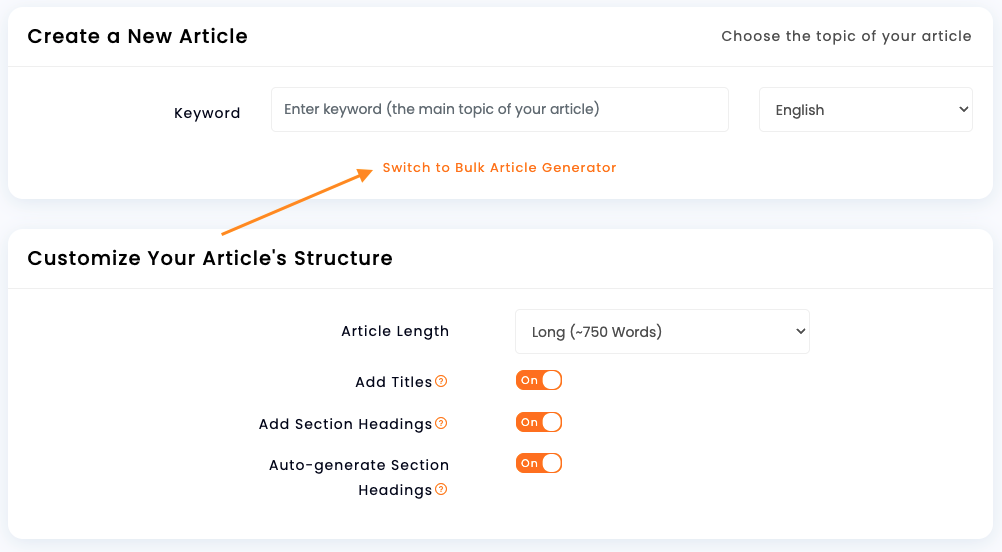 Then, just enter each of your keywords on a separate line like this: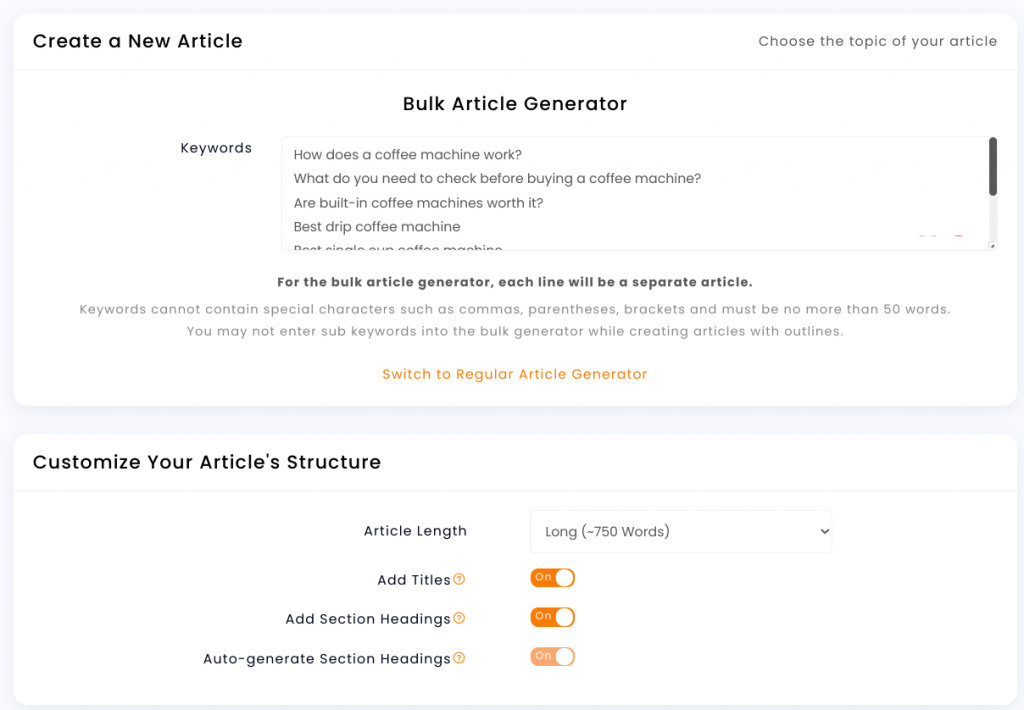 Finally, simply scroll down and click "Create New Article" in the same way as before. Now, the AI content writer will automatically begin generating all your SEO articles. 
You can use this time to work on other parts of your business (or even sleep, we won't tell!), and Article Forge will still create all your content for you.
Step 4 (Optional): Enter Your Own Section Headings for More Control
While producing all your content at once is incredibly efficient, sometimes, you might want to take a slightly more manual approach.
For instance, you might want more control over the topics Article Forge writes about within your article so you can link to specific product pages or add affiliate links.
All you need to do is uncheck the "auto-generate section headings post" and add the sub-topics you want to feature in your article. 
With Article Forge, you can enter between 4 and 8 separate section headings. Therefore, you should choose between 4 and 8 sub-topics, or products.
For more information on how to get the best content from Article Forge, check out our AI article generation best practices.
After entering your section headings, your interface will look like this: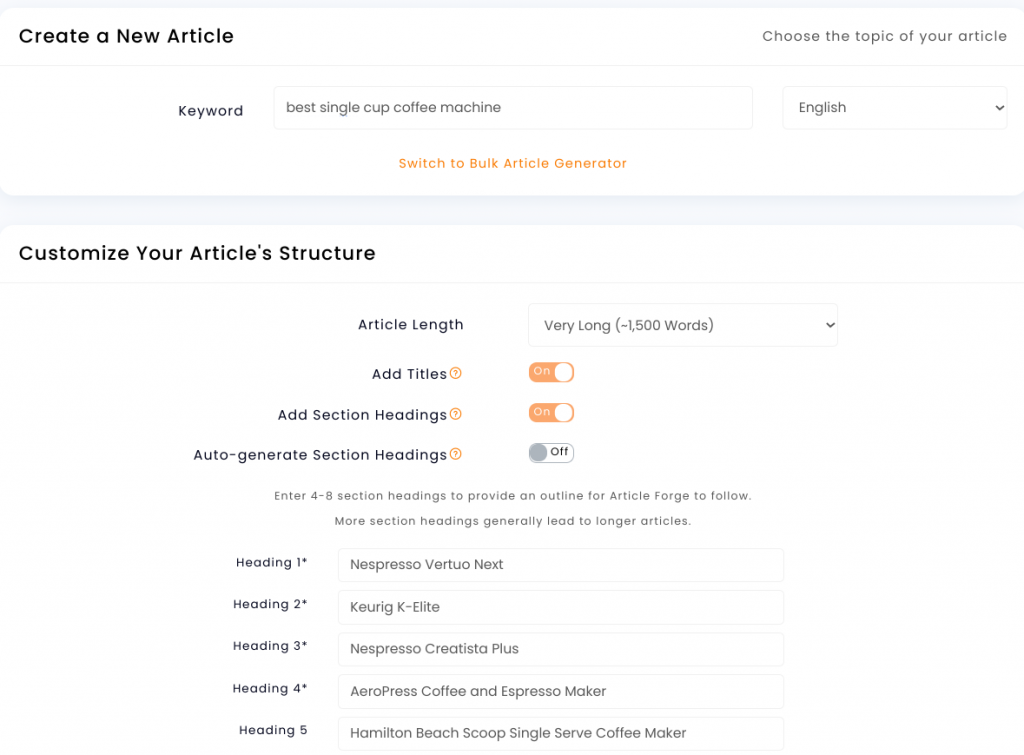 Just like before, once you have entered your section headings, just click "Create New Article". 
The AI article writer will then start to analyze your headings and produce SEO-optimized content for you - once again, you don't need to write a single word!
Manually Perfecting Your SEO Articles
Once Article Forge finishes your articles, you can do whatever you want with them.
If you're looking for maximum efficiency, you can connect your blogs to Article Forge and have your SEO articles posted automatically. 
If the idea of fully automating the content creation process seems like a step too far for you right now, then it is really easy to edit your articles right in Article Forge.
Depending on your content needs, you may want to add touches of personalization and storytelling into your articles. You can even generate a few shorter articles with Article Forge and add them in to build out your content even further.
Regardless of your content end goals, Article Forge allows you to start from fully formed SEO articles with the click of a button. If you are creating your content in bulk, you'll have at least 20 fully formed articles ready to be finalized and published in less time than it would take you to write one. 
Article Forge allows you to take a daily writing task and turn it into a monthly publishing task all while helping you scale your content output.
And, if you want to fully automate your publishing schedule, the WordPress integration and post scheduler will allow you to do just that. Learn more about full content automation here.
Step 5 (Bonus): Interlink Your AI Articles To Create Content Clusters
To fully optimize your SEO content strategy, you'll want to cover your main topics in depth across multiple articles and tie them together with links. This is called creating "cluster content".
Creating content clusters helps you rank for different long-tail keywords within your topic and build more authority overall. It will also allow you to cover a wider range of topics and help you target the most profitable keywords across different aspects of your niche.
Once you've created your cluster of SEO articles with Article Forge, you'll need to link them together where relevant. Don't worry, we'll walk though an example of this below.
This interlinking strategy establishes a strong relationship between the posts and will help users and search engines navigate your website more easily. These internal links can also help distribute authority between posts to further help rankings.
How to Build a Content Cluster
For each topic on your website, you should create at least 5-10 articles to establish some level of authority. The more high-quality, relevant articles you have on a topic, the more you will be seen as the go-to expert.
You can build content clusters by creating main (pillar) posts and supporting SEO articles. Each cluster should have one pillar post. This will be an informative post that explains the topic in great depth and helps you build authority as an expert. 
Example Content Cluster
Suppose you want to become an authority website in the coffee niche. This will require you to have two things; lots of valuable content and good link structure.
Creating a pillar article is crucial because it allows us to fulfill these two goals. This will be a truly comprehensive post that covers your chosen topic in much greater depth than the competition. Then, you will also have content that you can easily link to.
For example, your pillar post could talk about 10 different types of coffee beans and their flavors.
You can then generate contributing posts that focus on each specific type of bean and go into more detail about the coffee bean's health benefits, origins, etc.
Then, you can add a link to each contributing post where relevant in your pillar post.
Each post we create will have a direct relationship to content that already exists within the pillar post. As a result, the links will effectively "pass on" authority, in turn leading to higher rankings for multiple posts.
Wrapup
As we have discussed in this article, automatically generating content using an AI article writer is the most cost and time efficient way to create content for your website.
Using our strategy of simplified (and balanced) keyword research to generate content at scale with Article Forge will enable you to create profitable content.
You can then simply repeat this process monthly or fully automate it to keep improving your SEO over time.
The bottom line is that regularly producing high-quality content is the most crucial factor in SEO.
SEO is a numbers game; it will take time to see results, even when using an AI content generator.
There is no shortcut to this fact, but by regularly producing content over time, you will start to reap the rewards. And taking advantage of AI to write articles helps cut the traditional costs and effort required to rank.
If you have any questions about how to conduct keyword research or get the most out of Article Forge, please feel free to reach out.
We have also created a series of 14 articles that break down actionable strategies you can use to conduct keyword research affordably using your favorite tools.
Revolutionize the way you get content
Start your absolutely risk-free 5-day trial today!
Start
my
free
trial!