Wordtracker is an affordable keyword research tool (with free options) that helps you prioritize your time and build an engaged audience. And fortunately, turning Wordtracker keywords into high-quality, optimized, unique blog posts using the power of AI is even easier.
Wordtracker brands itself as being able to find the most profitable long-tail keywords. And its ability to help you discover specific search terms that lead to higher conversion rates makes Wordtracker a fantastic market research tool.
Remember, not all traffic equals income. We will show you how to use Wordtracker to find the most commercially valuable keywords in your niche and convert them into blog posts that will help you make more money!
Contents:
How to Use Wordtracker Efficiently, Step by Step
Step 1: Getting Started
First, go to Wordtracker. You should see a screen that looks like this: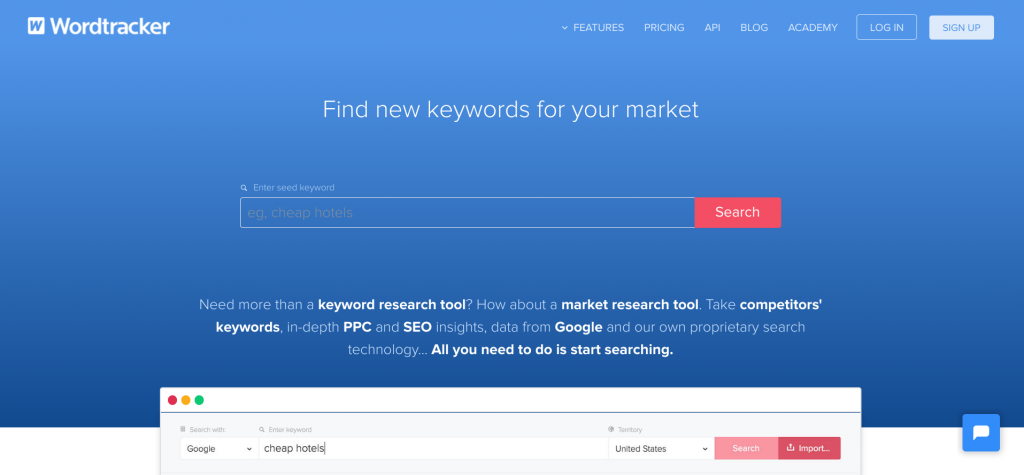 For the purposes of this guide, we will be using the free version of Wordtracker. However, if you already have a Wordtracker login or you decide to upgrade, you will have access to far more keywords and monthly searches. There is also a free 7-day trial if you want to try out the full functionality of Wordtracker cost-free!
Step 2: Enter Your Seed Keyword
Once on the home page, you will see the prompt to "Enter Seed Keyword". Sometimes, people "niche down" too early and pick a very specific keyword such as "best places to go hiking in Maryland" - this isn't the point of a seed keyword.
Your seed keyword should be a broad "starting point". The purpose of Wordtracker is to identify the best long-tail keyword opportunities, so if you start too specific, Wordtracker will not be able to find great topic ideas for you.
In this guide, we are going to use "best sunglasses" as our topic because it is clear, broad, and can easily be broken down into longer tail keywords.
Step 3: Filtering Wordtracker Keywords
The Wordtracker interface offers graphs, toggles, buttons, and drop down menus, which may seem confusing at first. But, we will show you how each filter fits together to help you fully understand what you see on screen.
SEO, PPC, and GSC
If you are unfamiliar with these acronyms, they stand for: Search Engine Optimization (SEO), Pay Per Click (PPC) and Google Search Console (GSC).
This is a content guide, not a paid search guide, so our focus will be on "SEO". So, make sure this option is selected.
The "Google Search Console" option is helpful too because it allows you to get access to data straight from Google e.g. clicks, impressions, and click through rate (CTR). However, this option is only available in the paid plans!

Location
Search is often location-specific which means where your audience is located can have a great impact on the keywords you should target.
Simply, what is popular in the United States may not be nearly as popular in Europe.
Understanding where your audience is from is essential, we recommend checking out our Keyword Research with Google Trends Guide to better understand this topic.
To get a better sense of what your target audience is searching for, choose the "Territory" you want to take a closer look at!

If you are unsure where your audience is located we recommend just selecting "United States" because this is where a huge number of online searches originate.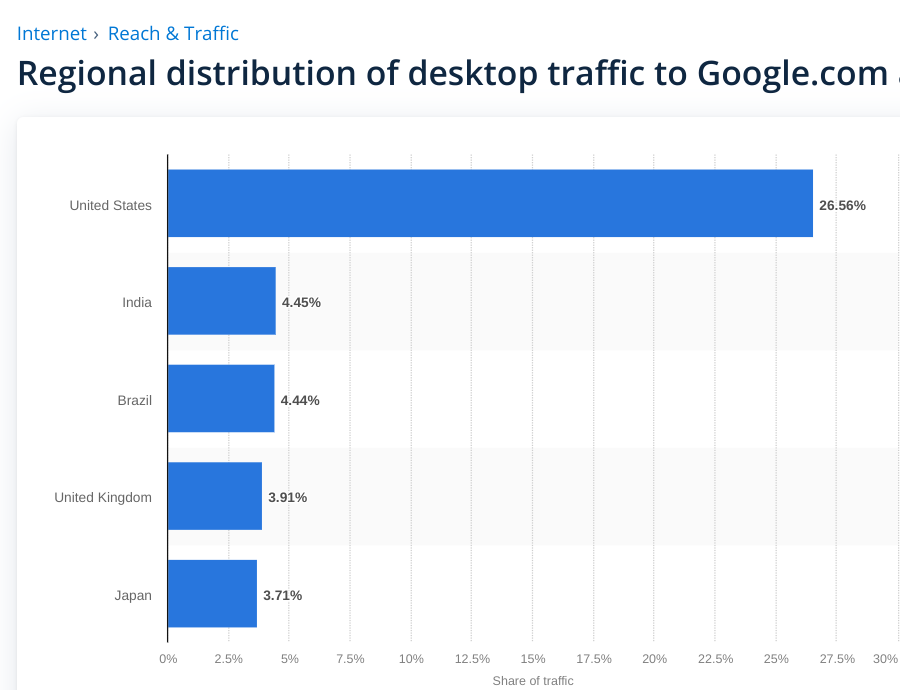 Step 4: Making Sense of Wordtracker Keyword Metrics
Once you have entered your seed keyword into Wordtracker, toggled "SEO", and filtered your location, you will be presented with a list of long-tail keywords and four useful metrics..
We have just included the first four keywords on our list to break down the metrics for you.

Search Volume
Essentially, Search Volume is the number of times the exact keyword was searched over the last 12 months. You shouldn't worry too much about volume though, as long as there is some activity around a keyword you should be good to go in this department.
Competition
The "Comp." metric within Wordtracker estimates how difficult it would be to rank organically for the given keyword. To calculate this, Wordtracker assesses the authority and expertise of the websites that are already ranking, the number of websites ranking, and the "importance" of the topic.
For example, a keyword that might have a major implication like "how to prevent a heart attack" will be much harder to rank for than "best beige trousers".
When assessing this metric, the lower the better, especially if your website is fairly new and unestablished.
IAAT
This is Wordtracker's most interesting metric. IAAT is not commonly found in other SEO tools, at least not in such an easy-to-understand way.
IAAT stands for "In Anchor and Title". This represents the number of webpages that contain the exact keyword in both the title tag and the anchor text of a backlink. We can't stress enough how useful this data is: it helps to put the true competitiveness of a keyword into perspective.
For example, the seed keyword we entered has an IAAT score of 563. This means that 563 webpages are already effectively trying to compete for this keyword. So, unless you have extremely high domain authority, you should probably stay away from a keyword this popular and opt for a keyword with a lower IAAT score.
Historical Data
On first inspection, the historical data may seem like a simple graph of popularity over the previous 12 months.
As you can see the searches dip over the winter (when sunglasses are not typically worn) and peak in the summer months (when everyone wears sunglasses).
However, if you think this is the extent of the historical data, you would be incorrect.
If you click on a graph it will offer a much more in-depth overview to help you understand trends related to that keyword.
The "Keyword Overview" will show you the websites that are currently competing for the given keyword. You will notice that huge websites like GQ magazine, Wired, TripSavvy, and NBC are all competing for the keyword "best sunglasses". You will also see the number of backlinks and referring domains pointing at the URL as well as an overall difficulty score.
This metric gives you a great insight into your keywords and gives you a good idea of the overall possibility of ranking on the first page.
Step 5: Choosing Your Keywords
Building hundreds of backlinks to each post is unrealistic and unsustainable, so the idea behind finding profitable long-tail keywords in Wordtracker is to identify "untapped" blog post ideas.
We have identified "best sunglasses for running" because it has decent search volume, a low IAAT, and Comp score, and there are plenty of websites already ranking with a low number of referring domains and backlinks.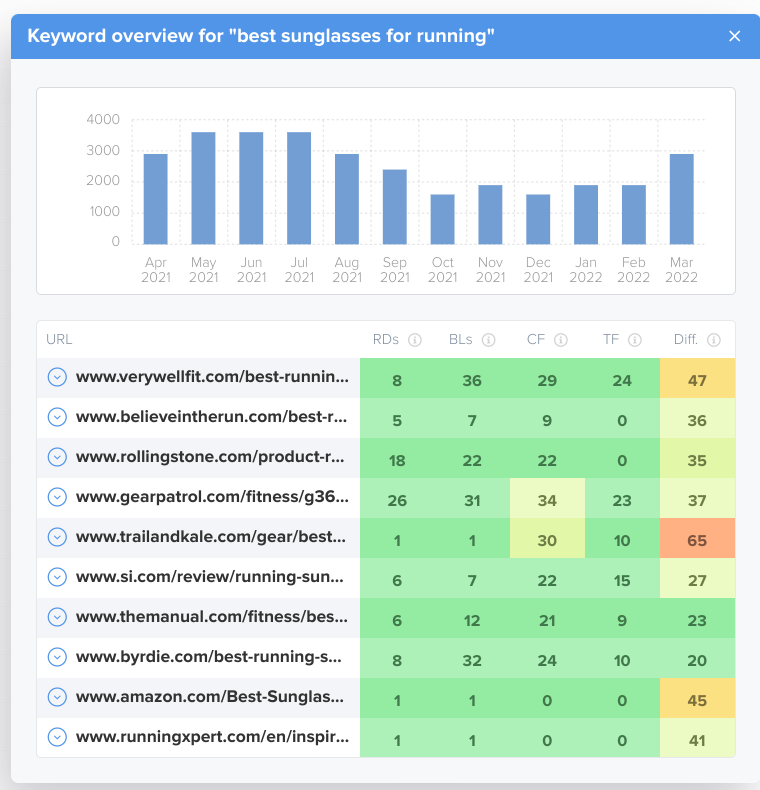 Now it's time for our favorite part of the content production process, turning our keyword into long-form blog posts automatically using Article Forge. The process we are about to demonstrate can help you to create multiple blog posts in virtually no time at all.
How to Use Wordtracker Keywords for Automatic Blog Post Creation
With Article Forge, you can easily turn Wordtracker keywords into high-quality blog posts that will rank. Doing so will dramatically minimize the overall time and money you spend researching and creating content.
First, head over to the New Article page. This is the main Article Forge interface and this is where the magic begins.
Next, enter your keyword into the "Keyword" box and specify the length and optional customizations for your post e.g. images, videos, and relevant external links.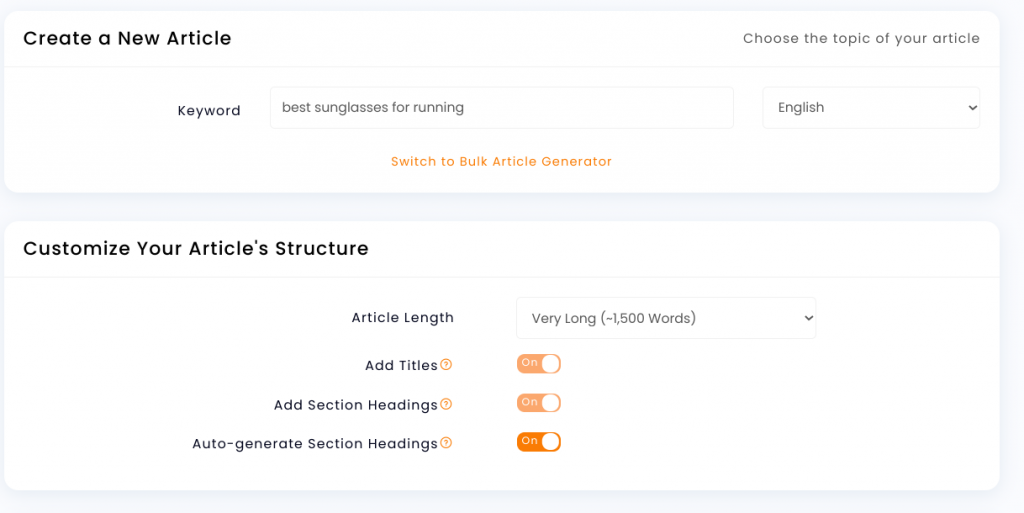 You will also notice the "Section Headings" option. When set to "On" and "Auto-generate" Article Forge will research and generate 1,500+ word blog posts with section headings with a single click.
No other AI article writer exists that has the ability to plan out, structure, and create entire articles so effortlessly. Put simply, Article Forge will create section headings that will lead to the best SEO-driven content around any keyword without any human involvement.
You can then simply scroll down and click "Create New Article" and just like that Article Forge will create your blog post within about a minute.
(Optional): Choose Your Own Section Headings
We would like to stress that this step is entirely optional. But, if you have specific ideas about the blog post you want to create (e.g. if you have your own products to sell or affiliate links to add), Article Forge has got you covered!
For maximum flexibility and control within your AI generated articles, you can simply uncheck the "auto-generate section headings" option. This will allow you to pick your own section headings. However, make sure you follow these three crucial rules: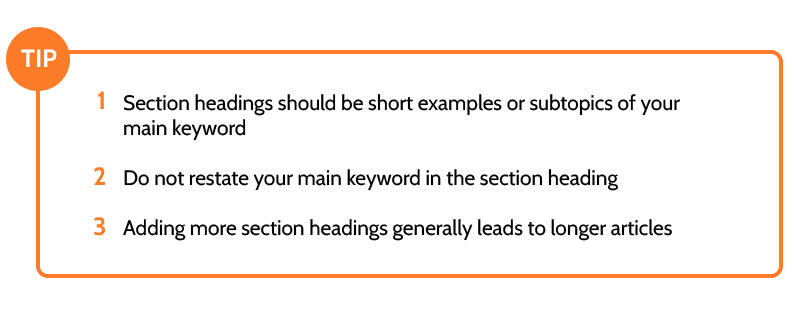 For context, with the keyword "best sunglasses for running" we recommend choosing examples of the keyword. So you could add section headings like:
Nike Valiant
Nike Circuit
Koo Supernova
Smith Tempo Max
Sungod Ultras
You can add up to 8 section headings and Article Forge will produce content for all of them. Once you have selected your section headings you will then enter them just like this: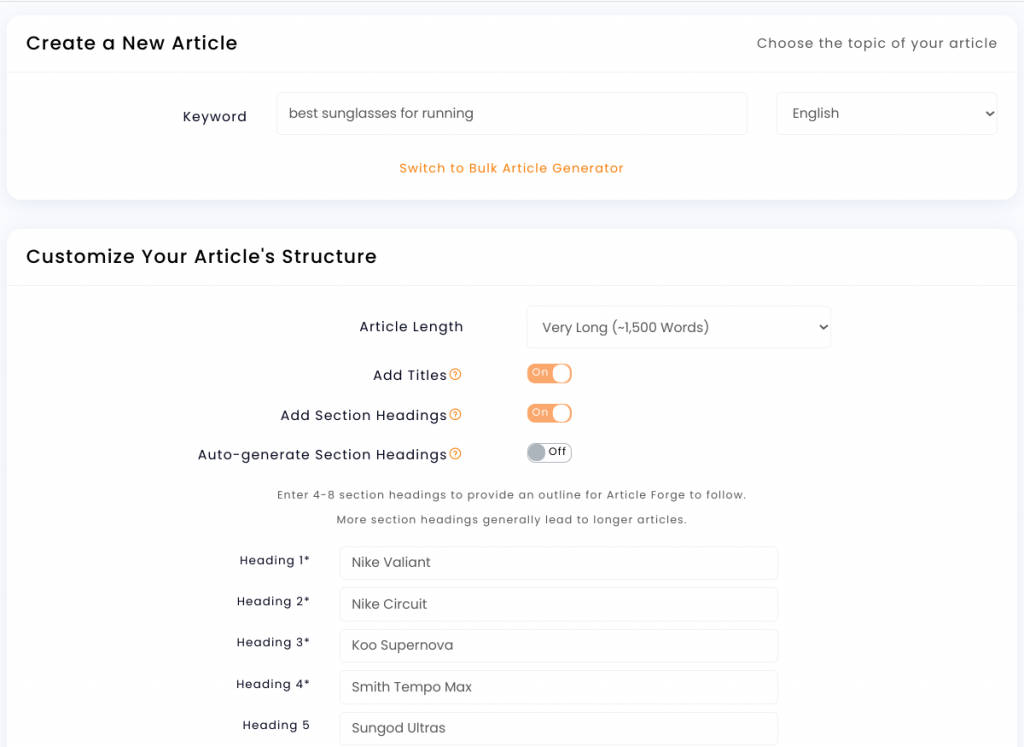 Finally, scroll down and click "Create New Article". Exactly as before, Article Forge will begin working to create your blog post completely automatically.
If you want to see some more helpful tips on how to get the best content possible from Article Forge, we recommend checking out these easy-to-apply best practices.
Closing Thoughts
As soon as you click that "Create New Article" box, your blog post production journey is virtually over. If you would like, you can always tailor your content to your exact needs. However, this may not even be necessary as Article Forge's content is coherent to begin with - it just depends on your particular content style!
As you just saw, Article Forge is the most efficient step in the content creation process. When combined with Wordtracker keywords, you can create high-quality blog posts around the most profitable topics. This means you can deliver better organic rankings and ultimately make more money.
If you have any questions about the best ways to use Wordtracker or Article Forge, let us know, and we will be more than happy to help answer your questions. Otherwise, thank you for reading and we will see you in our next actionable guide!
Revolutionize the way you get content
Start your absolutely risk-free 5-day trial today!
Start
my
free
trial!