SpyFu is a comprehensive SEO tool that offers competitor keyword analysis, SERP analysis, a backlink opportunity finder, related keywords, and of course detailed keyword research.
But to keep this article focused and actionable, we will only cover the keyword research element of SpyFu and how to find untapped content ideas to exploit. We will break down SpyFu's keyword research process for you, then show you how to automatically produce optimized content that is built to rank well on search engines.
Contents:
Step-by-Step Keyword Research With SpyFu
Step 1: Make a SpyFu Account
Don't be alarmed, you can create an account without entering any payment details.
All you have to do is start at SpyFu. First, you will be prompted to "Enter a Domain, URL, or Keyword" - write anything you want and click search.
Then, you will be presented with this screen: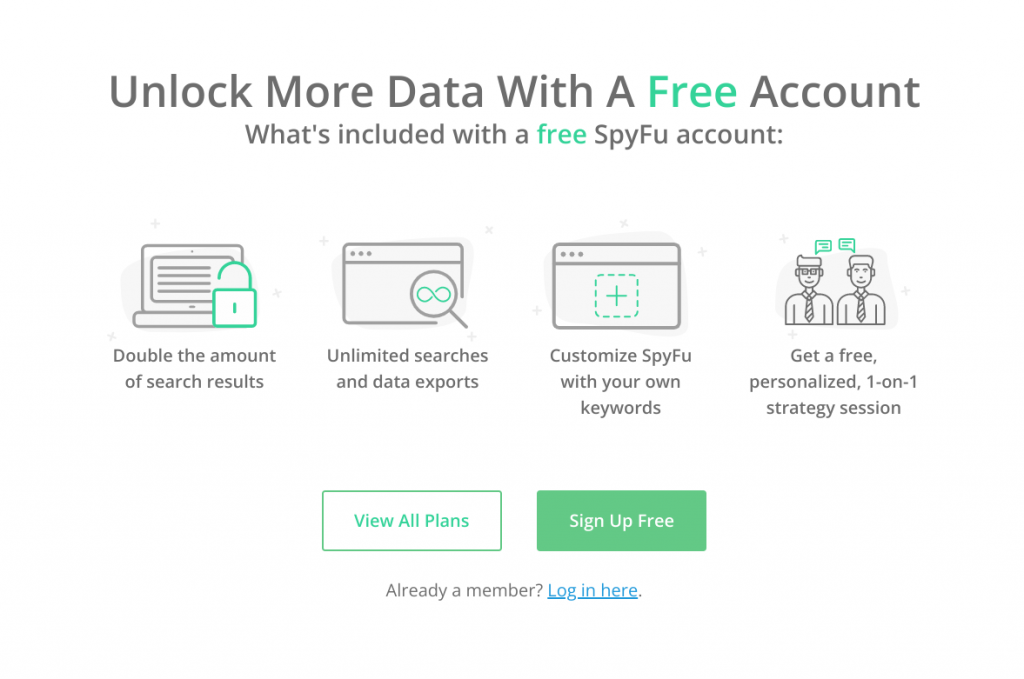 From here, click, "Sign Up Free" and enter your email and a chosen password. (Or, if you already have an account, you can skip to the Spyfu login).
You will be asked a few simple questions such as "Do you work for an agency?" before you are granted access to all the free features of SpyFu. This won't give you full functionality, but it's all you need to conduct solid keyword research.
Even though SpyFu keyword research is free, you can easily use an alternative if you don't want to create another tool account. We like Soovle because it's an easy way to generate unlimited keyword ideas with no sign-up.
Step 2: Choose a General Keyword
Choosing a broad keyword gives you plenty of room to find many good article topics for your content calendar!
If you start with a keyword that is too specific, you will find very few new content ideas - the problem with starting too specific is you aren't really "researching", you're just looking at terms related to a topic idea you already had.
We call this "keyword research bias" and it harms your ability to find the best keyword opportunities in your niche.
Instead, start with a general search term. This can still be a long-tail keyword, but it needs to be a topic that can be broken down further. That way, you will have many content topics to help fill out your blog instead of needing to repeat this process one keyword at a time.
We have decided on "best dog food". We already know that this keyword has major commercial intent and a quick scan of the SERPs indicates high authority websites dominate the first page. Nevertheless, this will be our seed keyword to start out with.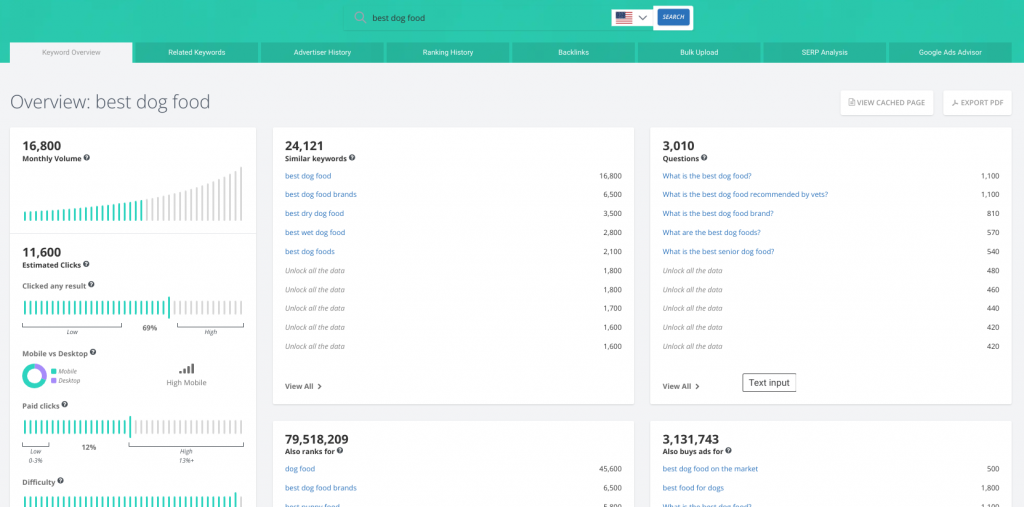 As we suspected, this keyword has a large number of estimated monthly clicks. However, it is also very competitive, so it isn't going to be the topic of our article.
Instead, we are going to look for longer-tail keywords that are more specific, have lower search volume, and will be easier to rank for.
Step 3: Down The Rabbit Hole Method
To give you a completely free keyword research method, we have to take a bit more of a long-winded approach. If you have a paid SpyFu account you can simply look through the 24,121 "similar keywords". If not, don't worry, we are about to go "down the rabbit hole".
First, choose at least of the keywords in the list. We are only going to walk through one ("best dry dog food"), but you should select as many as you can to create a full list of keywords to cover.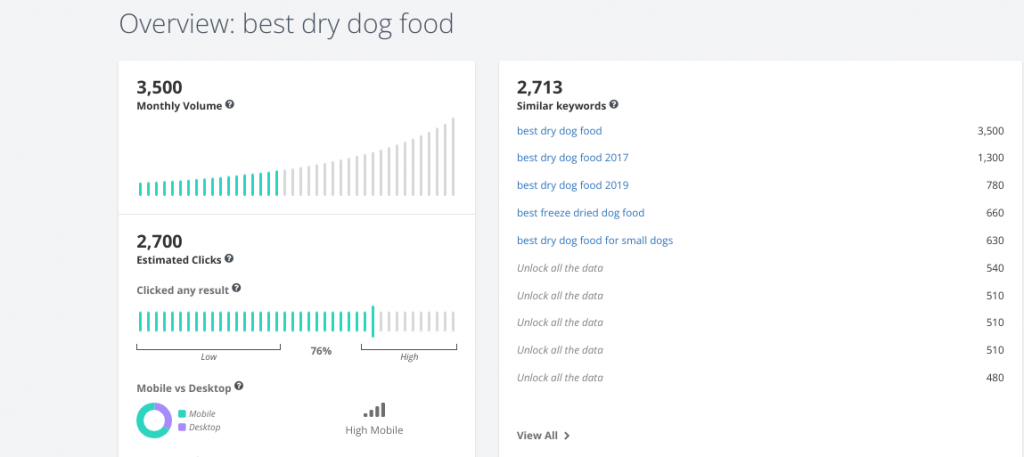 Now, you can see that we have successfully "niched down" - the estimated searches and clicks have decreased and there are far fewer similar keywords.
The best part about this strategy is that you have unlimited free searches in SpyFu. So, although you can't view all the similar keywords at once, you can pick away at keywords to find the best opportunities to fill out your list.
Keyword Difficulty
If you have read other keyword research guides, you might be surprised that we haven't mentioned keyword difficulty yet - after all this is a valuable metric that gives us insight into the ranking potential, or "rankability" of a keyword.
The truth is that the difficulty metrics SpyFu reports for keywords just aren't very accurate for SEO - their metrics are designed for paid ads. This may sound like a major issue, but we are going to use the Ahrefs Free Keyword Generator (again, no account needed) to get a better understanding of the keyword's true organic difficulty.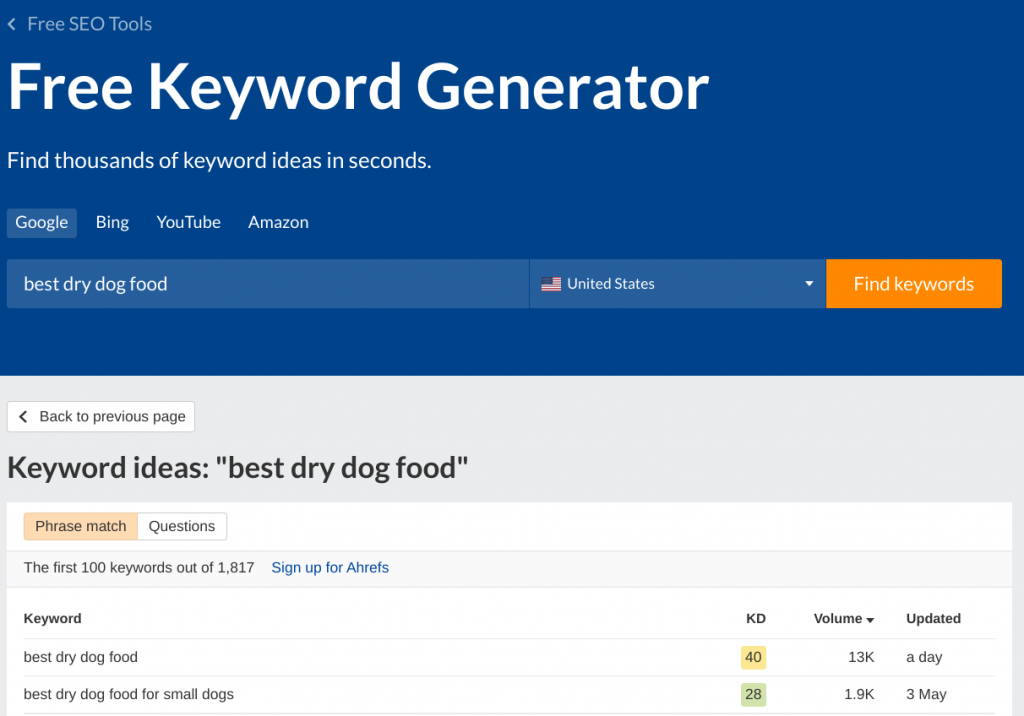 The keyword "best dry dog food" has a KD (keyword difficulty) score of 40. This isn't too high and is definitely rankable. However, we are going to select a keyword with a difficulty score below 30 because this increases our chances of ranking. Choosing low-difficulty keywords and creating content at scale will help you to rank more frequently, and increase overall website traffic.
Read: Our Full Guide To Producing Content with Ahrefs Free Keyword Research Tool
Deciding On Our Keyword
In both of our screenshots, you will notice the keyword "best dry dog food for small dogs" and this keyword meets all of our criteria: Long-Tail Keyword, Low Difficulty Score, Decent Search Volume.
As you will see by going "down a rabbit hole" we have successfully identified a rankable content idea for our blog post. This strategy also doesn't require deep knowledge of keyword research or SEO to use successfully.So using SpyFu is a good way to improve your SEO content strategy regardless of your experience.
Optional: Identify Related Products
This step is entirely optional, but you can make a list of 4-8 types/brands of dry dog food for small dogs. This will probably look something like this:
Blue Buffalo Life Protection
Nutro Wholesome Essentials
Hill's Diet Prescription
Nutro Natural Choice
Earthborn Holistic Coastal Catch
Generate Content Automatically
Now that you have identified at least one primary keyword (hopefully many more), it's time to convert your ideas into high-quality content. Often, this is the most time-consuming part of the content production process, but Article Forge makes generating content entirely effortless.
Here is how to create long-form content in Article Forge:
Step 1: Create Your Content
Unlike traditional blog post writing guides, this walk-through of how to use Article Forge is only one single step.
First, navigate to the New Article section of Article Forge. This is where you will enter each of your chosen keywords, just like this: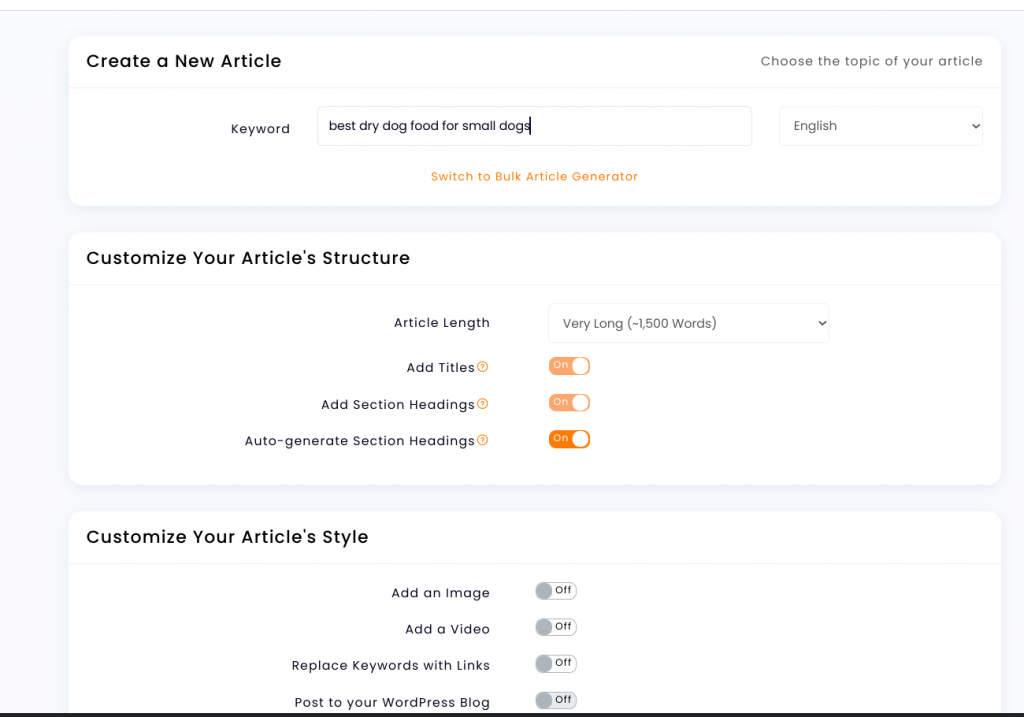 Article Forge is capable of generating content that is 1,500+ words so you can effortlessly create comprehensive blog posts on any topic. Once you set your article length and optionally customize your article further, scroll down and click "Create New Article".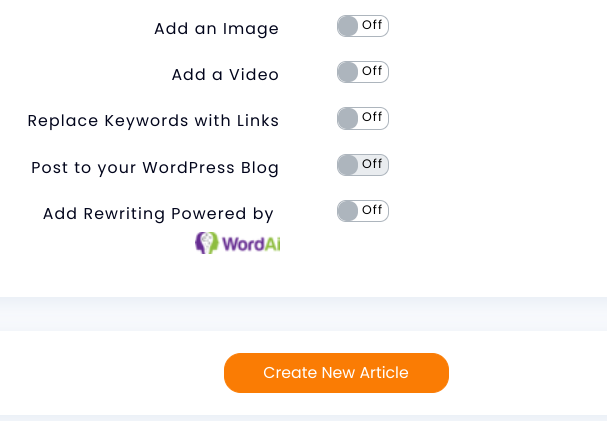 That's it. You enter one keyword and click one button and Article Forge gives you an article that is highly relevant to your keyword and completely unique. Article Forge doesn't just "edit" or "spin" existing content, every article is created entirely from scratch - the only difference is that you don't need to spend hours writing!
Optional Customization: Select Your Own Headings
For most people, having the ability to create unique articles from scratch is more than enough, but Article Forge goes one step further.
With Article Forge you can completely customize all of your section headings in order for you to create a piece of content that is entirely personalized for you.
This step is entirely optional and in no way is a requirement of using Article Forge. However, we absolutely love this feature, and no other AI writing tool on the planet offers this level of customization.
To follow this step you will need a list of related products (like our list in the optional step earlier). This should be as simple as one Google search.
Once you have created your list, simply uncheck the "auto-generate section headings" box and enter your products in the section headings boxes like this: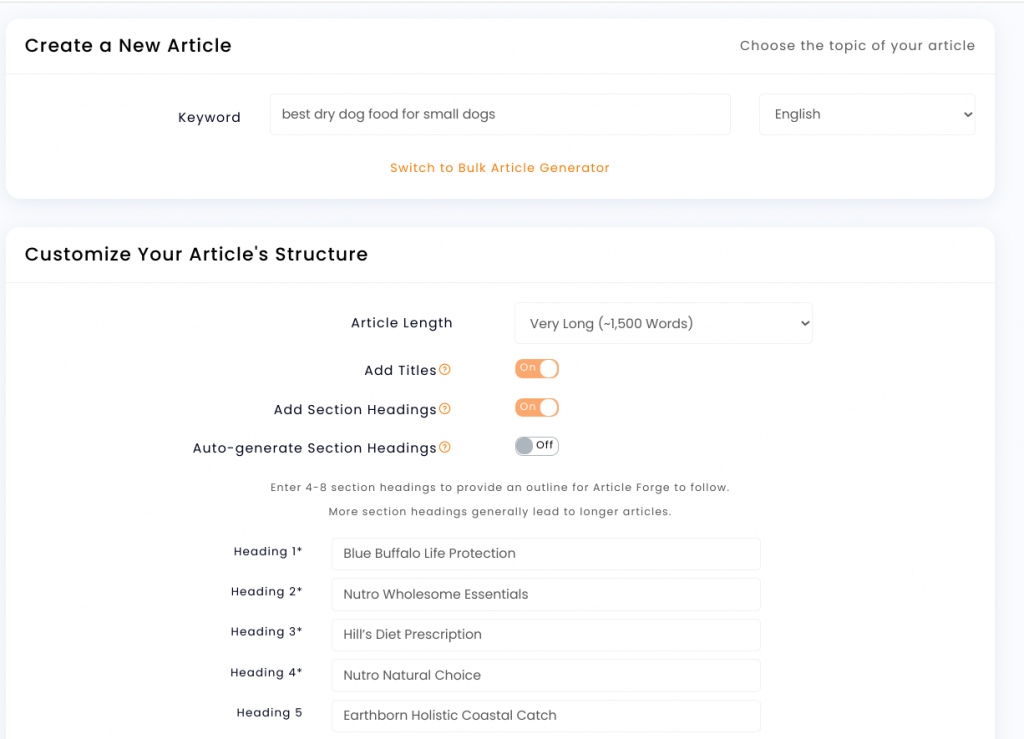 These products will act as the section headings of your article. This will help you to create content automatically based on a very specific set of requirements, so this will be ideal if you already have a strong idea of what you want your content to include!
For more information on how to get the best results possible from Article Forge, check out our easy-to-follow list of article generation best practices!
Final Thoughts
Whether you decide to use Article Forge's automatic and SEO optimized section headings, or you want to pick your own, Article Forge is the ideal solution for your SEO content strategy. Creating full articles at scale is made possible by the AI that powers Article Forge!
More importantly, you can use this process to find enough keyword ideas to create and publish content consistently while adding virtually none of the work normally associated with scaling.
If you want to learn more about how Article Forge works, feel free to get in touch. Also, if you would like us to create a guide about how to use the SpyFu paid version, please let us know.
Otherwise, we will be happy to answer any questions that you have about SpyFu, Ahrefs, or any other keyword tool you'd like to use as part of your keyword research strategy.
Happy Forging!
Revolutionize the way you get content
Start your absolutely risk-free 5-day trial today!
Start
my
free
trial!