Note: This guide is part of our Keyword Research to Publishable Content series. Each post in this series walks through conducting keyword research with a different tool. These guides then walk through how you can use AI to write full, high-quality articles with that research.
We chose to cover Soovle because it is a completely free tool with the unique ability of showing you related keywords from all the most popular search engines at once. This is one of the easiest and least technical keyword research strategies available which is great for those who want to find relevant content ideas without digging through a ton of other data.
Check out the other posts in this series to learn about other keyword research methods and tools, or let us know if there's another tool you'd like us to cover!
---
Soovle is not a standard keyword research tool. With their tagline "let the web help", Soovle offers a genuinely different free keyword research experience. Soovle is a comparison search engine, and it's perfect for finding variations between Google, Youtube, Wikipedia, Amazon, and other platforms.
Viewing all these variations in one place is a fantastic way to understand the core components of your keywords and identify more topics overall.
This article will explain exactly how you can choose the best keywords for your SEO content strategy using Soovle. Then we will walk through how to produce high-quality blog posts automatically using AI writing software at a low cost.
Contents:
Soovle Features To Consider When Finding Keywords
Given a keyword, Soovle shows the real-time related keywords from all the major search engines at once. This gives you a more comprehensive view of all the topics related to your main keyword across different platforms.
One of the most unique features of Soovle is being able to conduct commercial research efficiently using Amazon's search results. Commercial research shows you what actual people who are looking to buy products are searching for and can help you produce content that is designed to address these terms.
For example, we have entered the keyword "golf clubs" and here are the results: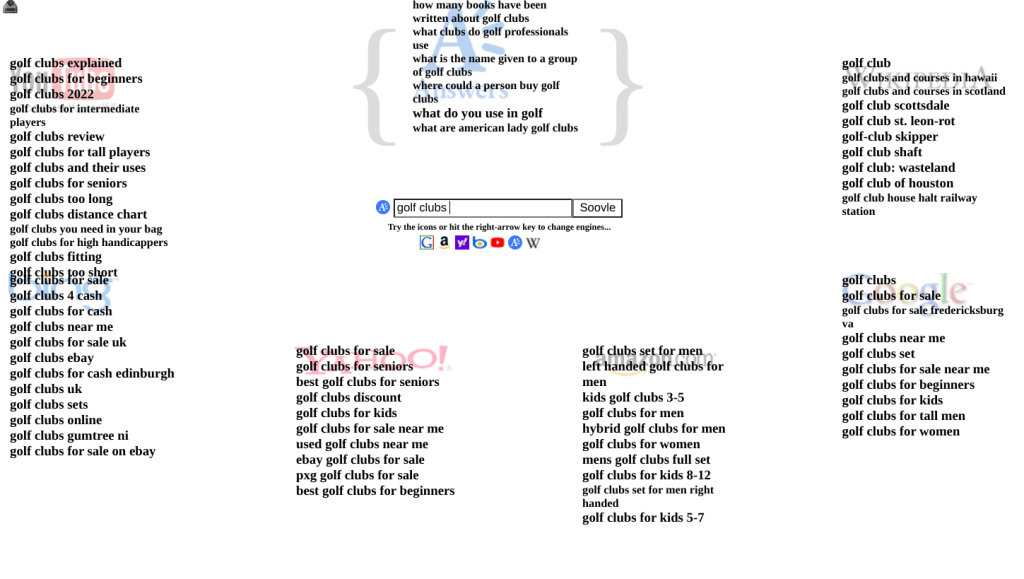 By entering a broad keyword, Soovle has returned many similar long-tail keywords. This is great inspiration for keywords that will be easy to rank for. When looking at the Amazon results specifically, we can identify popular searches that are likely to be profitable, such as "hybrid golf clubs for men".
Separately, Soovle is an excellent option for businesses that produce both written and video content. Using Soovle will allow you to see whether a particular keyword would be better suited as an article (cute puppy names) or a video (how to do pushups).
As a content manager or business owner, you should be asking yourself, "how can I add the most value to my audience?" and "what users are we looking to attract?". This is crucial as the audience you are looking to attract and maintain will also impact on keywords you choose.
Finally, you can click on any keyword in Soovle, and it will take you directly to the results page for the specific keyword! This will allow you to see what content is already ranking, so you can see whether the keyword is too competitive or not.
Step-by-Step Keyword Research with Soovle
The first step to good keyword research with Soovle is simply entering a keyword. This should be a broad topic within your niche. We have chosen "dogs".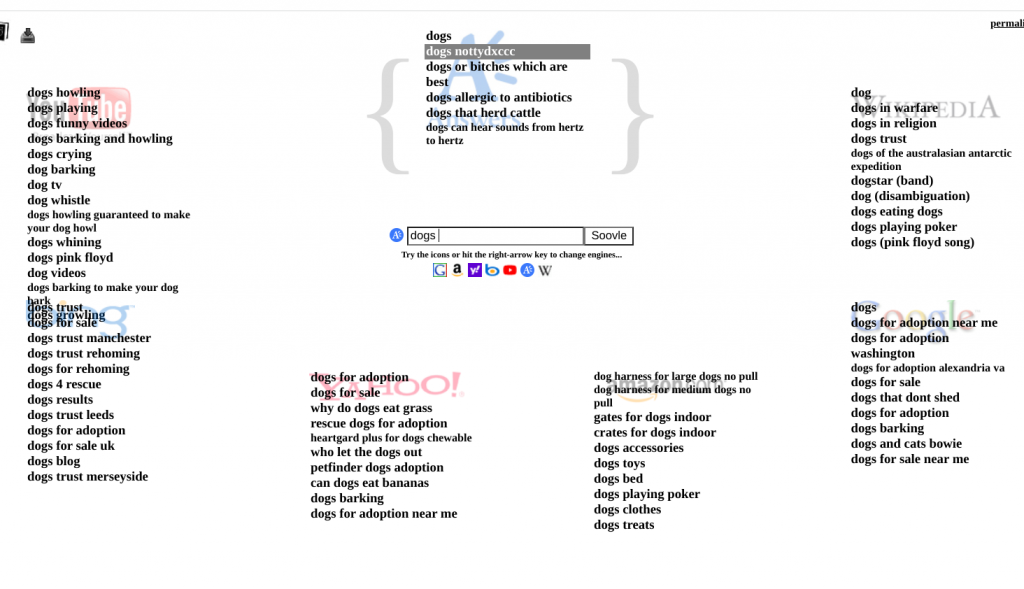 As you can see above, Amazon has returned keywords such as "gates for dogs indoors", "dog harness for large dogs no pull", and "dog toys". These are some of the most popular searches on Amazon and would be the ideal products to write about and sell if you had an e-commerce store in the pet niche.
When looking at the Google results, Soovle shows "dogs that don't shed" - this is a strong long-tail keyword to target.
So, our next step is to create a strategy for deciding how we will do well on Google for the keyword "dogs that don't shed". To do this, we just entered "dogs that don't shed" into Soovle.
After doing a search on Soovle for "dogs that don't shed", we have identified some similar popular keywords. We recommend making a list of 5-10 of the most relevant keywords here so that you can easily create content from them later.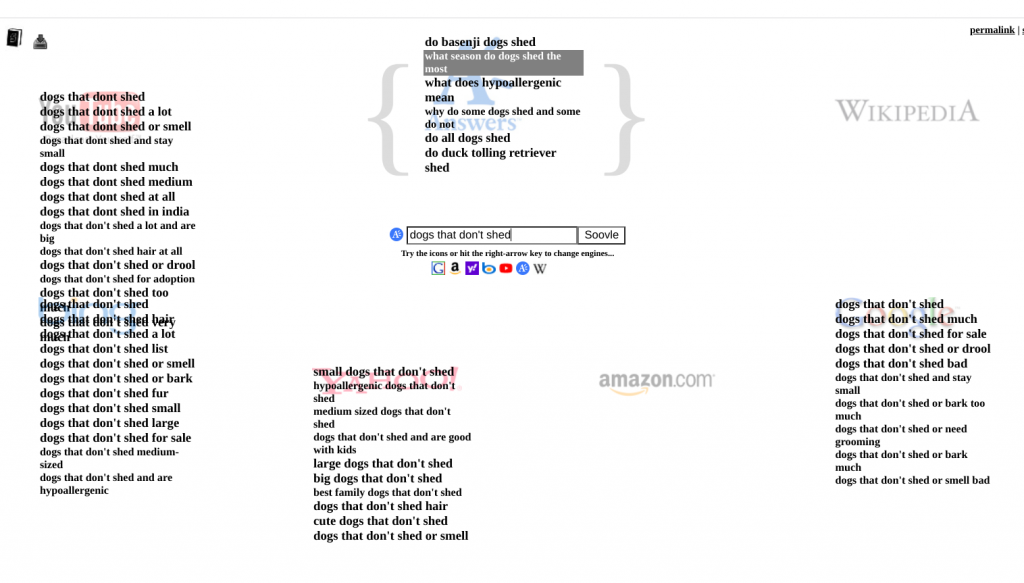 These keywords can be used to create multiple articles to help you build topical authority!
We recommend creating posts that talk about all these keywords more generally, and then later, you can create shorter, more direct posts about the more specific keywords. You should also make sure that you build an excellent interlinking structure between these articles, as this will have a massive benefit on your website's Search Engine Optimization (SEO).
Through Soovle, we can identify that people searching for "dogs that don't shed" are also searching for dogs that don't bark, smell, or drool. Additionally, these people are also looking for "dogs that are good with kids" and "dogs that are calm".
These keywords would all make great additional posts to supplement your topical expertise. This is for two key reasons. Firstly, you will provide more exciting and comprehensive content that satisfies the reader better. Secondly, you will inevitably rank for more keywords, which means more traffic and more leads.
Creating Comprehensive Content Automatically
So, now that you have done your high-level keyword research and identified vital subtopics, it's time to write your article… but not manually, and not with an AI writing assistant. With Article Forge, you can produce a comprehensive piece of content on your chosen topic with less than 15 seconds of work.
Produce "Wow" Content with Article Forge
Simply, Article Forge is built to help you produce content at scale with minimal effort.
Primarily, you can enter your main keyword, click "Create New Article", and let Article Forge do all the work.
However, if you choose, you can tell Article Forge the exact section headings you want it to write about, automatically.
To get the best results when adding section headings, you need to follow these three simple tips: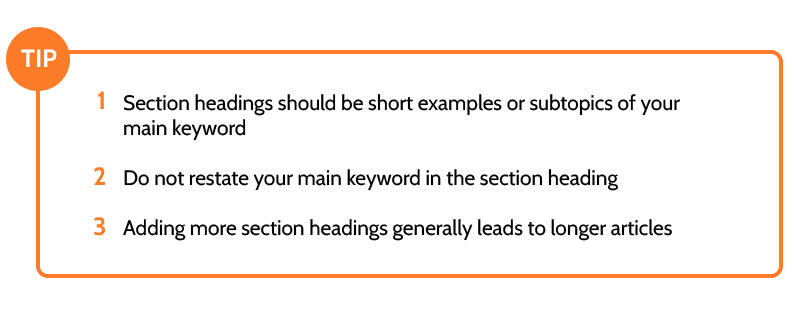 Let's walk through an example!
To get started, go to the New Article page and enter your primary keyword. Then, select your article length (from 50-1500+ words), select "add section headings" and unselect "auto-generate section headings".
For our example, we listed several types of dogs that don't shed, as a result, Article Forge will know exactly what you want to include. Here is what our's looks like: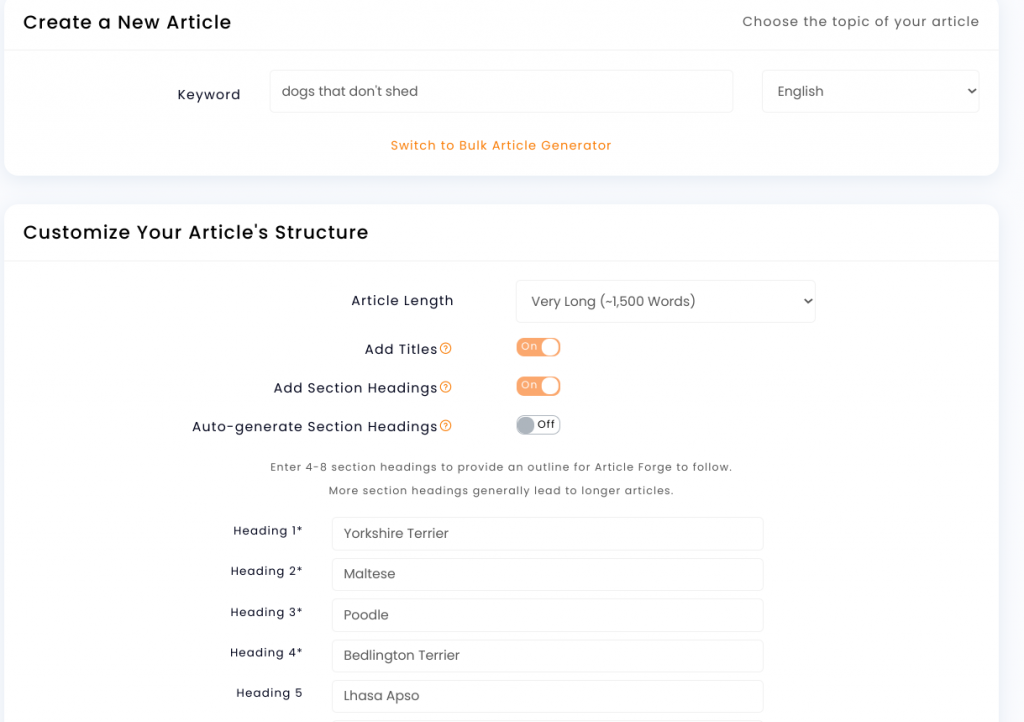 Once you have filled in all your section headings, you can choose to add images, videos, and relevant links, but this isn't required.
That's it! Just click the "Create New Article" button and Article Forge will plan out and write a completely unique article from scratch based on your keyword and section headings.
For more tips on how to get the best output from Article Forge, check out our best practices for using AI to write articles.
Generate Supporting Content Instantly
As we mentioned earlier, producing supporting content and building strong internal links between these articles is a fantastic way to build up authority in your chosen niche. Traditionally, writing or sourcing this much content would take weeks or even months!
However, Article Forge's bulk generator lets you create all your contributing posts automatically at the same time. This is an entirely unique feature no other AI tools offer.
To do this, go to the New Article page and click "Switch to Bulk Article Generator".
Then, simply enter your supporting keywords from above and select your ideal article length. We recommend choosing 750 words. Depending on how specific your topics are, you may want to select a shorter setting.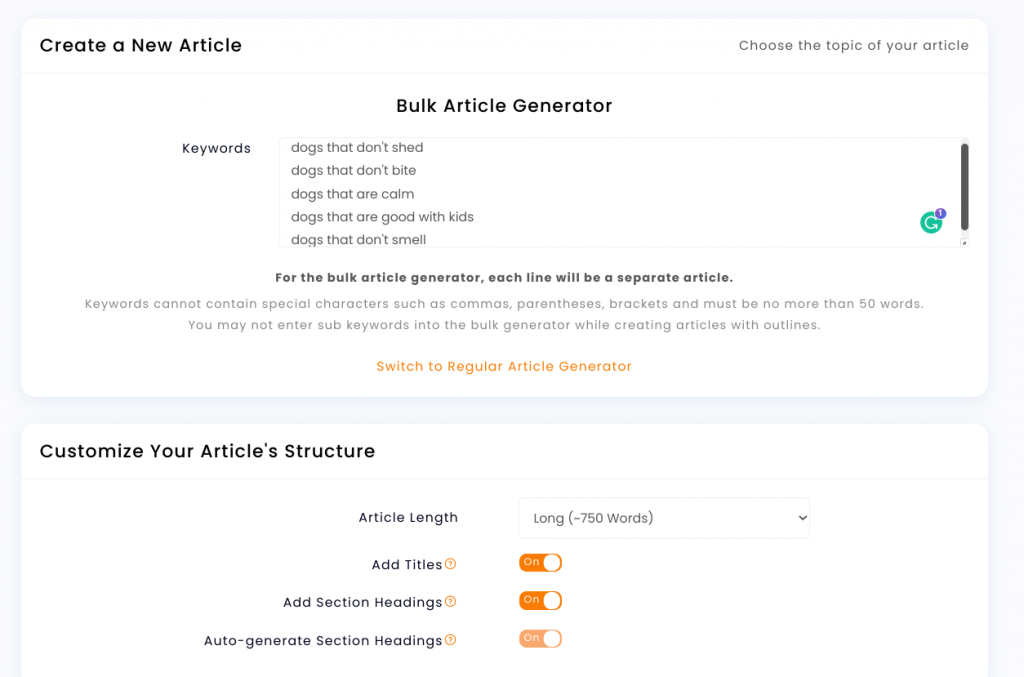 Once you have customized any settings, just click "Create New Article" and Article Forge will begin to bulk produce each of your articles.
Final Thoughts
In the 2020s, you simply have to create long-form content if you want to receive more engagement, more traction in search engines, more social shares, and more high-quality backlinks. However, producing enough content to sustain any strategy is impossible to do manually and would cost hundreds or even thousands of dollars to outsource to freelancers.
But, with Article Forge and Soovle, you can identify the most current, relevant topics in your niche and create content that is tailored to your audience in a truly scalable way!
Undoubtedly, Article Forge is the cheapest, most efficient, forward-thinking way to create content for your websites.
And the beauty of Soovle is that you can identify relevant and profitable topics without dipping into your marketing funds or getting wrapped up in technical details.
This strategy is a win-win for anyone who wants to boost content production, but especially small businesses who are breaking into SEO.
If you have any questions about Article Forge or performing keyword research in Soovle, let us know in the comments, and we will be happy to help.
Happy Forging!
Revolutionize the way you get content
Start your absolutely risk-free 5-day trial today!
Start
my
free
trial!