Semrush is one of the most famous keyword research tools on the market and is utilized by many SEO content writing services. It's no secret that Semrush offers its users an enormous database of over 20 billion keywords. The tool also provides amazing market insights that can help you to grow your brand into a major competitive force.
With all that said, Semrush has a price tag that reflects its size. With their cheapest plan starting at $119.95, we needed to find a way to make this tool more accessible.
For this reason, this guide will teach you how to use Semrush's free keyword magic tool to identify topics that your target audience is searching for, and then create content that will make you money.
Contents:
Step-by-Step Keyword Research With Semrush
Step 1: Get Started in 30 Seconds
Start by navigating to the Semrush Keyword Magic Tool. This is the most straightforward place to start for conducting easy keyword research in Semrush.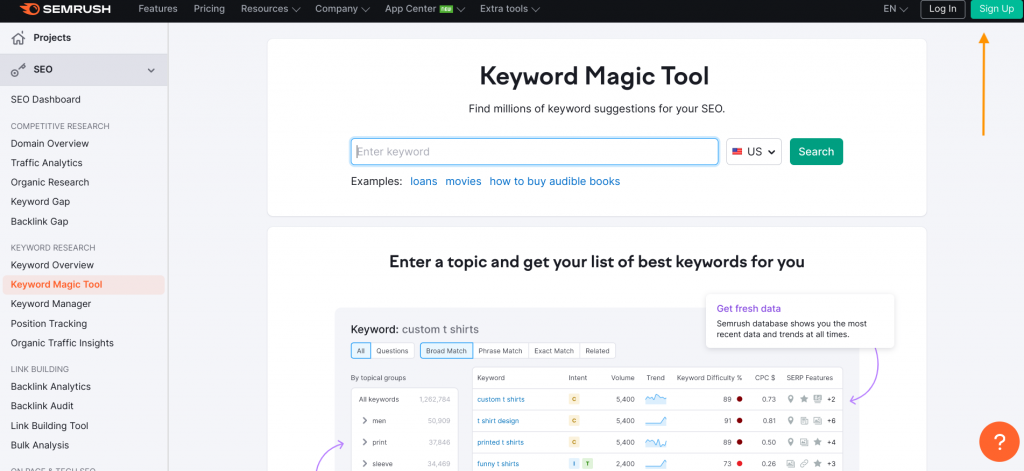 Now click on "Sign Up" to create your free Semrush account. Don't worry, all you need to enter is an email and a password and you can also easily opt-out of emails.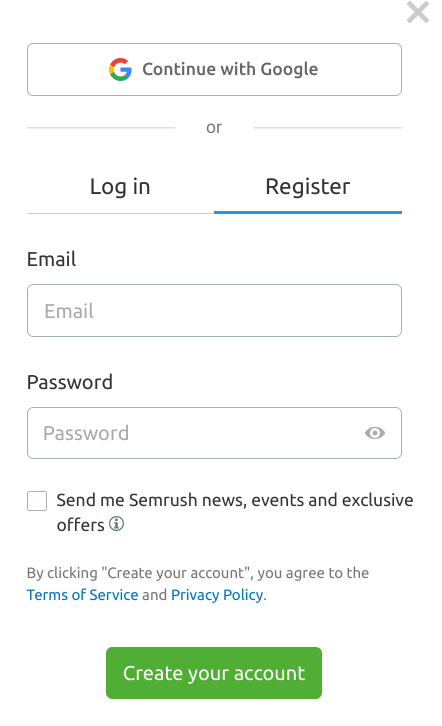 Simply enter your email and password and you're good to go.
Step 2: Understanding the Keyword Magic Tool
When you first come to the Semrush keyword magic tool interface, you will quickly understand why everyone involved in SEO content writing is raving about Semrush.
The free Semrush keyword research tool offers better keyword research filtering and a larger database than most competitors.
Semrush's Keyword Magic Tool offers users the ability to quickly identify:
Keyword intent
Keyword difficulty
Search volume
Commercial potential
Additionally, you can easily filter keywords and questions quickly to exclude keywords that don't meet your SEO content criteria.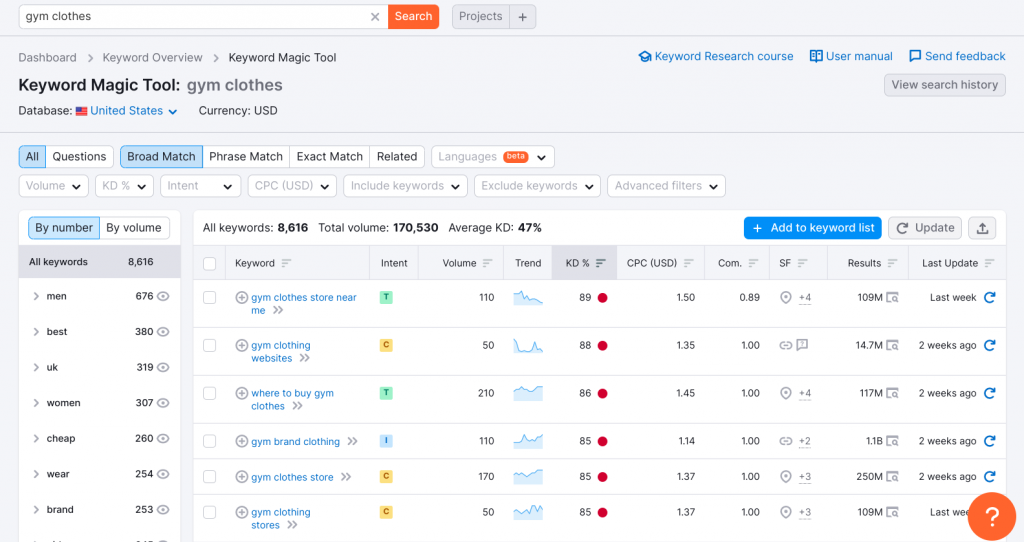 Step 3: Identifying and Understanding Search Intent
Put simply, intent is the goal behind the content you are creating. Understanding intent is vital for producing solid content that your readers love.
Anyone who is responsible for a content strategy needs to understand the different types of intent. Most SEOs agree that there are four primary types of content, these are:
These may seem self-explanatory, however, there are a few subtle, but important differences between each. The differences are vital to recognize if you want to be successful in implementing an SEO content strategy.
Informational Intent
Firstly, informational intent is the backbone of your brand. This is the content that attracts backlinks to your websites and helps you to establish E-A-T (expertise, authoritativeness, trustworthiness). All websites need to have at least some level of informational intent-based content to build brand credibility.
When a keyword has informational intent, it means that the people searching with this keyword are looking for informational content to learn more about the topic and gather information.
Navigational Intent
Navigational intent serves the purpose of helping users to find the exact information or website they are already looking for. For example, many users may enter "YT" rather than the URL "youtube.com" regardless of their search purpose is already pretty clear, they want to watch videos on YouTube.
When a keyword has navigational intent, it means that the people searching with this keyword are looking for a specific website.
Transactional Intent
Transactional intent is where a user is trying to complete a specific action, like purchasing a coffee machine or booking tickets to a basketball game. The words that accompany a user's transactional search for "coffee machine" could be "buy" or "coupon" whereas for a basketball game this may be "book" or "reserve seats".
When a keyword has navigational intent, it means that the people searching with this keyword are looking to purchase a specific product or service.
Commercial Intent
Commercial intent allows you to create content that communicates both your expertise and authority while helping you to influence purchase decisions. Often keywords with commercial intent are product-related and include terms like "best", "review", "vs." and "cheap". For example, "best budget laptop".
When a keyword has commercial intent, it means that the people searching with this keyword are looking to compare products and potentially make a purchase.
When you understand intent, it's easier to create content that matches user expectations. Semrush makes understanding intent even easier by including the search intent of every keyword. You can even filter your potential keywords by intent to identify the most profitable topics to produce content around.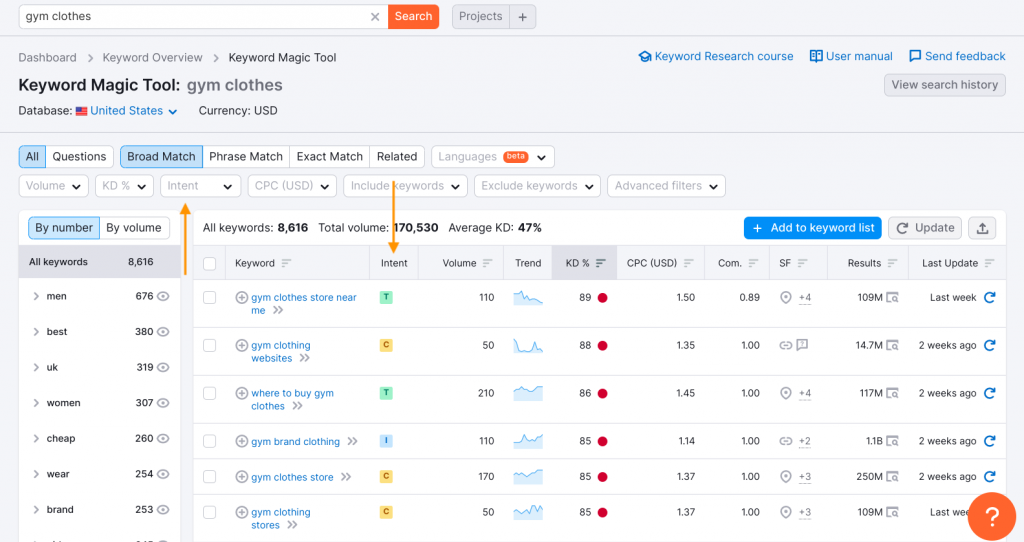 Step 4: Using Broad Match Keywords
When it comes to finding new content ideas and interesting keyword ideas in Semrush. We always recommend that you use the "broad match" search filter.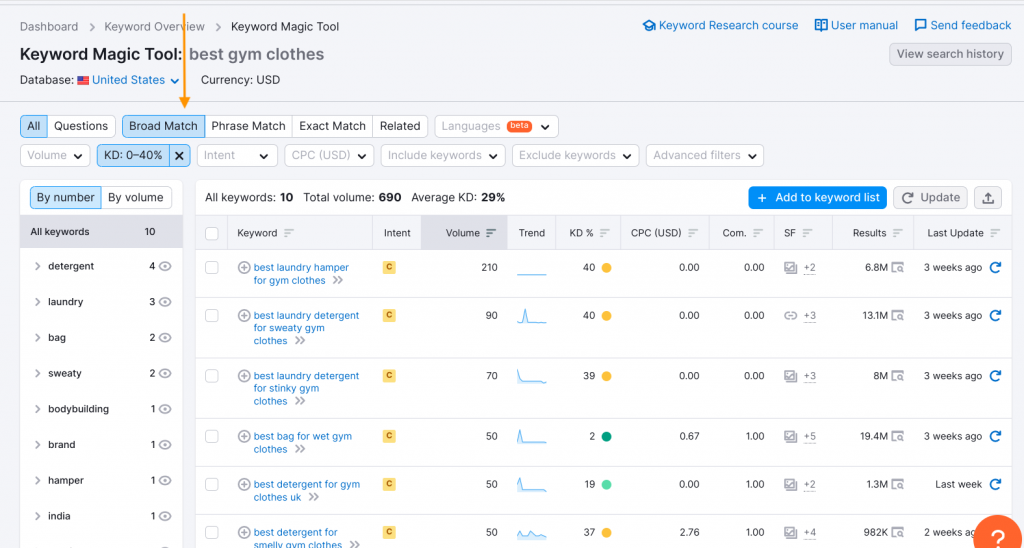 Searching this way allows you to identify keyword variations that you might not have otherwise thought about. Broad match results are often long-tail keywords that are much more specific and can lead to highly targeted traffic.
By not strictly limiting yourself to exact and phrase match keywords you will find various keyword opportunities in your niche that your target audience will closely identify with - helping you to create content that drives engagement and sales.
You don't have to, but we are looking for commercial-driven keywords so we have entered "best gym clothes" rather than just "gym clothes". This will help us to identify keywords that have good profit potential.
We have opted for the keyword "best detergent for smelly gym clothes". The Keyword Difficulty isn't too high, there is clear commercial intent with a really high cost-per-click (this means advertisers are bidding to rank for this keyword), and the search volume is decent.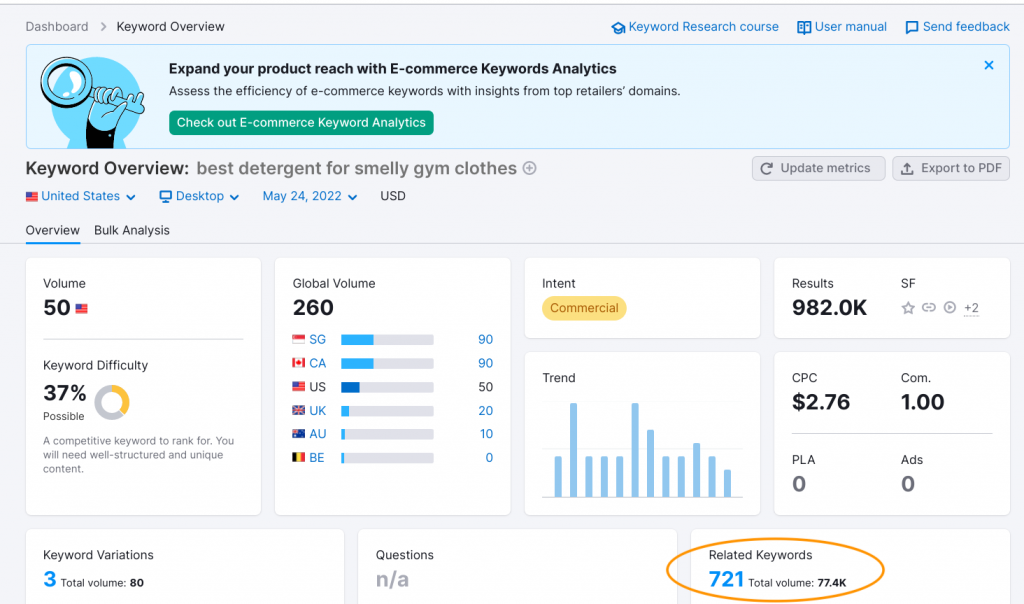 There are also 721 related keywords. This means that if you produce comprehensive and well-optimized content on this topic, you could potentially rank for hundreds of different variations (which means a lot more traffic).
Step 5: Finding Broad Match Questions to Win Snippets
The best way to create content that resonates and appeals to people is to serve your readers first. This means answering the questions your readers care about and not just constantly promoting new products in your niche.
Remember, people discover your content to help solve their own problems and answer their questions, they do not come to your website and think "I want to buy this company's product".
However, answering specific informational queries is a great way to rank higher in search engines, as a result bringing more relevant traffic to your website, establishing expertise. and ultimately increasing your conversion rates.
To do this we have a simple three-step strategy that you can copy to deliver better rankings and find new readers.
First, enter your seed keyword and select "Questions" and "Broad Match", then set the maximum Keyword Difficulty (KD) to 40. Depending on the authority of your website, you can make this slightly higher or lower as necessary.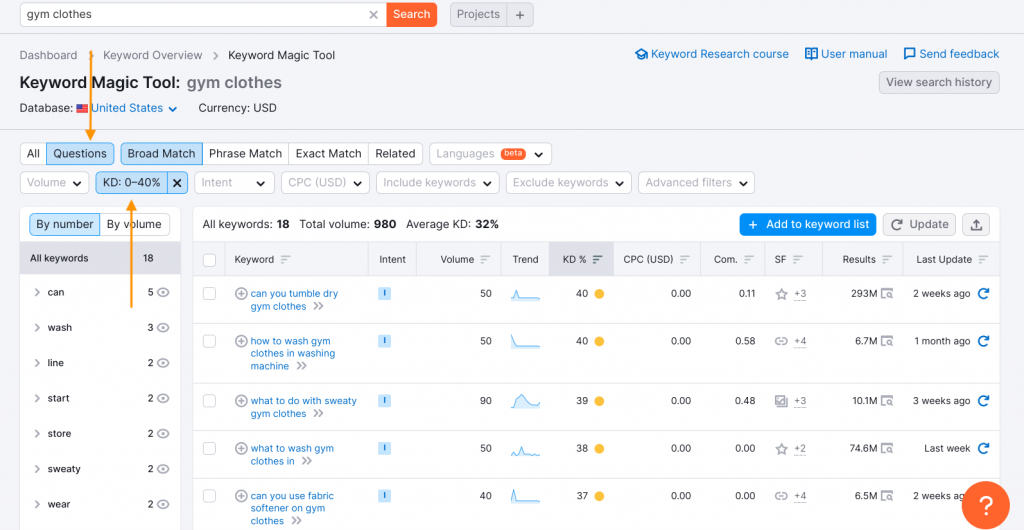 Next, select 2-4 questions that will be highly relevant to your post. 
Say that we want to create a post on the "Best Material for Gym Clothes".
This article will be great for making money because it has commercial intent - "best". However, if we want to recommend products containing the specific materials we need to posistion ourselves as an authority on this topic.
To do this, we can use the questions that we have identified in Keyword Magic Tool.
We have selected:
Can you use fabric softener on gym clothes?
Can you tumble dry gym clothes?
What to do with sweaty gym clothes?
Finally, you can automatically generate 50-word responses using Article Forge on each of these questions and add them to your post. 
50 words, give or take, is the perfect word count for these responses because it will help you to compete (and win) the featured snippet on Google.
Winning featured snippets provides instant visibility and can help you appear on the first page even in highly competitive niches, and it's much easier than you think. All you need to do to become a snippet pro is answer questions in an easy-to-understand and concise manner.
Take this snippet, for example. The snippet does a fairly decent job of answering the user's search. However, it could definitely be more concise.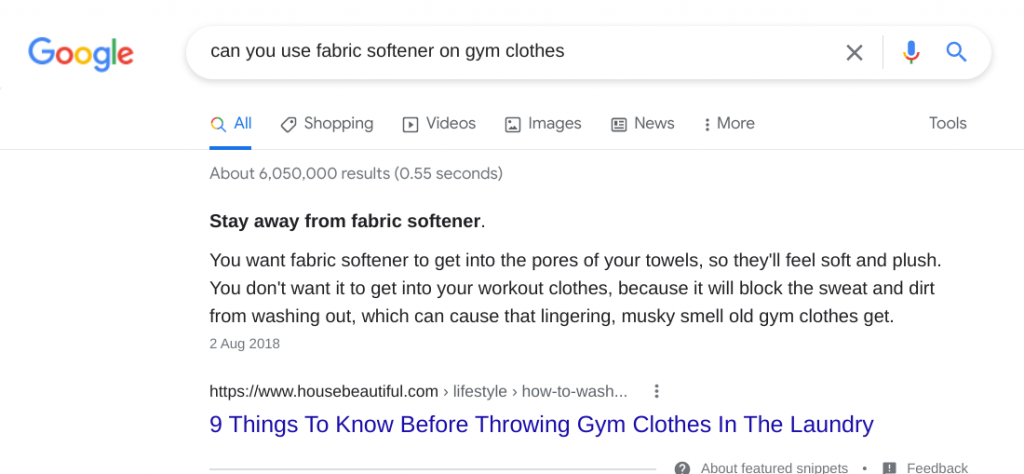 Winning this snippet will put you at the very top of Google meaning many more clicks to your website, and even if some users don't click through this is a good thing because it means you have answered their question in enough detail. This is an amazing signal to any search engine and will lead to you continuously improving your rankings.
To find even more free and relevant questions to include in your content you can check out our keyword research guide using QuestionDB.
Generate Content Automatically with AI 
Consistent and high-quality content is absolutely key for creating a profitable website. However, to do this you need to spend a lot of time perfecting your writing skills - well not anymore.
Article Forge is an AI article writer that allows you to enter a seed keyword, and with just a single click you can create articles over 1,500 words. 
All you have to do is head over to the New Article Page within Article Forge and enter your seed keyword.
Then, select your ideal content length - we recommend 1,500+ words, as Google loves long-form content.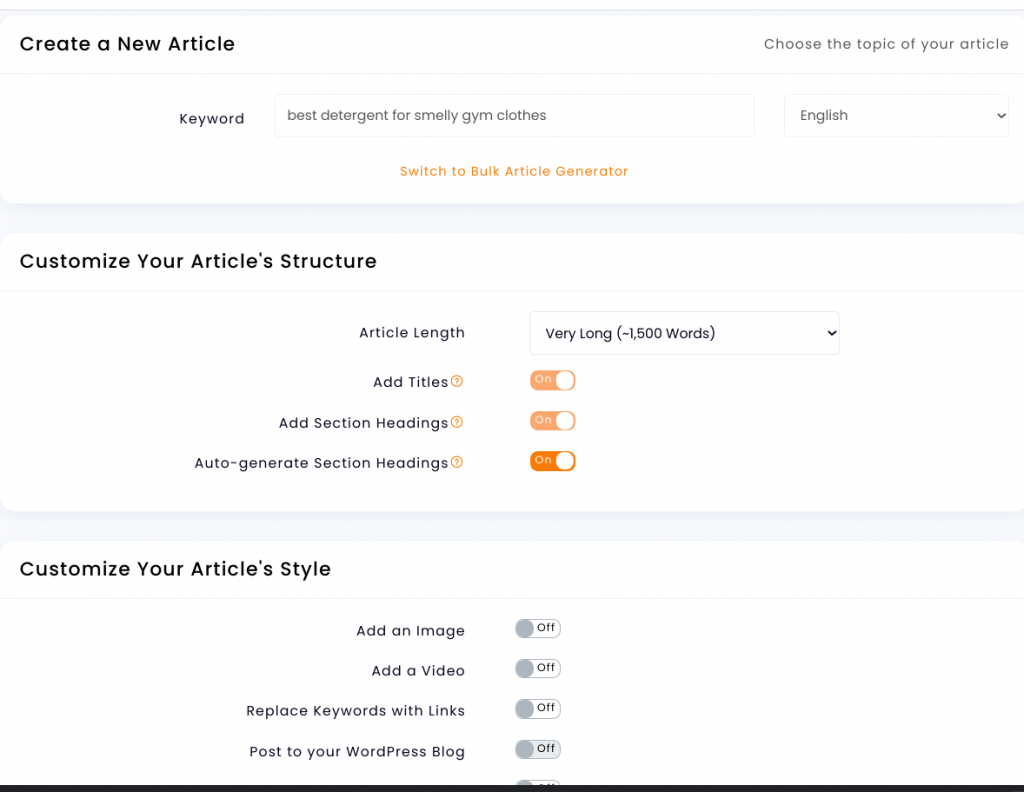 Then, scroll down and click "Create New Article" and just like that, Article Forge will begin to generate a completely unique article on your desired keyword in minutes.
Article Forge naturally includes optimal keywords, sub-topics, and section headings when writing each unique article to help your content both perform well in search engines and prove relevant to your readers.
Bulk Answer Semrush Questions Automatically
As we explained earlier, finding relevant questions for your content, and producing concise and explanatory answers is a fantastic way to win the featured snippet on Google.
Snippets should be about 50 words so you may be thinking, what's the point of using Article Forge when it only takes 5-10 minutes to answer a question anyway?
Well, Article Forge's AI writer can help you answer all the questions that you identify in the Keyword Magic Tool in bulk. Saving 5-10 minutes per FAQ will quickly add up and will help you earn features snippets faster and more easily.
To get started, simply, go back to the New Article Page and click "Switch To Bulk Generator".
Once you are in the Bulk Article Generator, enter your questions into the tool and select the article length as 50 words, you can also uncheck "Add Titles" as headings aren't necessary for this.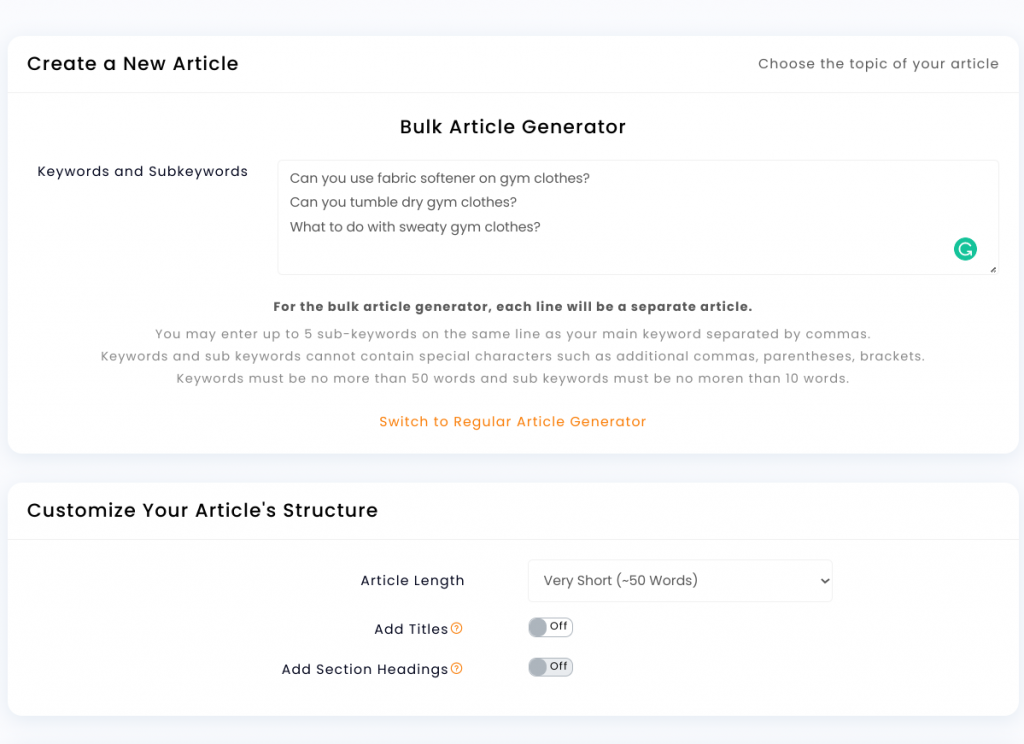 Now, simply scroll down and click "Generate New Article" and once again Article Forge will take all the guesswork out of creating SEO-optimized and highly specific content around your chosen keywords.
Remember that Article Forge works based on the keyword that you provide, so we recommend checking out our Article Forge Best Practices in order to get the maximum potential out of the tool.
Final Thoughts
Semrush is often considered to be the best keyword research tool on the market and it may well be true. However, Semrush is a massive investment for most people, so we have created this guide as a free and actionable way to identify profitable keywords using a massive keyword database.
We have looked at how to identify and understand the search intent behind a keyword, how to identify rankability and commercial potential, how to find keyword related questions that can boost your authority, signal expertise, gain backlinks, and build brand visibility, and of course how to generate all of this content automatically.
We hope that you have enjoyed this short, yet actionable, guide to keyword research and that you will come away from this article with a few new tricks to try out. If you have any questions about Article Forge, or Semrush Keyword Magic Tool we are more than happy to assist you.
Good Luck and Happy Forging!
Revolutionize the way you get content
Start your absolutely risk-free 5-day trial today!
Start
my
free
trial!