Chances are, you've heard something about how AI increases efficiency and profitability in any industry. More recently, you might have even heard that some people already use AI to write blog posts to boost their online presence automatically.
But, it can be difficult for businesses to make the most out of all the tools and technologies out there, or even to know where to start. 
This is especially true for industries like AEC (Architecture/Engineering/Construction), which has centuries of history and best practices behind it and tends to have an "old school" mentality pervading its culture.
Start a Blog
A great way to bring your construction company's marketing to the 21st century is to start a blog. 
Search Engine Optimization (SEO) is one of the most important strategies for marketing in our online world, and producing a continuous stream of blog posts for construction services on your business's site will have a huge impact on your site's authority and your likelihood to be found by customers.
Similar to the learning curve of new technology, there's sometimes quite a lot of theory and technicality that goes into SEO strategies. 
Luckily, it doesn't have to be that complicated.
Simply posting fresh, new content on a regular basis will go a long way in noticeably improving your site's authority.
Beyond that, we have created guides to make keyword research (the first step in leveling up your online presence) extremely easy.
Check out our continuously growing series of guides on how to get Article Forge to synergize with some of the most popular SEO keyword research tools on the market.

But Where Am I Supposed to Get the Content for This Blog?
Even if you have a lot of ideas for what you want your blog to include, you might still be hesitating.
Historically, creating a steady stream of blog posts for construction services was easier said than done. Construction is a highly technical field with, as mentioned above, centuries of history and refinement around some of its core processes.
It takes time and effort for someone with the right knowledge to manually write interesting, informative blog posts about construction services.
Unfortunately, your resident experts are probably too busy in the field to write blog posts.
And, your marketers might not have the expertise needed to produce posts that are truly engaging for a construction audience.
What Do You Mean When You Say Use AI to Write Blog Posts?
Article Forge's AI blog post generation tool is a great solution to the content creation problem. Article Forge can become an "expert" in almost any field, especially topics as common and well-documented as general construction. 
And the best part is, Article Forge can produce full-length, high quality blog posts in minutes.
This makes Article Forge a standout product on the market right now. There are other AI-powered writing tools out there, but most of these other tools are AI writing assistants. They help the user rephrase or expand or proofread their content, but they aren't able to actually write very much new content at all.
These tools, Grammarly for example, are certainly very useful, but they don't have the same automation power as an AI article writer like Article Forge. They require significant human input every step of the way in order to work.
On the other hand, Article Forge only requires an initial human input to tell it what to write about - and even that initial input can be automated away with Article Forge's built-in post scheduler and integration with WordPress.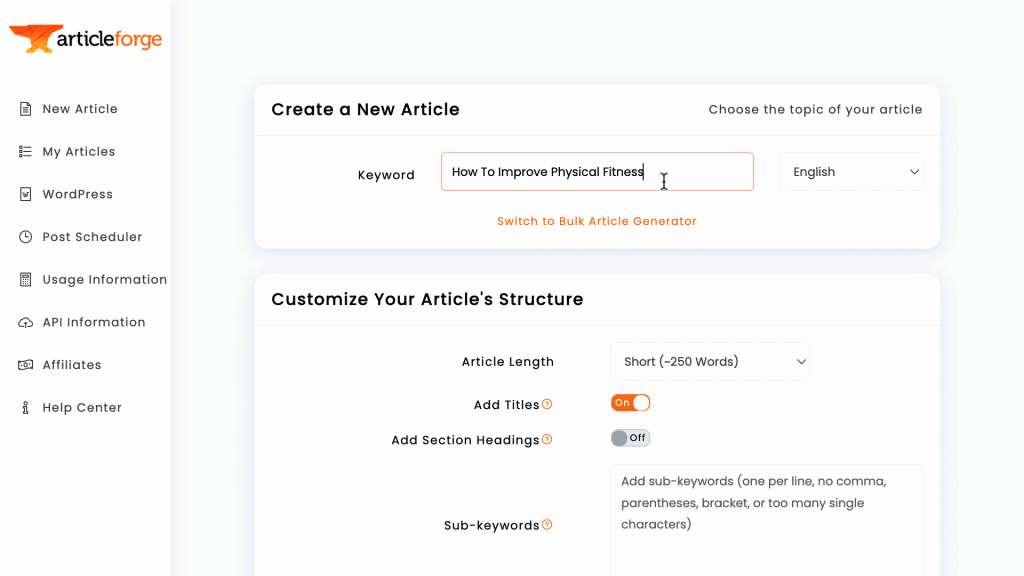 On top of that, the proprietary AI article generation process automatically optimizes its content for search so you don't have to worry about learning how to write SEO-focused content. 
And, as mentioned above, we have several guides on how to easily find keywords for the AI to write blog posts about. These guides will help you tackle keyword research in just a few easy steps and even show you how to produce the best blog posts automatically.
This article discusses some ways that you can use Article Forge to maintain a steady stream of blog posts to boost your construction business's online presence and site authority.
Pick Topics Based on Your Type of Construction Company
There is, of course, no one-size-fits-all approach to blogging, and there are tons of different kinds of construction companies out there each with their own particular needs.
Construction companies can range from huge conglomerates working on multi-billion dollar projects to small mom-and-pop outfits that perform routine residential maintenance. For your business's blog to be sensible and helpful, it's important to focus on your niche.
Your business might be a general contractor that works mostly with clients in the healthcare sector, in which case it's important that your blog posts appeal to healthcare facility management professionals.
Or you might be a specialty electrical subcontractor that works mostly in the heavy industrial sector. If so, your blog posts should target the general contractors who will hire you to perform the electrical scope of their larger project.
These are two very different audiences, and they should be targeted with very different content marketing strategies.
Fortunately, Article Forge's AI has the ability to pull off either and both of these strategies, and countless more,  if you know how to steer it in the right direction.
Use AI to Write List-based Posts
List-based posts are one of the most popular kinds of blog posts, and for good reason. They're easy both to write and to read, and they have the potential to be very helpful and informative resources, when done well.
List-based posts usually give an itemized breakdown of your topic or a list of the best examples of your topic.
Article Forge is good for writing list-based posts, or listicles, because it's able to break down your topics into sections automatically. It is even better at writing about different examples or instances of a main topic to help better organize information for readers.
If you'd like (this is optional), you can also choose the topics of each individual section of the article, allowing you to decide the direction and intent of the article while Article Forge does the writing legwork.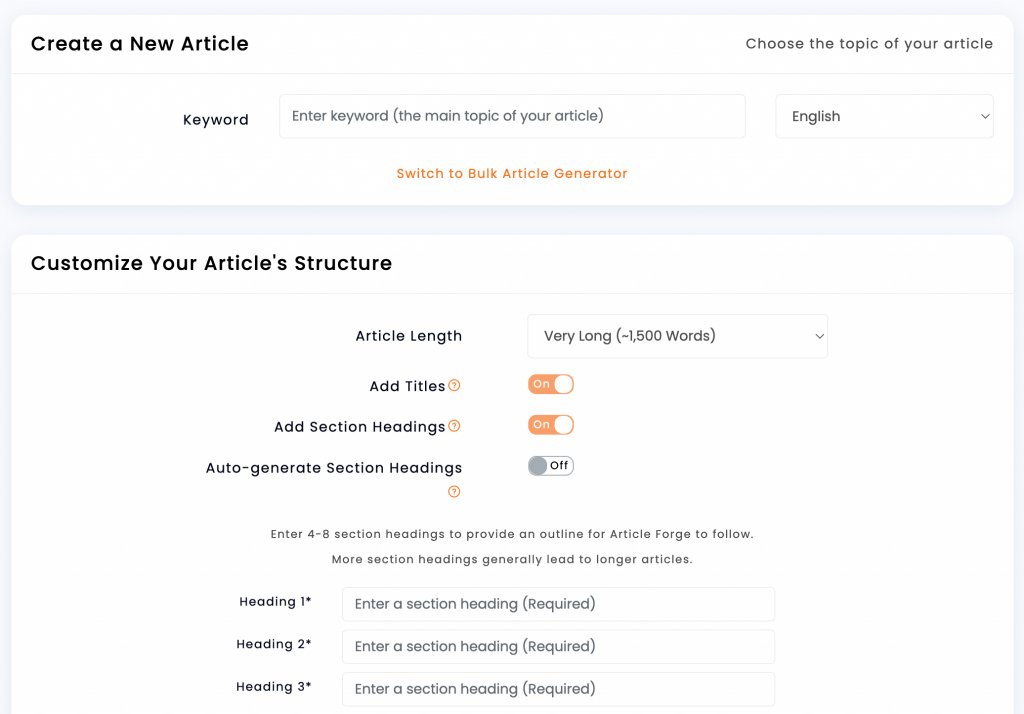 As you can see in the image above, you just need to set "Add Section Headings" to "On," and "Auto-generate Section Headings" to "Off," and you will be able to manually enter the list items you want Article Forge to write about as headings.
The beauty of list-based blog posts is that they can be about anything - it's a ready-made, tried and true formula for blog posts that lets you go in any direction you want.
AEC marketers have a wealth of options to choose from when writing a list-based blog post. They can be technical and practical in nature, showing your company's expertise and authority.
Keywords like this could be the best materials to use for the facade of a house, or maybe even lists of safety issues to be aware of when working in a construction environment.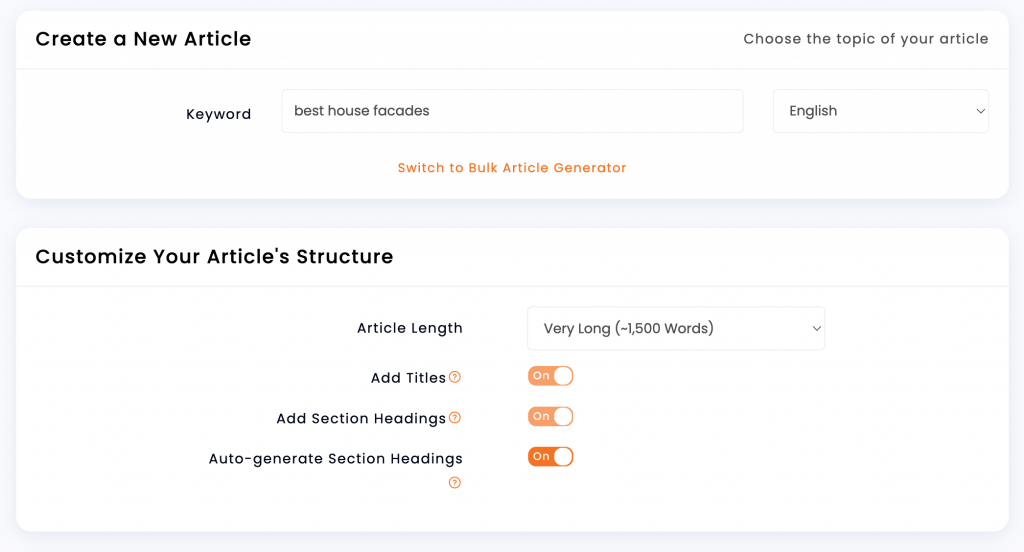 To demonstrate further, here are a few example keywords that you can feed to Article Forge:
Best Roofing Materials
Eco Friendly Siding
Best Siding Materials for Dry Climates
Common Safety Hazards in Commercial Construction
Your keywords can also deal with broader issues surrounding business of the industry. For example, if your business specializes in alternative construction project delivery methods, such as design-build or Construction Manager at Risk (CMAR), you could use Article Forge to generate a blog post that lists the benefits of using that delivery method over the more traditional design-bid-build method.
Here are a few more examples:
Best Project Management Tools for Construction
Types of Lien Waivers
Tips for Getting Federal Construction Contracts
As another example, your post could analyze some of the economic challenges facing the industry and what your business is doing to address them.
The COVID-19 pandemic has left no shortage of logistical problems for AEC marketers to write about, such as material shortages, safety and infection control concerns, and upstream real estate market fluctuations.
Keywords you can enter into Article Forge might be:
Commercial Construction Lumber Shortages
What Biden's Infrastructure Bill Means for Federal Construction
Home Building Since Covid
Similarly, you could do a post about positive trends in the industry. This is a broad topic that can inspire a wide range of different posts - there are many facets of the economy that might lead to more work for construction companies.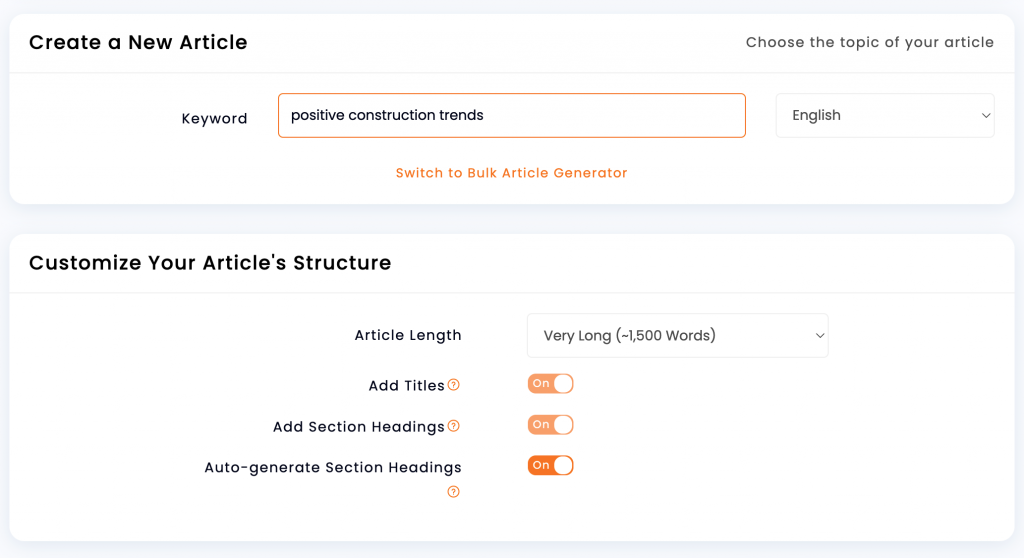 For example, a local government might start a program incentivizing the redevelopment of a historic district in the area. If your construction company specializes in historic renovation, then you'll want to get the word out so that potential clients know that you can help them take advantage of that program.
Use AI to Write Blog Posts about Major Changes in the Industry or Your Sector
As mentioned above, the AEC industry has centuries of history and tradition behind it, but it's certainly not immune to the march of progress.
The industry is constantly being disrupted by new techniques and technologies, and it's important to communicate to your clients (and potential clients) that your firm is making good use of them.
A blog is a way for your company to become a thought leader.
Most AI-powered writing tools wouldn't be very helpful in writing blog posts like this though, because they can't write accurately about new topics that they haven't been trained on.
However, Article Forge is on the cutting edge of this issue - it has the ability to conduct research on new topics while it writes about them, which means it can write factually accurate blog posts about virtually any topic.
As such, a low-voltage electrical contractor could use Article Forge to write a blog post about the latest in fire alarm technology without having to worry about the AI being unaware of the latest updates and trends.
Just enter something along the lines of: `Benefits of Using the New [example fire alarm product]`, and Article Forge will research accurate, up-to-date information on that new fire alarm product and write an accurate and readable article about it. Some other example keywords:
New Woodworking Tools Every Carpenter Should Use
Construction Companies Need to Modernize Their IT Departments
Benefits of Aspiration Detection Systems
This lets you improve your company's authority, not just from an SEO perspective, but from an intellectual perspective. If you know what you're doing with Article Forge, you can use AI to  write blog posts with less than 15 seconds of effort. 
Use AI to Write Blog Posts about the Benefits of Hiring Your Company
As we've already discussed, it's important to understand and advertise your business's specialties. Construction is a wide and varied industry, and prospective clients usually have a very specific goal in mind when looking for a contractor.
It can often be hard to tell what a company does specifically just from their name, logo, or landing page.
A company might be called XYZ Construction, or John Doe Building Co., but they turn out to be a company that focuses on roofing, or a specialty contractor that does modular construction.
Writing blog content that's focused on the specific work your company does will help your site garner "higher quality" traffic that will convert to more clients.
Without going into too much detail, "high-quality traffic" in this context means that the traffic you get from these posts will be the type of people who are looking for the services you offer. This is in contrast to getting more low-quality traffic that is filled with people who aren't really looking for your services, and are much less likely to convert. 

With the recent inclusion of the real time research components discussed above, Article Forge is able to write accurate and relevant content that will improve your site's authority when it comes to your targeted topic.
Keeping with our project delivery method example above, let's say your firm specializes in design-build contracting.This means that the client directly engages only one contractor who acts as both the designer-of-record and the general contractor for the project.
This is in contrast to the traditional design-bid-build method, in which the client engages an architecture or engineering (A/E) firm to design the project and then engages a separate general contracting firm, usually through a competitive bid process, to do the actual construction.
A post on your business's blog could give an overview of the design-build process and its benefits over more traditional methods, using the keywords: `Benefits of Design-Build Contracting`, and maybe section titles such as: `More Cost Effective`, `Quicker Turnaround`, and `Simpler Process`.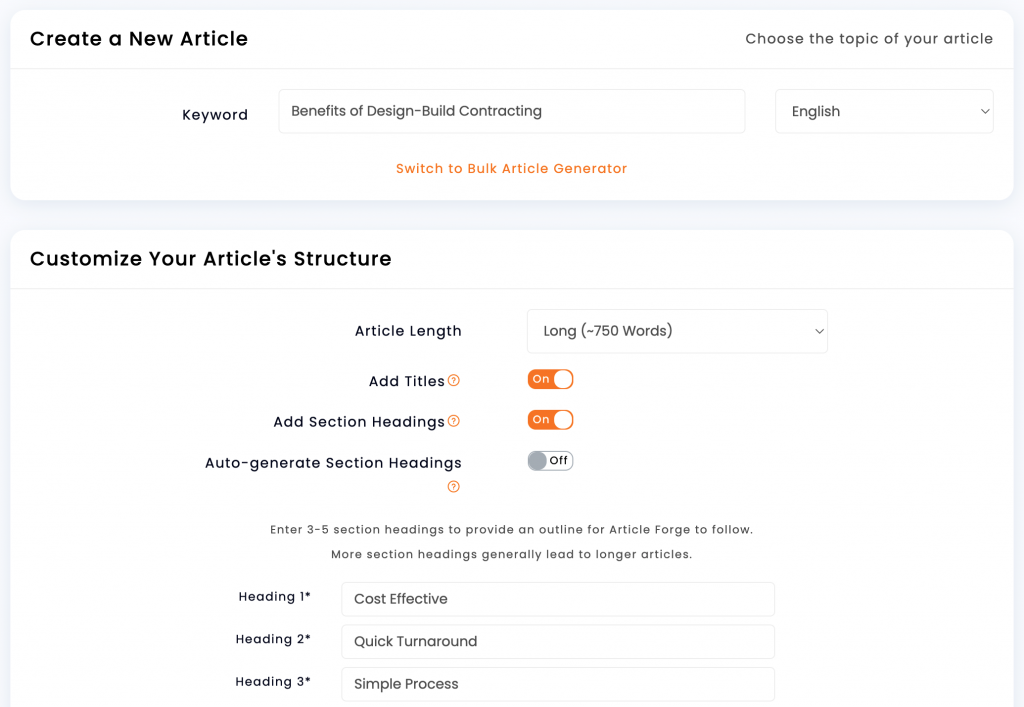 As another example, some construction firms find their niche in being able to self-perform certain specialty tasks that would normally be subcontracted out.
A general contracting firm, for instance, might be able to directly buy a fleet of excavators and hire full-time skilled crews to man them, allowing them to self-perform certain earth and sitework scopes rather than hiring subcontractors and eating their markups.
A company like this might first have Article Forge's AI article generator create a blog post about the benefits of hiring a self-performing contractor.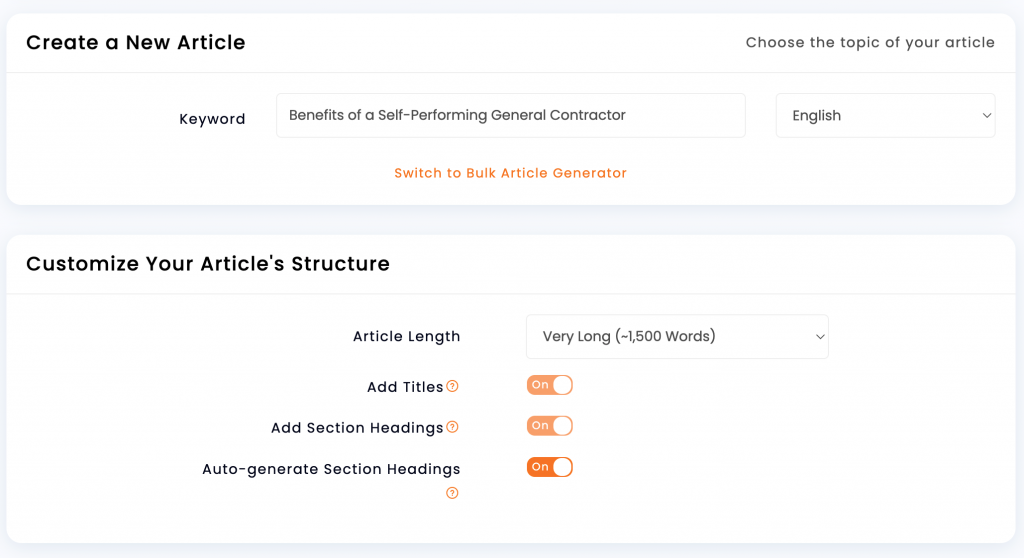 Then, you can have Article Forge write posts discussing their self-perform capabilities and how they can help save clients time and money. For these posts, you could easily just have Article Forge write about each of your companies capabilities - just enter the capability as a keyword, and Article Forge will do the rest!
Wrapping up
These are all kinds of blog posts that Article Forge is more than able to produce, all in just a few minutes and with minimal human input. Article Forge's automation capabilities can have a profound impact on your construction company's content marketing effort.
You can use it to scale your SEO content strategy and create blog posts about topics that will increase your company's online presence and authority without blowing your marketing budget. 
We know that this is a lot of information to take in, especially when it comes to how Article Forge will actually be able to create content for you. But we are here to help! If you have any questions about this post, how to use Article Forge, or even about which keywords you should target, shoot us a message!
Revolutionize the way you get content
Start your absolutely risk-free 5-day trial today!
Start
my
free
trial!