LowFruits.io is a unique SEO content tool that offers a fresh way to perform keyword research. LowFruits is quite literally about finding the "low hanging fruits" in your niche, meaning the keywords that are the easiest to quickly rank for.
LowFruits.io's competitive advantage is that you can perform keyword searches by setting predefined conditions (think: how "filters" work in more expensive keyword research tools). This enables LowFruits to create keyword lists that meet your conditions and uncover high-opportunity keywords to exploit.
By reading this guide you will learn how to conduct high-impact keyword research in LowFruits. We will show you just how easy it is to find keywords that provide easy ranking opportunities, these are existing "weak spots" in Google's results that we can take advantage of.
And most importantly, we will provide you exactly what you need to walk away with full length blog posts about every single one of these keywords. By using Article Forge's AI writer, you can produce entire high-quality, relevant, unique articles (1,500+ words) in a single click.
Contents:
Step 1: Setting Up LowFruits
Getting started with LowFruits.io is fairly straightforward and is representative of how easy the whole tool is to use.
Start by heading to the LowFruits.io Home Page and clicking "Get started for Free".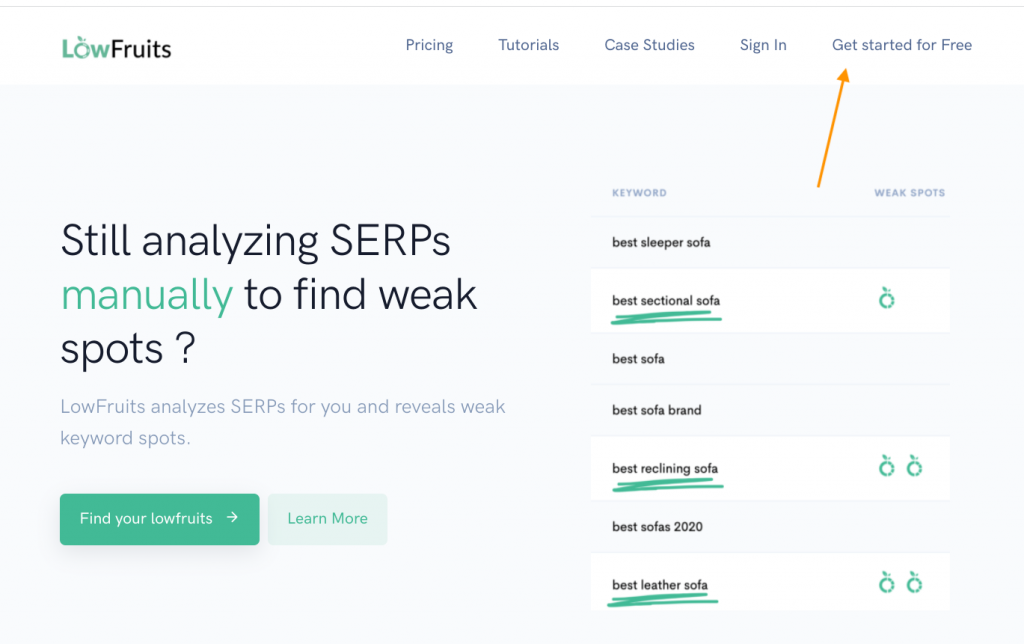 Next, you will come to the registration page.
You can either sign in with Google or just fill out the few details shown above. Don't worry, no credit card is required to sign up.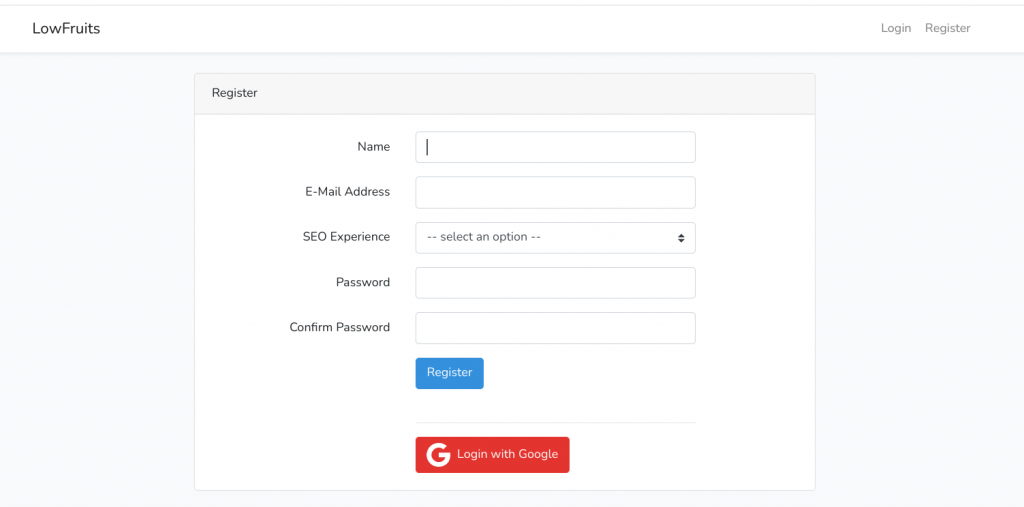 As soon as you click "Register" and verify your email, you will enter your main keyword research interface.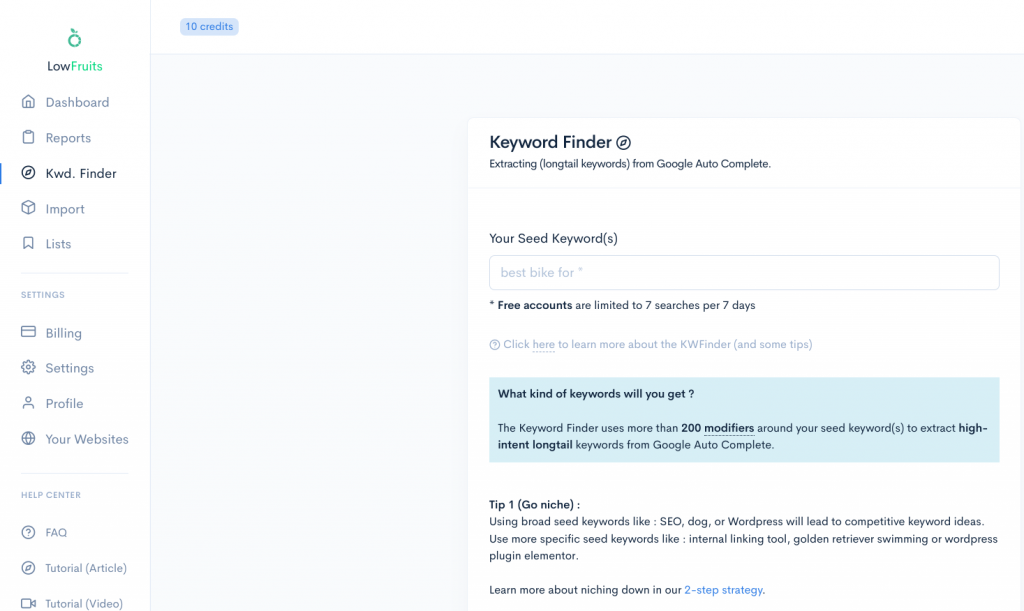 Step 2: Keyword Searching Options
Now it's time to enter a seed keyword and generate a list of the best keyword opportunities to target - your low-hanging fruit keywords, or "weak spots" you can take advantage of.
However, there are a couple of things to be aware of before hitting search.
Firstly, LowFruits provide a couple of helpful tips that you should follow to generate the best content ideas: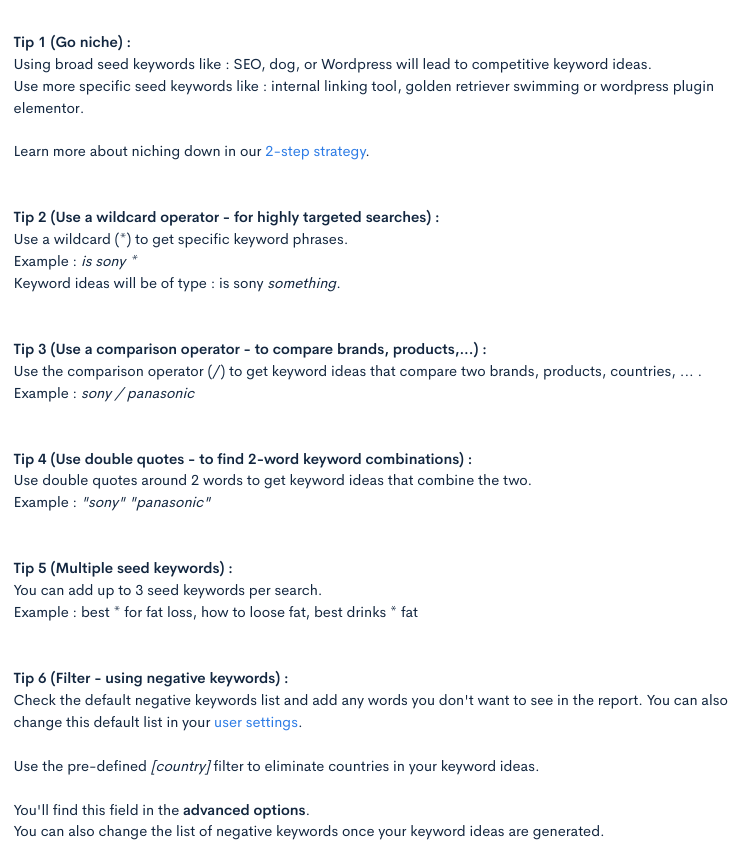 These tips are not hard and fast rules that you have to follow, but they can definitely help you improve your seed keyword searches.
Advanced Keyword Filtering
The advanced filtering options provided by LowFruits are a great way to avoid results that are too competitive or irrelevant.
For this example, we will assume that you have a new website that has not yet built up any authority. Therefore, you should target keywords with a DA below 20 (if your website is more established and has higher authority, you can also target keywords with higher DA).
All you have to do is scroll down past the six tips and click on the "Advanced Options" dropdown.
When you click on the "Advanced Options" you will receive this dropdown menu: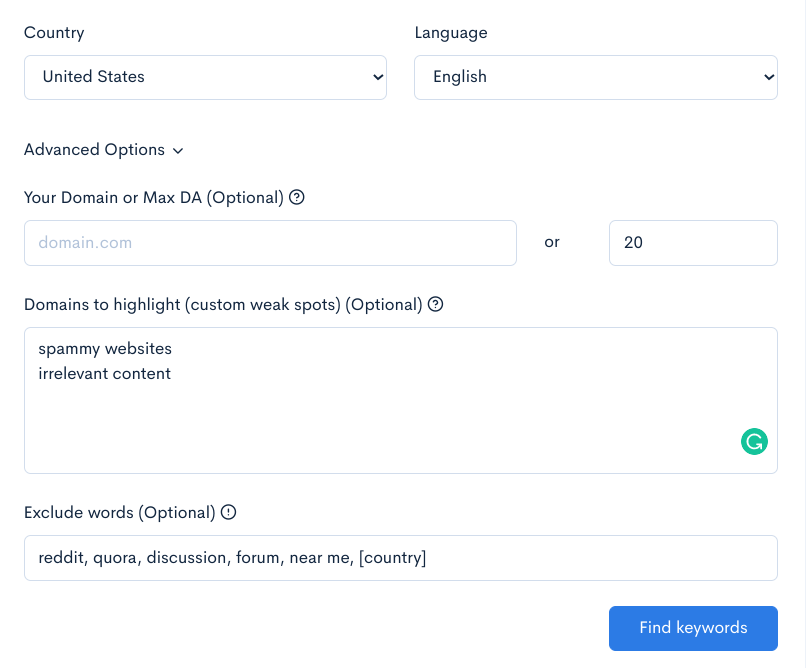 First, select your country and language. If your website targets a global audience you will want to select "United States" and "English". This is because these keywords are the most universal and convert well globally.
Target Low DA Websites
Next, select Max DA. Do not skip this step! It's the easiest way to quickly filter out keywords that are too competitive and hard to rank for right now.
You should aim to target keywords where the websites that are currently ranking have roughly equal, or lower, DA than your site. If your website has very low or no DA, you can set this metric to 20.
Alternatively, you can simply enter your domain and LowFruits will automatically find the keyword opportunities that you can easily rank for.
Don't worry, once you set your filters, LowFruits will automatically analyze all the websites that are currently ranking on the first page for your target keyword. You don't have to do any manual work here!
Target Weak Domains
The next filter isn't too important and you may choose to skip this step, but it can be a good way to target keywords where you have identified "weak competition".
What do we mean by weak competition?
This could include websites that are:
Ranking with content that is largely irrelevant to your niche
Websites that appear spammy (lots of low-quality backlinks)
Plagiarized (duplicate, or scraped content)
Generally unsafe (lack of SSL certificates)
It may be tricky to find keywords where these websites are ranking, so don't bother spending a lot of time finding these websites to target.
Exclude Words
Finally, LowFruits has an "Exclude Words" option. This is a good way to eliminate keywords that you don't want to generate content for. There are a few categories here that we would recommend always excluding:
Existing forums (maybe use a different term)
Location-specific terms
Dates/years
Existing Forums
We always exclude online forums such as "Reddit, Quora, Forum, Discussion". This is pretty self-explanatory, your goal is to create a high-quality blog post and not add content to an online discussion on an existing forum.
These are also navigational keywords which means that a person searching for a keyword like "cryptocurrency trends reddit" wants to visit a specific website, in this case, a forum on Reddit about cryptocurrency, and not your blog post.
Location Specific Terms
Unless you are specifically targeting local SEO, you can also exclude words like "near me" and "countries". In this case, these keywords are too specific to start with and the searcher will typically be looking for a very specific and location-dependent service.
Dates/Years
We recommend excluding years (e.g. best kitchen appliances 2018, how to turn off a Panasonic TV 2019). These keywords have virtually zero search volume, and even targeting a keyword with the current year isn't recommended.
Your goal should be to generate evergreen content that will serve your readers both now and in the future.
Step 3: Find High Potential Keywords and SEO Weak Spots
Now that you understand how to optimize your keyword list by filtering out negative results, it's time to perform your first keyword search.
For this guide, we will assume that you have a new website about household technology and your goal is to create a successful affiliate website that ranks for profitable keywords.
Since your website is new, ranking well for keywords like "best laptops" and "best phones" is unrealistic. So, we will need to target more specific, and related long-tail keywords to succeed.
Luckily, LowFruits lets you use wildcard operators (using "*") to find hidden gems in your niche. For example, entering "best laptops for *" will reveal long-tail keywords beginning with "best laptops for".
We know that laptops serve different purposes for different people, so using the above search will help us find long-tail keywords such as:
"Best laptops for work"
"Best laptops for gaming"
"Best laptops for programming"
"Best laptops for graphic design"
All of these keywords will be much less competitive, and easier for us to rank for.
Note: Even though these keywords will have less search volume individually, we can target more of them to cover more volume in total. Beyond this, long-tail keywords will rank for many more terms than just the exact match. This will rapidly compound your total search volume (we'll cover this more in the next section).
Our search has yielded over 280 keywords that we are able to check out: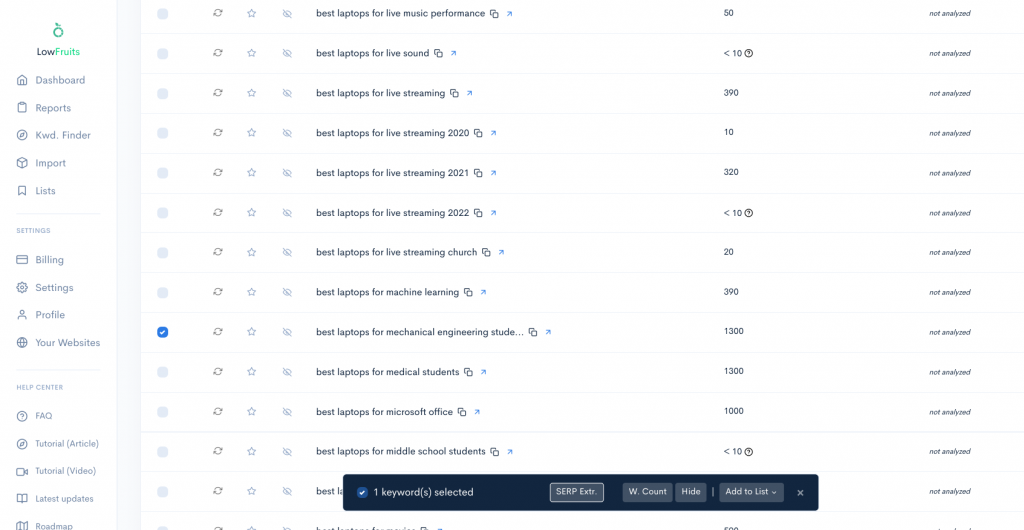 The next stage is to perform a SERP extract on some of the keywords that would make great content ideas for your website.
SEO is a numbers game - so extract as many keywords as you would like here to find the most potential winners at once. This is also an easy way to quickly fill out your content calendar.
Ideally, you will build up a list of at least 10 keywords and make a note of these in your notepad or in a spreadsheet. This will allow you to fill out your content calendar several weeks in advance.
We recommend taking the extra time to do this as it means you can perform all of your keyword research in one go, another advantage is that you will still be in "keyword research mode".
In our case, we extracted three uber-relevant keywords to give you an idea and actionable example about what the SERP extract report in LowFruits actually means.

Does Search Volume Matter?
You will notice a common theme very quickly when you start running SERP extracts - keywords with higher volumes typically have fewer, or no, weak spots. This makes sense, the keywords that get searched the most tend to be more competitive.
However, search volume does not equal potential traffic. It's entirely possible (common even) for a keyword with a "low" search volume to receive a solid amount of traffic.
Take the keyword "best laptops for instructional designers" - this keyword only receives 30 searches a month, however, the article ranking number 1 will inevitably receive much more traffic than this.
This is for a very simple reason: people are different and they search for information differently. An interview with senior Google employee, Ben Gomes, led to the finding that 16-20% of daily Google searches have never been searched before.
In other words, when you create content around a keyword, that doesn't mean you will only rank for that exact search, you will also rank for many similar searches. For example, creating content on the keyword "best laptops for instructional designers" will often also lead to ranking well for extremely similar keywords, such as:
Top laptops for instructional designers
Best laptops instructional designers
Instructional designer's best laptops
Best laptops for instructional designers 2022
Best laptops for instructional designers ever
So, does search volume matter?
Yes and no. Search volume is a good indicator of general interest in a keyword, however, you shouldn't look at a low search volume keyword and assume creating content for it is a waste of time.
Low-volume keywords with "weak spots" often mean better rankings and more relevant traffic, helping to improve the overall SEO-related metrics of your content, and your website overall.
How To Find SEO Weak Spots
LowFruits directly points out the best keywords to target by highlighting keywords with "weak spots".

The apples in the SERP extract report indicate these weak spots:
The green apple shows that a website with a domain authority that is less than the predefined rating (DA 20) is ranking on the first page for the keyword.
The blue apple means that a forum or discussion (typically on Reddit or Quora) is also ranking on the first page. This is a good indicator that there are not dedicated pages or posts targeting this keyword. However, if lots of forums are ranking on page 1, it's probably better to avoid creating content for that keyword because it suggests many people are looking for forums.
The more weak spots that a keyword has the better the opportunity is for you.
LowFruits is also really good at identifying keywords that you should probably avoid. Your first instinct may have been that the keyword "best laptops for architecture students" is fairly niche and would be an easy keyword to rank for.
However, the analysis conducted by LowFruits shows that this isn't the case. The lack of "weak spots" is a clear signal that indicates that this keyword is probably too competitive, at least for a newly established or low-authority website.
Picking our Target Keywords
Given the LowFruits analysis, we are left with two options for our next article. Both of these keywords are good options as they have multiple weak spots, so why not target both?
Creating two separate articles using an AI article generator couldn't be easier. Therefore you don't need to be too selective about the keywords you choose and can create more targeted content overall. The higher your content output, the more keywords you will rank for, and eventually, this will mean significantly more traffic.
Now that you have decided to use both (or more) keywords, you have come to the most important stage of the SEO content production process: creating your content.
Traditionally this has always been the most difficult and time-consuming step of producing SEO content. Fortunately, Article Forge's AI-powered article generator is able to generate 1,500+ words of unique content with a single click.
Step 4: Use AI To Automatically Generate Articles
Creating content couldn't be any easier when you are using AI writing software, it's literally a machine that writes for you.
All you need to do is head over to the New Article Page in Article Forge and enter each of the keywords you identified in LowFruits. Only do one at a time though. Your interface will now look like this: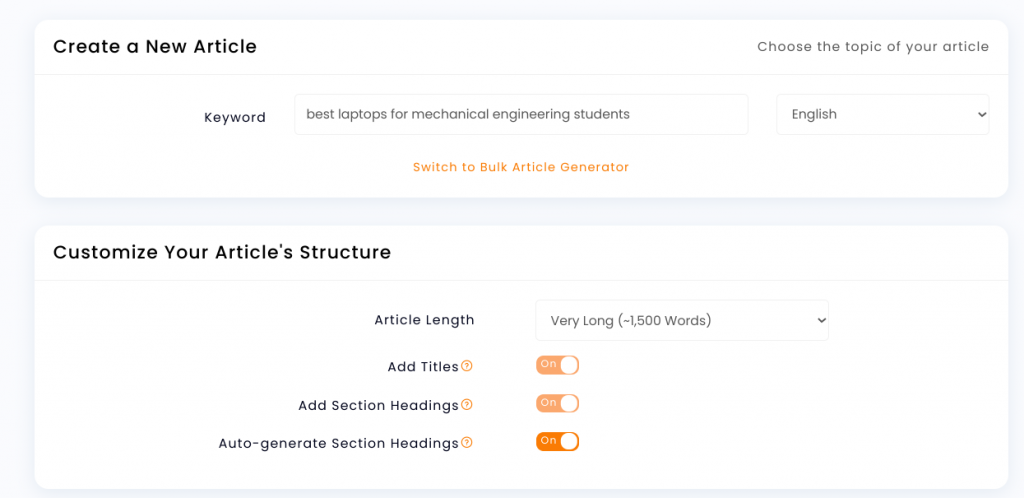 One of Article Forge's unique abilities is that it automatically includes relevant section headings in longer articles.
You can also decide to pick your own section headings, but this is completely optional, and Article Forge does a great job of writing section headings for you.
Using Article Forge is a highly efficient step of the content production process. Now, you can perform keyword research in bulk to find the best content ideas that you can turn into publishable content using AI with less than 15 seconds of work.
You can keep going through your keyword list and generating content this way, or to improve your efficiency further you can use our Bulk Article Generator.
Step 5: Generate Content At Scale With Article Forge
If you were impressed with the last step, then our Bulk Article Generator will blow your mind. Simply, the bulk generator lets you produce content for multiple keywords at once.
This means that you can enter an entire list of keywords from LowFruits and turn them all into publishable articles in a single click.
To do this, simply return to the New Article Page and click on "Switch To Bulk Article Generator". Now, it's time to enter your keywords, just like before, all you need to do is enter the keywords you have already identified as part of your keyword research. Make sure to enter all your keywords on a new line like this: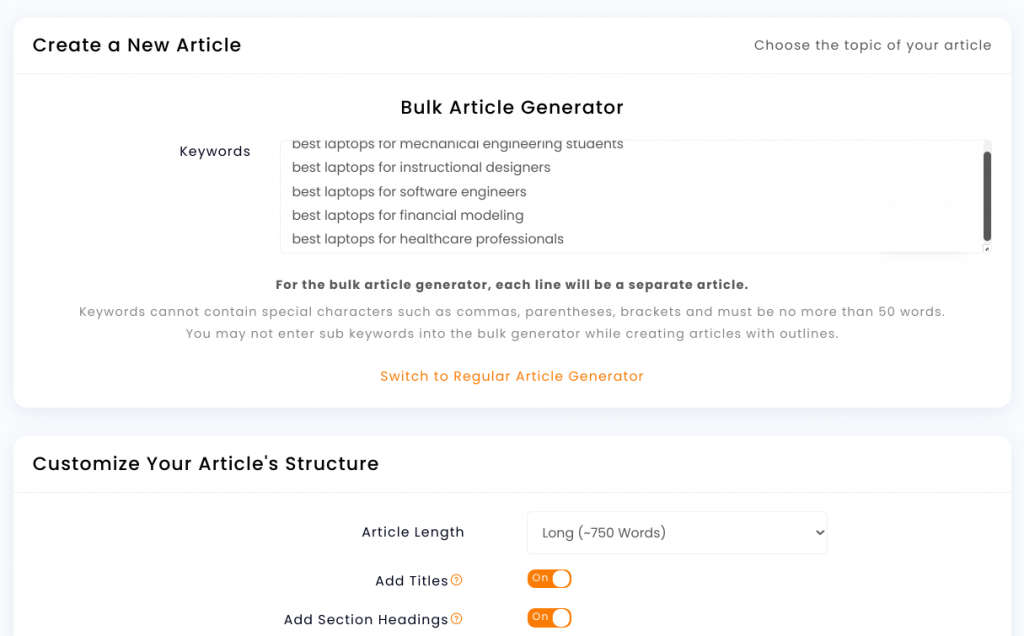 Finally, scroll down and click "Create New Article" and Article Forge will generate five completely separate and unique articles for you all at once.
Article Forge is much different from an AI Writing Assistant, it's a revolutionary advancement in technology that enables you to produce content at a rapid scale.
Closing Thoughts
We hope that you have enjoyed our walk-through demonstration of how to use LowFruits and Article Forge. By using an SEO content strategy like this you can rest assured that you will be efficiently finding great keyword opportunities, and exploiting weak spots quickly and efficiently.
If you have any questions about using LowFruits or Article Forge please leave a comment and we will be happy to expand on all our latest thinking.
Frequently Asked Questions:
Who is LowFruits best for?
LowFruits is a really effective keyword research tool designed for people who have a beginner/intermediate level of SEO experience. By looking for keywords that display apples, users of LowFruits can quickly identify "weak spots" to target as part of their content strategy.
Is LowFruits free?
Everyone gets ten free credits when they sign up for LowFruits. Each credit allows you to analyze one keyword. This means that you can analyze ten keywords without having to pay a single penny. LowFruits offers an affordable subscription model costing just $30 a month (two months free when paid annually) which allows you to analyze an impressive 3,000 keywords every month.
Alternatively, LowFruits also offers pay-as-you-go pricing. You can buy 2,000 credits for $25 which I think you will agree is exceptional value for money.
What are the best LowFruits alternatives?
The most cost-effective LowFruits alternative for people who don't have extensive knowledge of SEO is Ubersuggest. While Ubersuggest doesn't offer pay-as-you-go pricing or directly identify "weak spots" you can easily use filtering to exclude keywords that have a really high difficulty score, or really low search volume.
Additionally, Ubersuggest offers greater functionality than keyword research including backlink analysis and technical SEO site audits. You may also want to check out KWFinder by Mangools which is an affordable option for simplified, but effective, keyword research.
Revolutionize the way you get content
Start your absolutely risk-free 5-day trial today!
Start
my
free
trial!