Article Forge is the only AI writer that can create full long form SEO articles with a single click.
While Article Forge was built to be the simplest way to create full articles, it is much more flexible than it may initially seem.
This article will walk you through how to prevent Article Forge from writing about things by excluding topics from your articles.
Why exclude topics?
There are many reasons why you might want to exclude certain topics from your articles, here are a few of the most popular:
Exclude the names of your competitors
When you are writing about a product or service, you want your brand mentioned and not your competitors!
Exclude specific talking points or sub topics of your main keyword
This helps Article Forge focus more on other aspects of your main keyword.
Note: This is especially useful if you are creating multiple articles about the same topic but want to make sure they all focus on different points.
Exclude topics that Article Forge may have had trouble with in previous articles
This helps prevent Article Forge from writing about the things that confuse it
How to exclude topics:
From the interface:
All you need to do is enter the topics you don't want included in the "Excluded Topics" field (one per line, max: 5 topics) as seen below: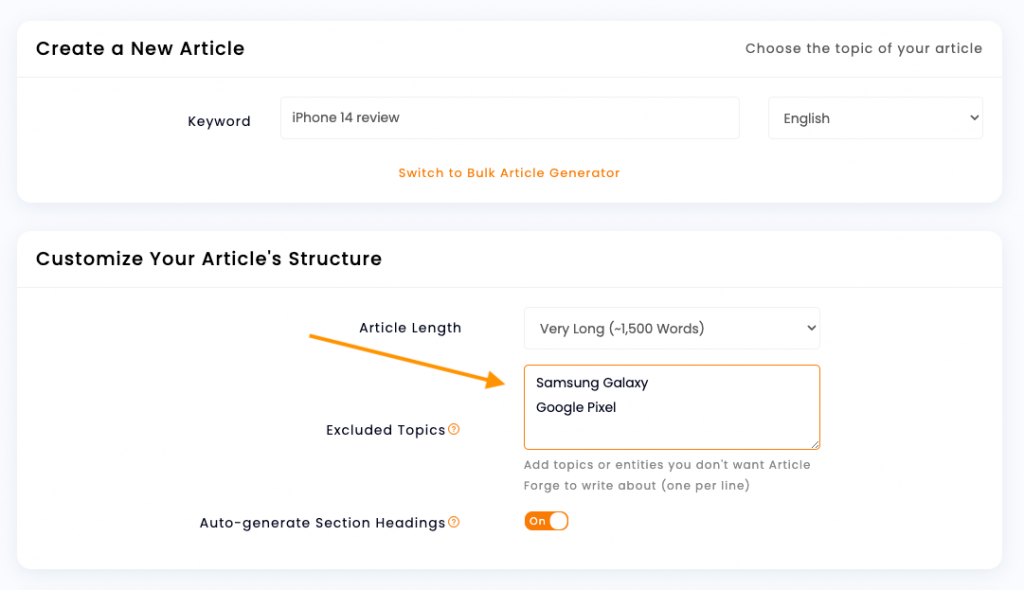 Note: You can use the same process for the Bulk Article Generator, but excluded topics will apply to each article.
From the API:
The API includes an excluded_topics parameter that can be provided with an initiate_article request.
The excluded_topics parameter should be passed as a string where the excluded topics are separated by comma (e.g. excludedTopic1,excludedTopic2,excludedTopic3).
For more information, view the Article Forge API documentation here
Watch Article Forge exclude topics:
But does Article Forge content rank?
This is a question we frequently get from new customers. The short answer is yes, Article Forge content ranks. But just saying the content ranks is not enough, here are a few facts about Article Forge and ranking:
1. We have thousands of happy customers who are currently ranking with Article Forge content.
2. We ran an experiment to see how Article Forge content ranks compared to content written by freelancers. You can read about that experiment here, but we found that Article Forge content ranked just as well as content written by human freelancers. 
3. We continuously run internal experiments to understand how our content is performing. Not only does Google index Article Forge content without requiring prompting in GSC, the content ranks consistently. We have found this especially true for long tail keywords. 
4. When entering Article Forge content into SEO scoring tools like Yoast, AIOSEO, Rank Math, Page Optimizer Pro, SurferSEO, etc, it scores an average of 70+% without any editing. 
So click here to log into Article Forge and start creating high quality SEO articles about any topic. 
Or, if you don't already have an Article Forge account, you can create an absolutely free 5-day trial here to see for yourself how Article Forge can create high quality content about your niche. 
Check Out Other Ways to Shape Article Forge Content:
Revolutionize the way you get content
Start your absolutely risk-free 5-day trial today!
Start
my
free
trial!