Moz has been one of the most reputable SEO companies since the early days of blogging and content marketing.
Former CEO, Rand Fishkin, took his inbound marketing/SEO brand, known back then as SEOmoz from being a small startup into a huge business generating $20m+ revenue in the early 2010s. Moz brought transparency into an industry that was largely undeveloped and undiscovered.
As new competitors entered the market, Moz's market share decreased, but its platform became even more comprehensive. Now, one of Moz's most useful SEO content tools is their Keyword Explorer which you can try out for free.
But, what exactly is Moz Keyword Explorer and why is this tool so popular?
Moz has a massive keyword database of 500 million discoverable keywords and even claims to be "the world's most accurate keyword research tool". Given their seasoned position in the market and their extensive, data-backed research tools, Moz is certainly worth trying out.
Specifically, we like Moz's SEO content tool because it is fairly straightforward to use, the data is reliable, and it gives us great insight into the long-tail keywords we can rank for.
First, this article contains a step-by-step guide on how to use Moz Keyword Explorer.
Then, more importantly, this guide will show you how to use the keywords you find in Moz's Keyword Explorer to generate high-quality SEO content automatically using AI.
Contents:
Step-by-Step Keyword Research With Moz's SEO Content Tool
Step 1: Making a Free Account
Creating a free account in Moz is quick and doesn't even require credit card details.
To get started, head to this page:

Once you have landed on this page, you can enter your chosen keyword - for the purposes of this guide, we have decided on "best perfume". Once you have entered a relevant keyword, click "Search Keywords Now".
You will then receive a pop-up that looks like this: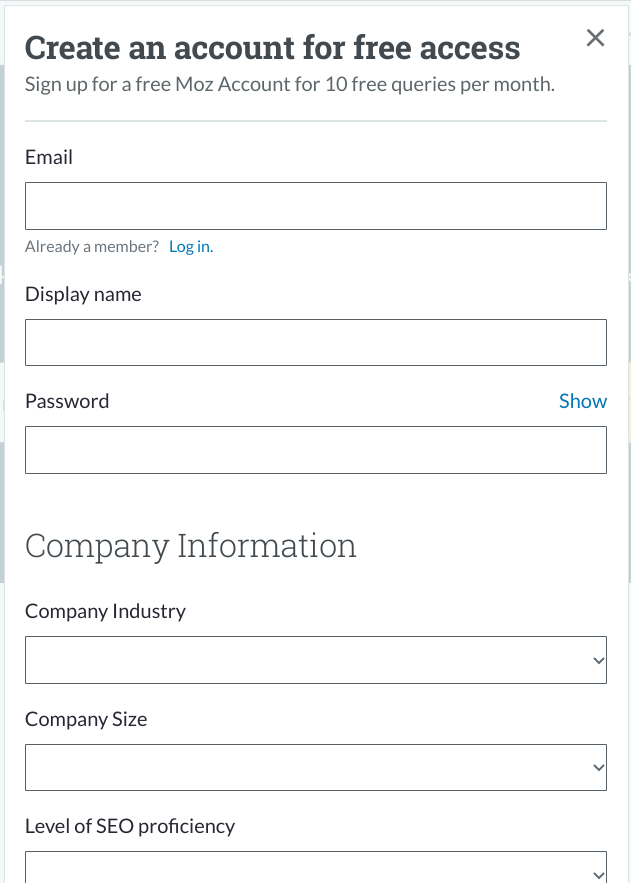 Don't worry if you are an individual as you can just select "1" for "Company Size". Additionally, your "SEO Proficiency" is just a metric that Moz tracks to understand how much guidance you may need, so feel free to choose anything here.
Finally, you will need to verify your email.

Once you confirm your email, you are automatically signed up for Moz's SEO content tool. Now, it's time to discover great keyword opportunities for your SEO content strategy.
Step 2: Understanding Moz's Unique Keyword Features
Your Keyword Explorer interface will look like this: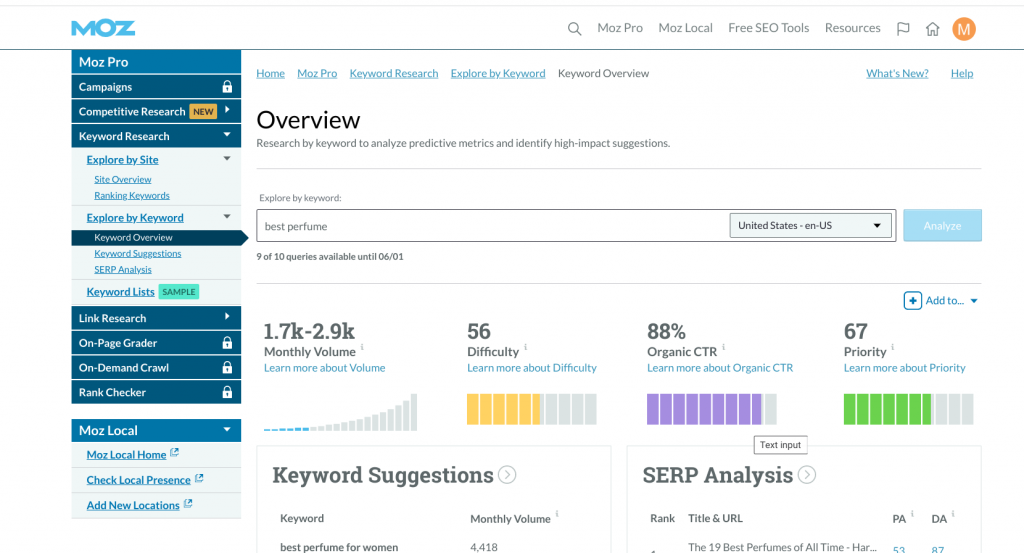 Unfortunately, some features are locked and the only way to access them is to pay for Moz. They do offer a 30-day free trial, but after that Moz will cost you a minimum of $99 a month.
Moz is a good investment in your business, but to make this guide accessible for everyone, we are showing you how to conduct keyword research using only your free account.
We will start off by explaining the metrics in simple terms so that you can understand the data of every keyword you find.
Monthly Volume
The monthly volume metric within "Keyword Overview" indicates the average number of searches for your chosen keyword in a month. Moz takes the average monthly search volume across the last 12 months. This helps to prevent "outlier" months from skewing the data.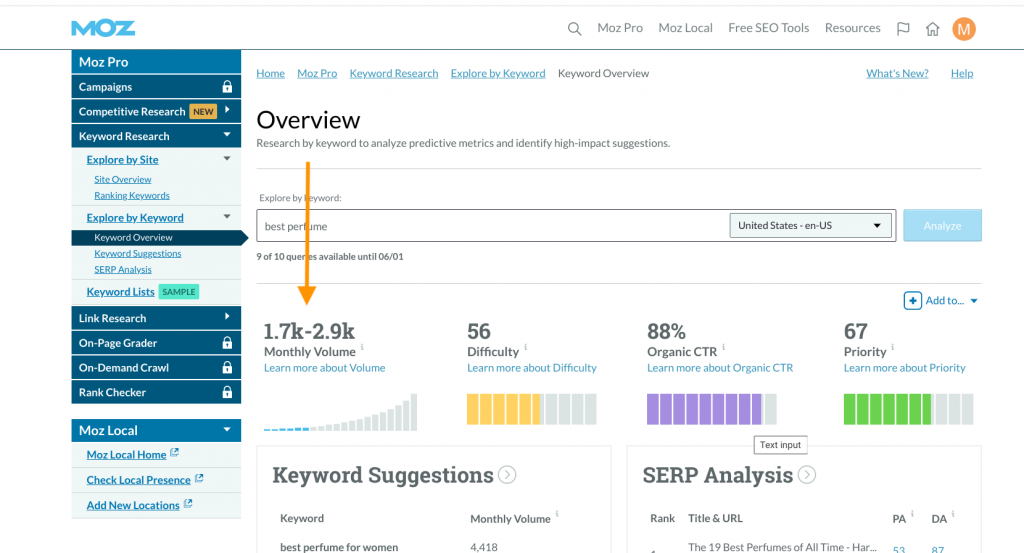 We don't recommend that you get too "bogged down" on this metric as volume metrics never equate to the amount of traffic you can realistically expect to attract. Even by producing content around keywords that have low "Monthly Volume", you can rank for many organic keyword variations and build significant traffic.
This is done by creating long-form content that covers a topic in-depth and matches user search intent. We will show you exactly how to generate content like this automatically later in the post.
Difficulty
Like the majority of reputable keyword research tools, Moz calculates a Keyword Difficulty (KD) score for each of the keywords in its database.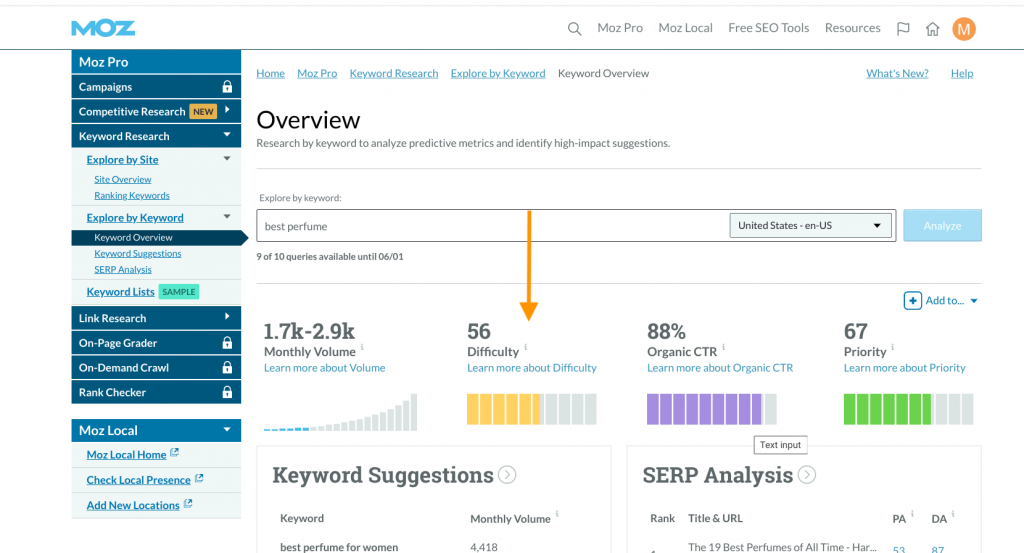 This score is reflected by a value from 1-100, with 100 being "ultra-competitive" and 1 being "easy". Keep in mind that difficulty scores are not an exact science, the relevancy of your content and overall website, as well as your backlink profile, play a significant role.
With that said, trying to rank for keywords with a score over 50 will be a more difficult and time consuming process than targeting more keyword variations with lower difficulty.
Organic CTR
As a content creator, Organic Click-Through-Rate (CTR) is extremely important to you. This is a neat feature within Moz's Keyword Explorer, as it displays the number of keyword searches that lead to an organic result.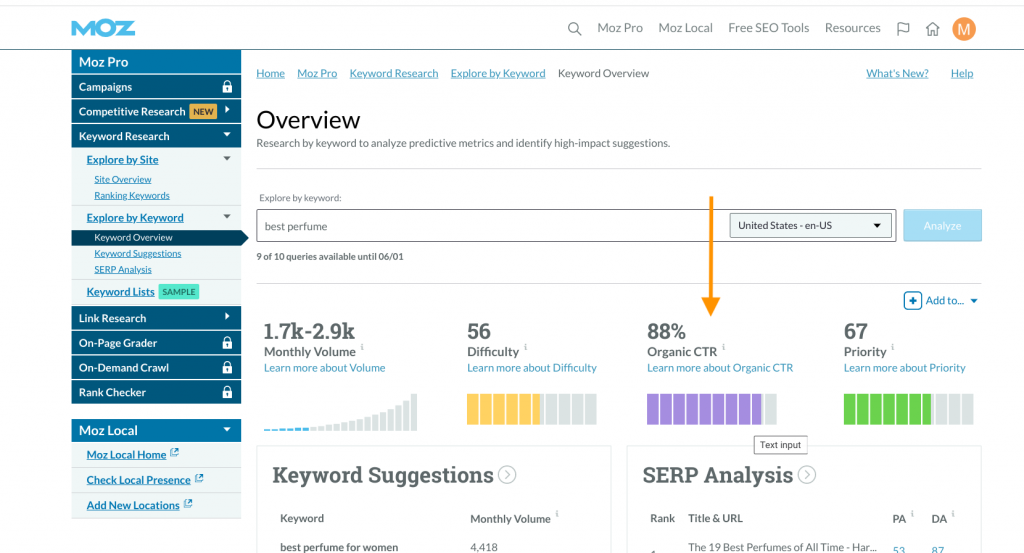 In other words, this is the percentage of people who are clicking on blog posts and articles in the Search Engine Results Page (SERPs).
When the Organic CTR is 100% this means that people are exclusively clicking on organic results - this can occur when there are no ads, no image packs, and no featured snippets being displayed.
When you create content you will ideally be targeting keywords with commercial interest. This can help you win customers and earn an income that doesn't just come from using programmatic advertising.
However, this does mean you will be creating a lot of list posts, and review style content, as a result, you will be competing against brands and advertisers. For this reason, we like to pick keywords with a really Organic CTR (between 80-100%) as long as commercial interest exists.
This way if we do start ranking for a keyword, our organic content will perform well and won't be sabotaged by factors outside of our control e.g. paid ads.
Priority
Moz describes their priority score metric as a "cheat code". We have found from our research of Moz's priority score that there is a strong correlation between content that performs well and the assigned priority score.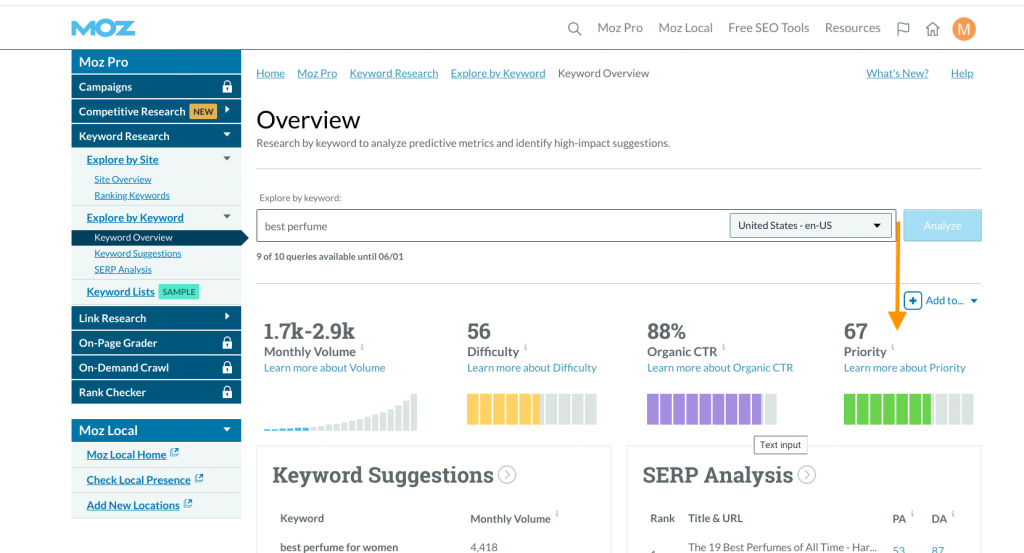 Effectively, the higher the better when it comes to this metric. "Priority" can help you strike a good balance between keyword difficulty, organic CTR, and monthly volume. If you are using the paid version of Moz, you can create extensive keyword lists and sort by priority to find the best opportunities.
However, even with a free MOZ account, you can take the "Priority" score as the most important metric as it effectively combines all the other data.
The only caveat to this is that low-volume keywords may be given lower priority scores than they deserve. So, if the priority of a keyword seems lower than it should be, see if "low search volume" might be bringing down the score.
Step 3: Finding Keywords With an SEO Content Tool
The method we use to find great keyword opportunities within Moz Keyword Explorer is by looking at the "Keyword Suggestions".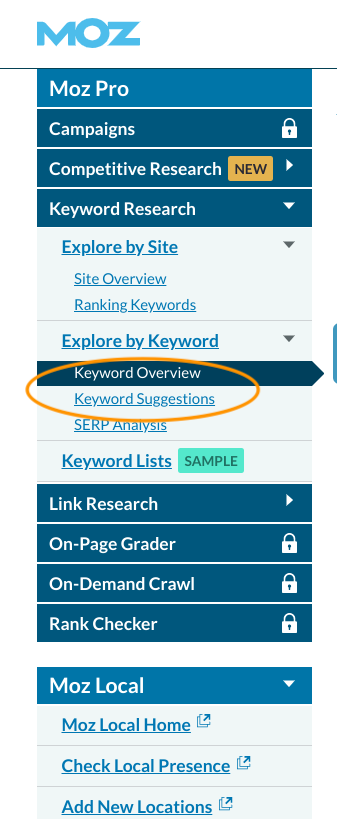 Once you click on "Keyword Suggestions" you will be greeted by this screen: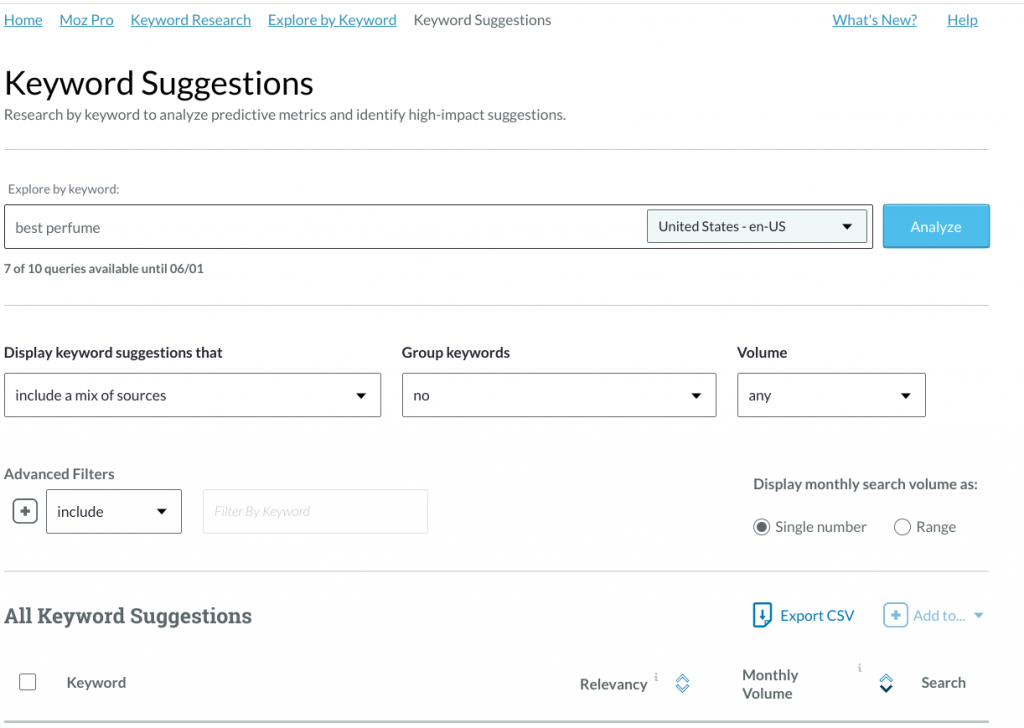 Here, you can filter your keywords by relevancy or monthly volume. We recommend sorting your keyword list by "Relevancy" because (as we already discussed) volume is not the best indicator of an article's potential success.
By scrolling through the keyword list, you will be able to identify hundreds of keyword ideas related to the seed keyword that you have entered.
One of the keywords that we have identified through our "Keyword Suggestions" research list is "best mens cologne of all time".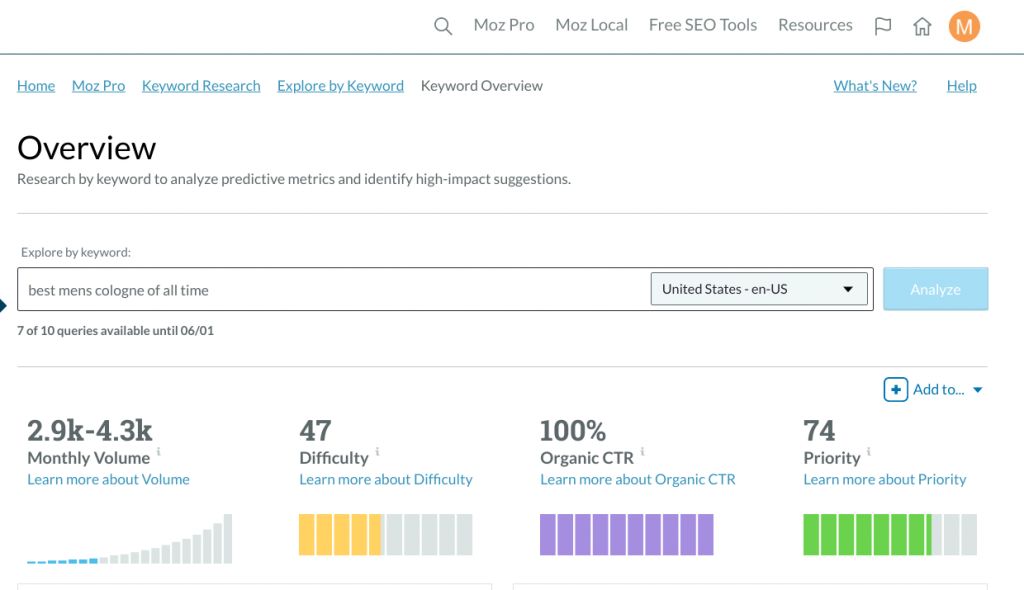 You will see that the "Organic CTR" and "Monthly Volume" metrics are fairly high, the priority score is solid, however, the KD is quite high.
While we will not choose this keyword right now, this may be a good keyword to target in the future. So, we recommend creating a Google Doc and making a note of any keywords you might want to target later.
Another keyword that we discovered with a slightly lower KD was "Best Tom Ford Perfume". The priority score was slightly lower, but this has most likely been slightly skewed by the lower "Monthly Volume" which we know isn't a major concern.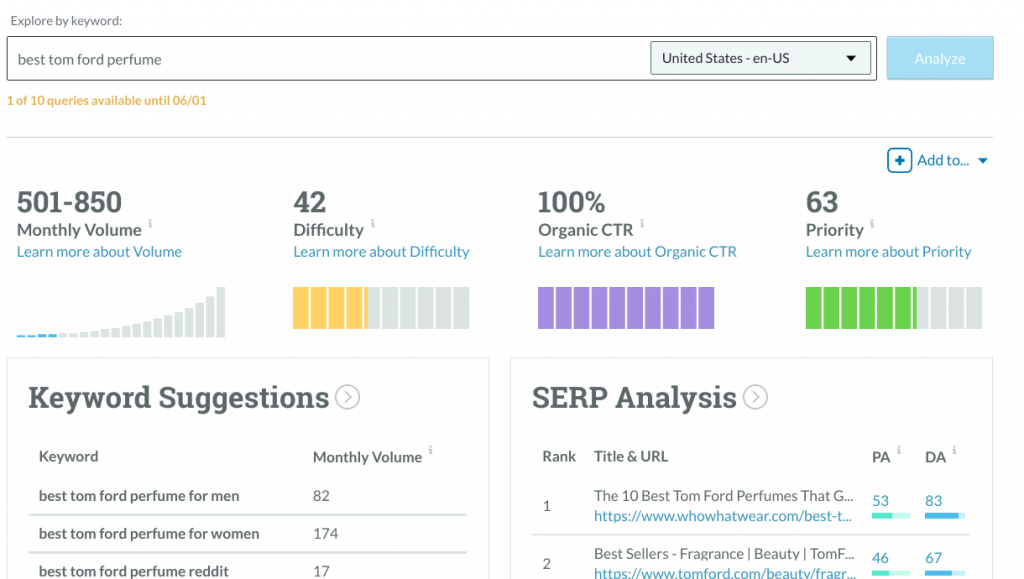 Both of these keywords will provide a good opportunity to rank well on Google as long as we produce high-quality, unique, long-form content.
Normally, this is where SEO content tools stop providing useful information. In the best case, they help you discover which keywords to write about but then leave you to do all the time consuming and expensive content work on your own.
Luckily, Article Forge was built to take on all the heavy lifting of producing high-quality long form SEO content for you.
Generating Entire Articles For Your Keywords with AI
Once you have identified keywords in Moz Keyword Explorer, your manual work is virtually over.
As you know, writing blog posts and long form articles can be the most time-consuming and manual part of any content strategy. Even using an AI writing assistant can still take hours. But when using Article Forge, less than 15 seconds of effort will give 1,500+ word articles.
Setting Up Your Articles
To get started, simply navigate to the New Article page.
Here you will enter the keyword you want to rank for. We are generating an article on the "Best Tom Ford Perfume". However, if you want to generate a more informational article, you could enter something like "how to choose a cologne".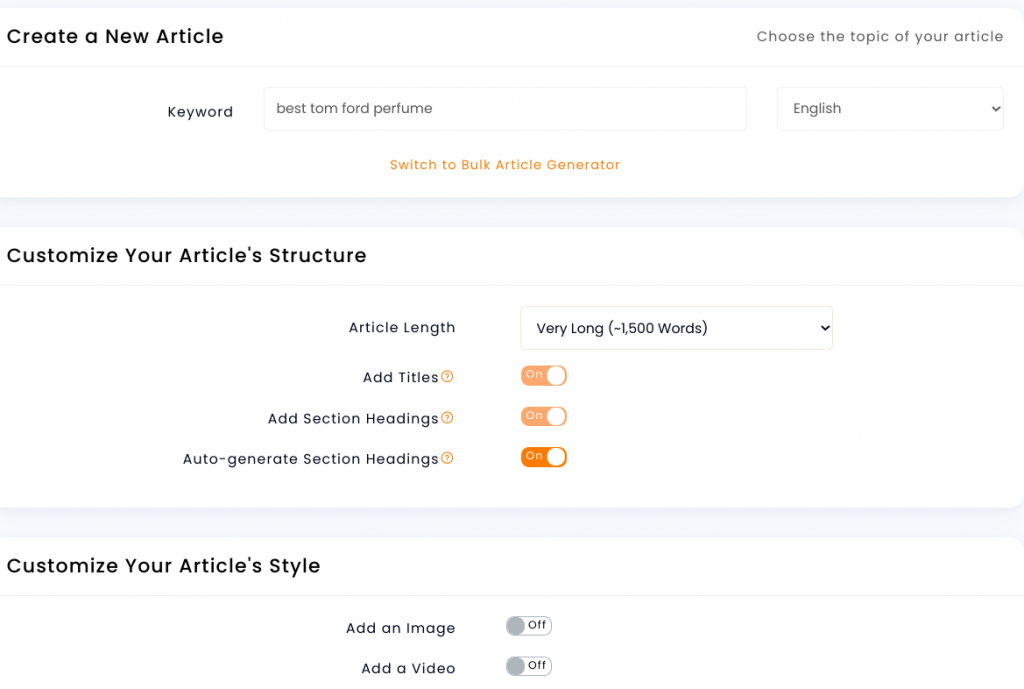 We also recommend setting your article length to 1,500 words to get the most comprehensive content for this keyword.
Note: Article Forge will automatically generate relevant section headings throughout longer articles to create well-structured, organized long form content. You do not have to change any settings to take advantage of this feature, but you can choose to enter your own section headings for more control over what Article Forge writes about.
Then, scroll down and simply click "Create New Article".
That's it, Article Forge will start generating completely unique, SEO optimized content that you can use on your website.
Filling Out Your Content Calendar
If you thought that Article Forge couldn't get any better, you'd be mistaken. With the Bulk Article Generator tool, you can create content for multiple different keywords that you identify as part of your keyword research simultaneously.
You can come back to the New Article page to do this and then select "Switch to Bulk Article Generator".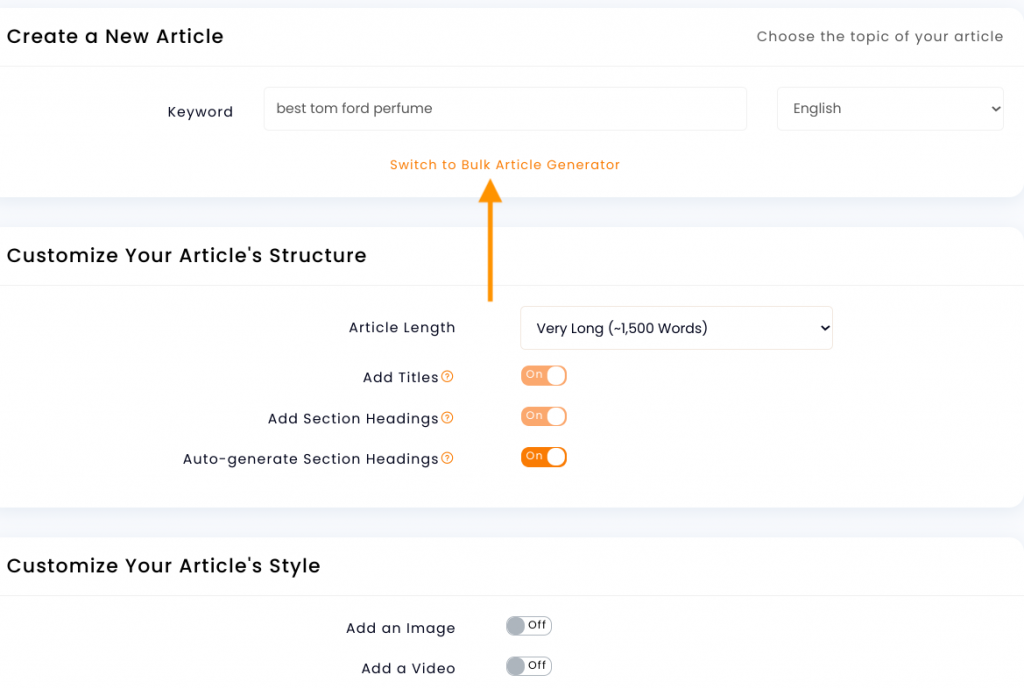 The Bulk Article Generator will allow you to generate all of your content at once. This is an excellent strategy for people who are looking to increase their niche coverage (and authority) and fill out their content calendar ahead of time.
With the Bulk Article Generator, you can enter all your keywords at once. This is the most efficient way to fill out your content calendar; you can even generate a whole month's worth of content at once!
Just make sure to enter each new keyword on a new line, just like this: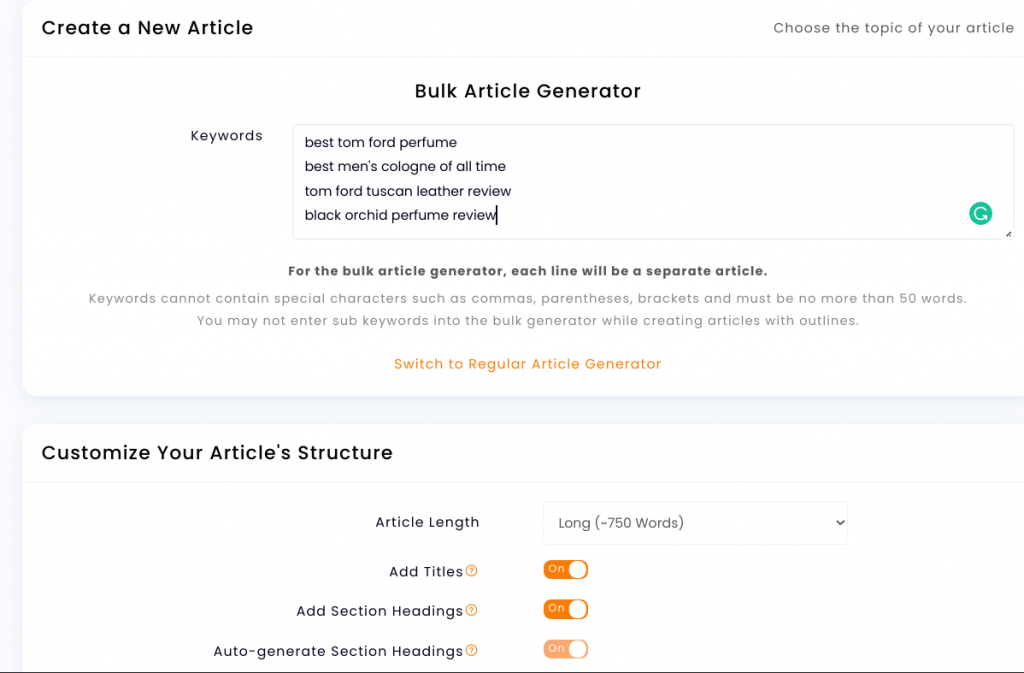 The Bulk Article Generator is completely unique to Article Forge and it's the fastest way to create content.
Even if your content quality standards mean that you have to lightly edit the articles, you can be assured these unique automatically generated articles will mean you're ready to hit "publish" faster every time.
If you have any questions about Moz's SEO content tool, Keyword Explorer, we would love to hear them and as ever we are always on hand to answer any Article Forge related questions!
Revolutionize the way you get content
Start your absolutely risk-free 5-day trial today!
Start
my
free
trial!