As a content marketer, you've probably spent a lot of time putting together a detailed content strategy.
You've identified keywords that are going to help you reach the right people. You've written insightful articles that your readers find useful. But what if you're missing something? What if your website has content gaps?
If you're starting to second guess all the work you've done, then you'll want to keep reading. We're going to discuss exactly what a content gap is, how it can affect your content marketing efforts, and how you can fill the gaps with the use of AI.
So let's get started.
What is a Content Gap?
Content gaps are information that your readers are searching for but can't find on your website.
Content gaps are common. Most businesses have them and might not even know it.
But it's important to remember one thing. Content gaps can have a major impact on your ability to reach your target audience and achieve your business goals.
As an example, let's assume you're a financial advisor with several articles on complex and risky topics like options or crypto. Unfortunately, you've noticed that these pages haven't led to any new leads and people are actually bouncing off your website far too often.
After digging in, you find out that people coming to your website are actually risk-averse investors. They're looking for content on how to reduce risk and you're providing them with content on the exact opposite.
This is how a content gap can have a negative effect on a buyer's journey. By understanding who your typical website visitor is, you can provide them with the proper content to successfully move through your sales funnel.
Types of Content Gaps
Content gaps come in different forms. Each leads to a void in information and needs to be fixed. Here are the two biggest types of content gaps to know.
Keyword Gaps
As a content marketer, you probably spend a lot of time using different SEO tools to research new keyword opportunities and learn about your competitors. 
Well, what if I told you that all of that research could help you find keyword gaps in your content?
Going back to the financial advisor example, let's assume you're digging into the website traffic for one of your competitors. You notice that they're getting a lot of traffic to an article about target-date funds. That causes a light bulb to go off in your head because you don't have any content about this type of investment.
The keywords that your competitor is using to drive traffic to their website is your keyword gap.
Topic Gaps
Another type of content gap frequently found on websites is in the form of a topic gap. These gaps can be present in a couple of different ways.
Does your website have content that meets the needs of a wide range of people instead of a narrow group?
Financial advisors should have content on a wide variety of topics. Basic investment articles are going to be ideal for someone who may be new to investing and is looking to get a basic understanding of how things work.
However, it's also important to have more complex topics that cater to potential clients that are looking for more advanced ways to invest their money.
Focusing on only one type of investor leaves you will a large topic gap.
Topic gaps can also be present when you're not giving your readers all the information they want. Maybe you write a lot about how to diversify your portfolio with stocks. Unfortunately, when the stock market is struggling people are going to be searching for other ways to diversify their money. If you don't have articles that cover these topics, there's a topic gap.
How to Find and Fix Content Gaps
We've talked about what content gaps are and the different types that you might have on your website. Now let's dive into exactly what you need to do to identify and fix them.
1. Perform a Content Gap Analysis
The main objective for running a content gap analysis is so you can identify keywords your competitors are targeting but you're not. There are a few different ways you can achieve this. For most people, the best way will depend on the tools you have available.
Understanding who your biggest organic competitors are is going to be your first task. These are the companies that are in the same vertical as you and are competing for the most similar keywords.
Semrush has an Organic Competitors Research report available. This is going to show you a handful of your top competitors and the keywords you have in common.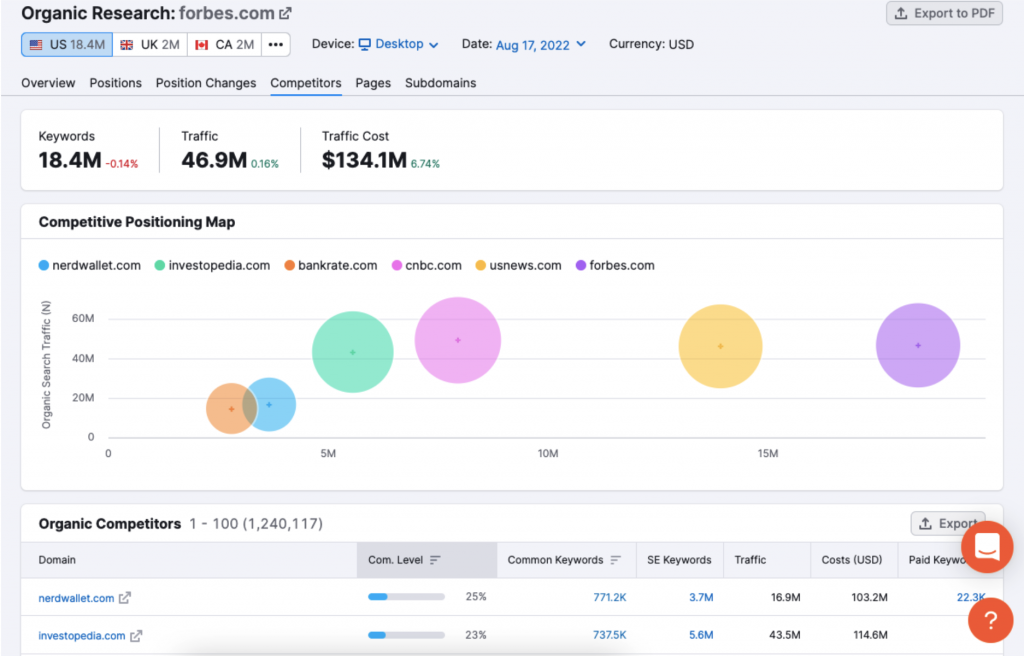 To get started on your analysis, pick the competitor on the report that has the most common keywords. This is going to give you the most information to work from.
Once you have this information, you'll be able to use the Keyword Gap Tool. Enter your competitors URL and it's going to list all the keywords you have in common, but go ahead and click on the "Missing" tab.
This is where you'll learn more about the keywords they're ranking for but you're not. You'll want to export the list and start to filter through it. There are going to be quite a few keywords that don't have much value. Instead, you want to pick out the valuable keywords that you're missing out on. Once you've identified the keywords you're missing, you can fix the gaps in one of two ways.
Use the identified keywords to update existing content on your site that's not currently ranking well.
Use Article Forge to write new content for your website with the keywords you identified.
2. Manually Look At Your Competitors For Content Gaps
If you don't have a tool like SEMrush, you can do the work by hand. It's not going to be as effective, but you're still going to make a lot of progress in filling the content gaps you have.
Start by determining who your top competitors are. Then it's time to head over to their website and browse through their content. Are you spotting topics they've written about but you haven't?
These could be good topics to consider writing yourself. But there is one thing you'll want to consider first. Are these topics going to be a good fit for your readers? If the answer is no, then that content gap might be validated and you can move on to the next.
3. Do A Content Audit
Most content marketers and SEO pros spend a lot of time analyzing the content and tactics of their competitors. But sometimes the best thing you can do is to step back and look at your own content.
Taking a deep dive into everything on your website could give you perspective on topics that might be missing.
But your content audit shouldn't stop there. Understanding which pieces of existing content aren't driving traffic and leads is just as important.
If you're a blog that writes a lot of product review, go through and see where each of them rank in SERPs. If you're seeing a trend and none of them are popping up on the first few pages, it's time to find out why.
Does your content need to be updated? Do your reviews all follow the same structure? Are there things your competitors are doing that you're not? These are all questions you should be asking yourself.
4. Understand Your Buyers Journey
If you're selling a product or service, understanding the buyer's journey is crucial. It helps you nurture a potential customer through the marketing funnel.
Your content is going to be a major factor in this journey. Every article or landing page on your website serves a purpose.
When someone first comes to your site, they're most likely looking for more help with an issue or a problem.
5. Fill gaps with helpful content using AI
So how do you make sure you have content in place to take care of each step in the buyer's journey? 
Start by writing down your customer's journey, from the top of the funnel down to the bottom. Do you have content that's going to be useful for someone who visits your website no matter which stage they might be in?
If you've identified stages that are lacking in content, add these topics to your content calendar. You want to make sure you can effectively get your readers to progress through your funnel. Failing to do this can have a negative affect on being able to turn them into a customer.
Once you have identified and planned out topics, you'll need to produce the content to actually fill those gaps. Normally, this is the most time consuming part of any content strategy, but using AI to write articles changes the whole equation.
By using Article Forge's AI you'll be able to efficiently produce full length articles for the content gaps you've identified with minimal effort. All you need to do is enter each of your keyword topics, select your article length, and Article Forge will research, plan out, and write blog posts for you automatically.
Final Thoughts
No matter what kind of online business you might be running, it's important to understand if your website has content gaps. By identifying these gaps, you'll help improve the SEO of your site and drive more traffic. The end result could be additional revenue for your business.
The challenge that most people face is not understanding how to identify these gaps but also how to fix them. Hopefully, you'll now be able to go through your website and spot any content gaps you might have. Then with the use of Article Forge, you'll be able to fill them quickly.

Sean Bryant is a digital marketing professional with more than 15 years of industry experience. Through his website SeanBryant.co he's helping individuals build and scale online businesses.
Revolutionize the way you get content
Start your absolutely risk-free 5-day trial today!
Start
my
free
trial!