Serpstat is a popular SEO content tool that you can utilize affordably (or even for free). Although it is a fairly new competitor in the SEO software industry, using Serpstat for keyword research is a solid strategy. This is because their SEO tools are continually updated and their keyword database is constantly expanding.
This article takes you through how to maximize Serpstat's free features to conduct keyword research, step-by-step. Then, you will learn exactly how to produce high-quality content around those keywords with the click of a button using an AI article writer.
Contents:
Step-by-Step Keyword Research With Serpstat
Step 1: Create Your Free Serpstat Account
While you can use Serpstat for free, you will need to sign up and create an account. Start by navigating to the Serpstat home page.

After clicking "Sign Up" in the top right-hand corner, and you will see this screen: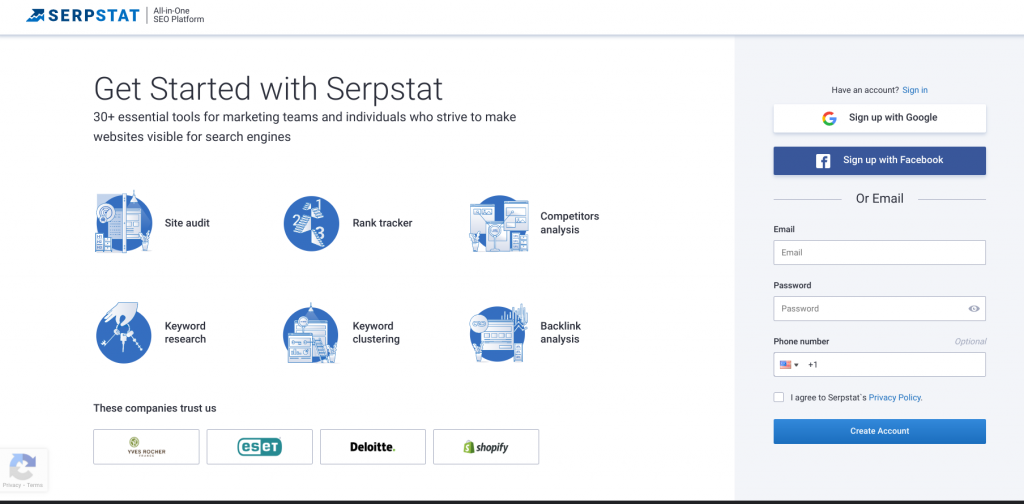 Now just fill in your email, password, and optionally, phone number. Once you confirm your email, you will be ready to go.
Step 2: How to Use Serpstat
When you first access your Serpstat account, you may feel a bit overwhelmed by the various options, scores, and tables. However, we can assure you this is just about the easiest SEO content tool to understand.
When we first started using Serpstat, we were impressed with the aesthetics of the tool and how easy it was to generate content ideas.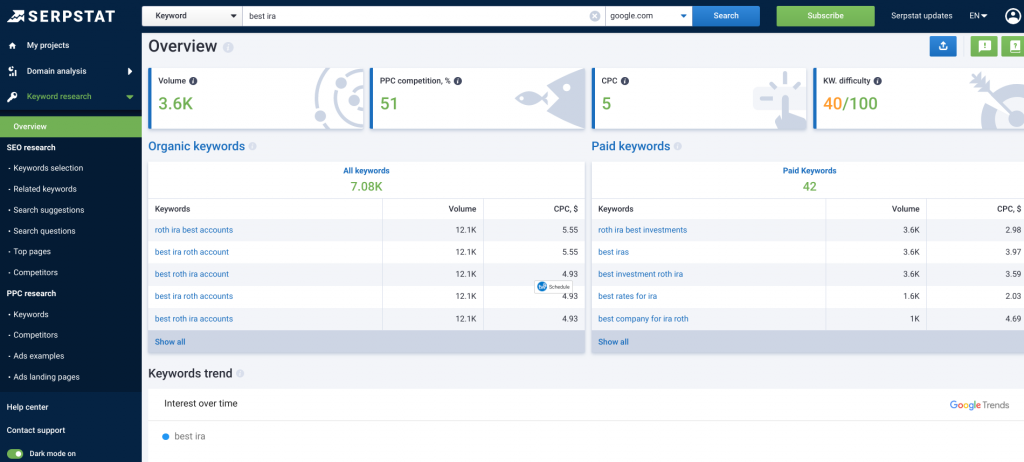 The first page you land on is the Overview. Simply enter your seed keyword (or target phrase) into the search bar here - we selected "best IRA".
This phrase doesn't need to be a complicated idea or a long-tail keyword. In fact, it's best to start with something broad, as this can help you to quickly understand the potential traffic, trends, commercial intent, and the competition.
In the sidebar, you will also see various options for "related keywords", "search suggestions", "search questions" "top pages" and "competitors" - if you didn't think this SEO content tool could get any better, Serpstat also offers URL analysis, backlink analysis, and site audits.
However, we won't get too carried away:this is an actionable guide to finding great keyword ideas and generating content automatically, not a full SEO walkthrough.
Step 3: Analyzing Your Keyword Overview
The first section of the keyword overview contains standard metrics for understanding the popularity and feasibility of your keyword.
These metrics are:
Volume: the average number of times this keyword is searched in a month
PPC Competition (pay-per-click): how competitive it is for advertisers to promote their products/services
CPC (cost-per-click) - how much advertisers are willing to pay for every click to their website
KW Difficulty: an estimation for how difficult it would be to rank organically on the first page in Google for this keyword.

All of these metrics are useful in their own way, however, don't get stressed about deciding if producing blog posts on a topic is a good idea just from this data. The truth is that SEO is a numbers game. You will have some "hit" posts that perform really well and others that simply "miss" and fail to gain traction.
Therefore, you should aim to identify as many content ideas as possible from this strategy in order to fill out your content calendar weeks, or even months, in advance.
We recommend looking for keywords with some search volume and CPC over $1. However, finding these keywords can be tricky, especially if you have a less established website with minimal authority in your niche. Therefore, we recommend selecting low-volume keywords.
At first, choosing "low volume" keywords may seem like a bad idea as you may be concerned that you won't receive a lot of traffic. However, your content will rank for many additional keyword variations as well as the primary keyword.
In general, KW Difficulty is a good way to gauge how quickly and how easily you will be able to rank well in search engines and receive significant traffic to your website.
However, one drawback of Serpstat is that we don't find their KW Difficulty metric to be very accurate. Understanding keyword difficulty is an important step of keyword selection, so we will show you how to judge the ranking potential for your keywords with some light competitor analysis.
Step 4: Competitor Analysis
As part of your keyword research, looking at your competitors is vital to your success. Unfortunately, looking for your target keywords on each of your competitors websites manually would be very time-consuming. However, by using an SEO tool like Serpstat you can perform competitor analysis in a single click.
The truth is that the most profitable keywords are really difficult to rank for in organic search, particularly in very popular niches e.g. personal finance, tech, SEO, food, travel, and health.
The key is to find good keyword opportunities in your niche (decent volume and high CPC) that are not dominated by authoritative websites.
Luckily an SEO content tool like Serpstat makes this really easy. In your "keyword overview" you will be provided a list of the ten domains ranking for the keyword as well as an estimate of the total number of keywords these websites are ranking for.

This is really useful because it can help us to establish the authority and credibility of the websites that are already ranking and will help you to identify potential keyword opportunities.
In this case, some of the domains competing for the keyword "best IRA" include Forbes, Investopedia, and NerdWallet. If you are not familiar with the finance niche, you may not have heard of the latter two, but they are both massively established businesses. Therefore, despite the KW Difficulty being just 40, we know that this will be a really tough keyword to rank for.
Step 5: Finding Related Keywords
Now that you properly understand the metrics that we're looking for, as well as how to scan the competing domains, it's time to find keyword opportunities that you can produce blog posts around.
We recommend taking a look at both the "Keyword Selection" and "Related Keywords" here. With Serpstat's free SEO plan, your keyword options will be limited, but you will still be able to view several keyword variations. 

After looking through various options and exploring the different keywords available, we decided that the competition surrounding the topics related to this particular keyword is too high.
This might be slightly annoying, but it's better to go back and choose a topic with a higher probability of ranking than opting for the very first keyword idea you have.
As IRA accounts are very popular, we have decided to choose an alternative investment product - best annuities.

As you will see, a quick search for "best annuities" in Serpstat's keyword research tool has revealed that annuity investments are a slightly less competitive area of interest. However, there is still a significant number of monthly searches.
After conducting competitor analysis and looking at related keywords, we have identified a long tail keyword that meets our keyword criteria. The keyword we have settled on is "best annuities for retirees". When you are recreating this process, we recommend creating a longer list of keyword ideas so you can create multiple blog posts at a time to schedule throughout the month.

By targeting long-tail (more specific) keywords, and producing quality content, we will also rank for multiple keyword variations. Our example keyword also has a fairly high CPC which means that ranking on the first page will be very profitable.
Another step we recommend is checking out the search engine results page (SERPs) for your target keywords. Simply, enter the keywords you are hoping to rank for and take a look at the content that is already ranking on page 1.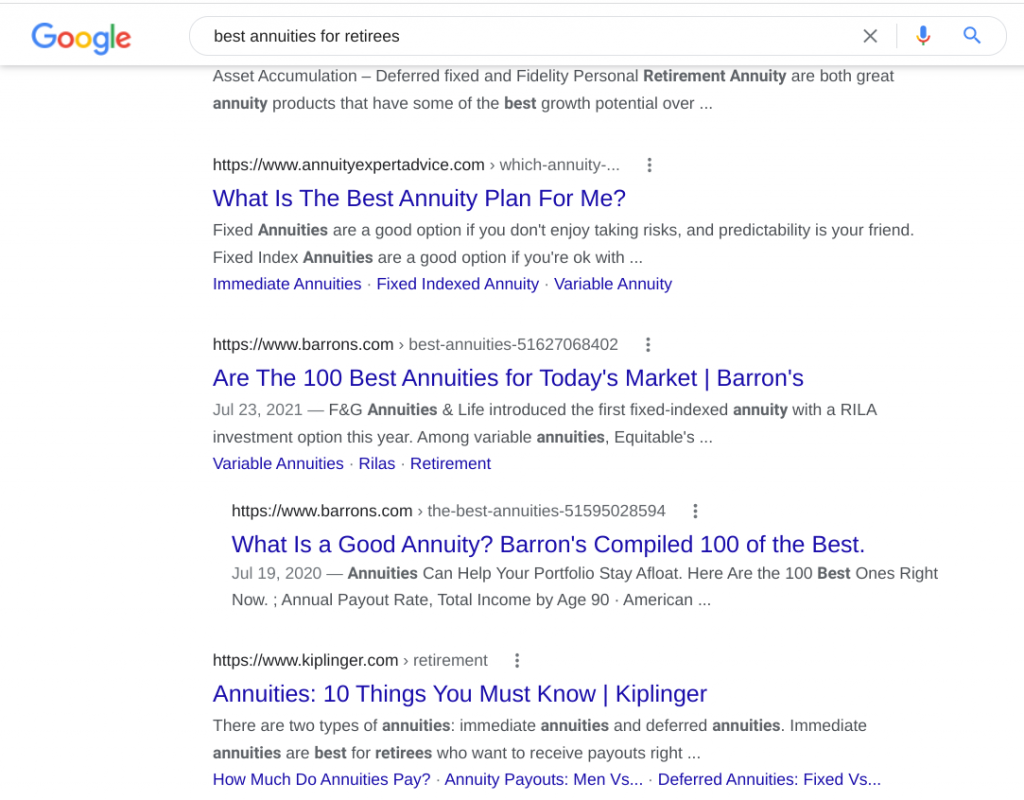 As you can see, a lot of the results on the first page are posts from high authority websites, but in this case, there is a more important factor than authority:.
If you want to rank for a keyword like this, you need to satisfy search intent better than your competitors.
As you can see in the above example, plenty of the results on the first page are not specific. Although they are blog posts from websites with expertise and authority, they are not directly related to the keyword "best annuities for retirees".
This shows there is a great opportunity for you to generate content that is highly specific to the target keyword.
We recommend trying to cover the topic more comprehensively than the content that is already ranking. This means creating content based on the annuities that are specifically designed for retirees, not just general annuity products.
Luckily, Article Forge can help you to create this content in a single click, and we will show you exactly how to do this.
Generate SEO-Optimized Blog Posts In a Single Click
To get started, head over to the New Article page within the Article Forge interface. Here you will see a screen that looks like this: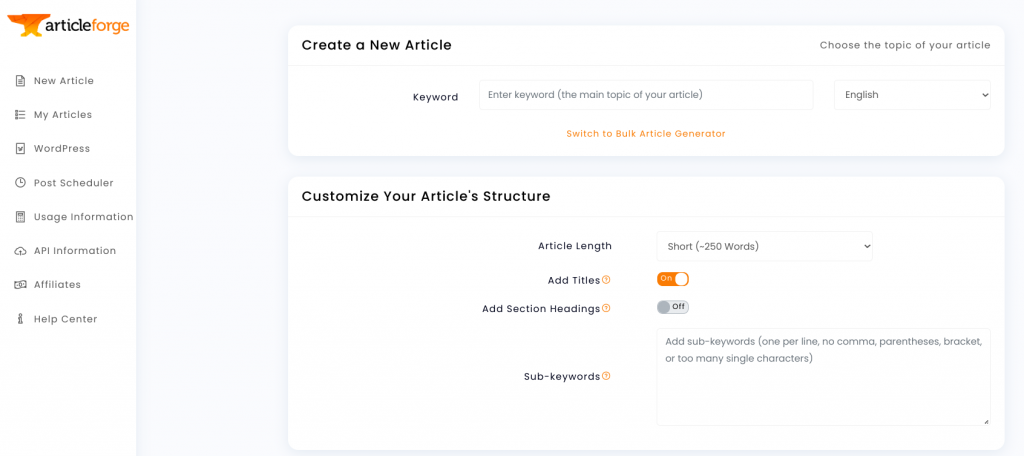 Article Forge was designed to be the quickest and easiest way to produce high-quality content. As you can see, the interface is extremely simple: the only required step is to enter the keyword you want Article Forge to write about and click "Create New Article".
However, to give you more control over the content Article Forge writes, there are a few easy-to-use settings.
Customization
As mentioned above, the only setting that you need to "customize" is the Keyword - with a single keyword, Article Forge can generate an entire article. All other customizations are completely optional and can be left to their default settings if you don't have more specific requirements.
For the purpose of this guide, we will walk through each setting (if you want to keep things simple and automated, you can skip down to Generating Content).
Keyword: Enter the keyword you want to create you want your content to be about. We have selected "best annuities for retirees".
Article Length: You can choose to have Article Forge write approximately 50, 250, 500, 750, or 1,500+ words (we have had some keywords produce 1800 words in one go before).
The article length you choose should depend on your content goals. 50 or 250 words is great for answering a question e.g. are annuities better than a Roth IRA? 500/750 words is great for filling out entire sections of your articles and 1,500+ words is best for generating whole blog posts for your website.
For the purpose of this article, we have decided to show you how to generate a 1,500+ word blog post so you can really maximize the benefits of using an AI Article Generator.
Add Section Headings: You can choose to have Article Forge automatically add relevant, SEO friendly section headings throughout your article. For 750-word articles and longer, this toggle will be set to "On" by default to give you the highest quality content with minimal interaction.
This lets you generate structured content with virtually no effort. Automatically including section headings is completely unique to Article Forge - generating automated content of this quality and scale is just not possible with other article writing software.
Section Heading Customization (Optional): You can also choose to enter your own section headings to tell Article Forge exactly what subtopics it should write about within the blog post. This is great if you already know the topic well and are just using Article Forge to save time.
Content Style: Finally, there are a number of style toggles that give your automatically generated content another level of personalization. You can add images, videos, and relevant external links by simply toggling these settings "on" - this is a great way to enhance your article.
Generating Content!
Once you have entered your keyword and decided on any customizations, your Article Forge interface will look like this: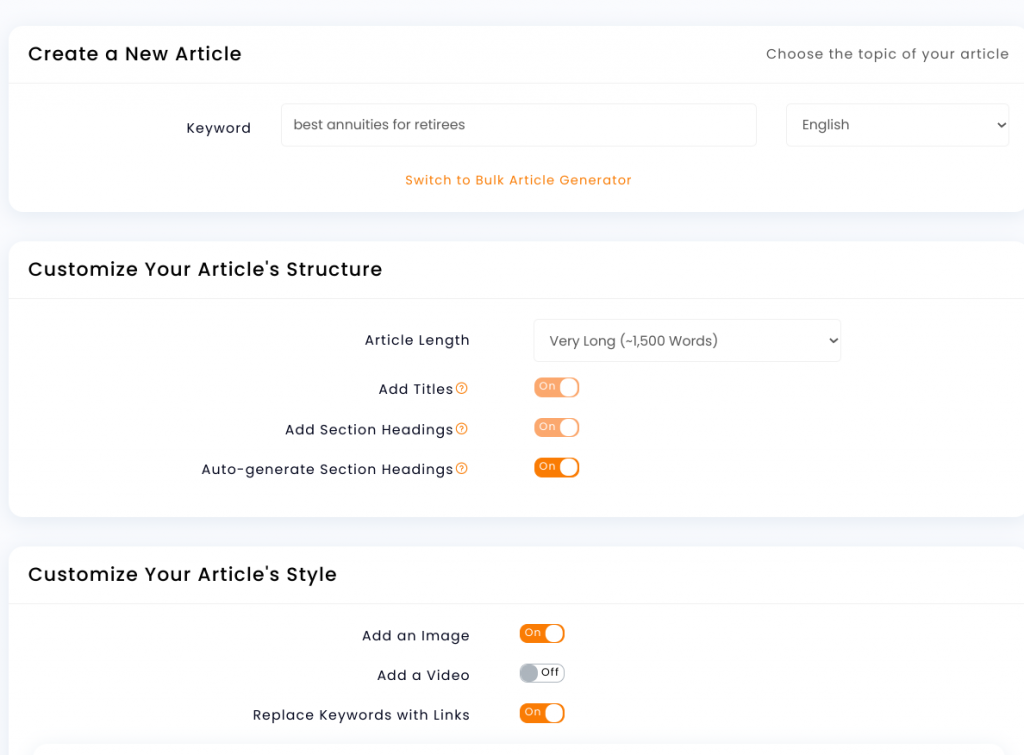 All you need to do is scroll down and click "Create New Article". Just like that, Article Forge will begin researching, planning and generating unique and optimized blog posts (or short form content) tailored to your preferences.
Now, simply sit back, and relax with the peace of mind that your article will be relevant, SEO optimized, and completely unique.
Final Thoughts
We hope that you have found this guide helpful and actionable. Repurposing an SEO content tool like Serpstat for conducting keyword research is a great way to gain insight within your niche, and find the keywords that you will be able to rank for more easily.
By using Serpstat, you will also be able to find profitable keyword opportunities that offer a fantastic ROI. Producing blog posts around these keywords can drive income to your business for years to come, and with Article Forge, the most time-consuming part of the process (writing) is almost completely removed.
If you have any further questions about the SEO, analysis, and research features of Serpstat, we will be happy to answer. Likewise, if you have questions regarding the best practices of using Article Forge, and how to get the best results from this AI writing tool, we are the best people to answer them.
Until next time - Happy Forging!
Revolutionize the way you get content
Start your absolutely risk-free 5-day trial today!
Start
my
free
trial!